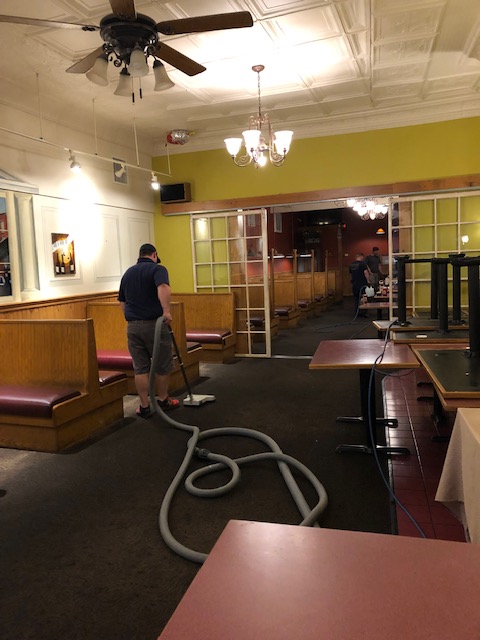 Commercial Carpet Cleaning in Connecticut
6/19/19
In order to make a good impression to customers and partners, businesses must maintain a clean image. When they need a cleaning, they call ServiceMaster by Mason! Our technicians had responded with professional carpet cleaning services in 2 businesses, leaving them with a fresh, clean environment. The service was also provided at a time that worked best for them.
Working late into the evening at The Courthouse Bar & Grille in downtown Putnam, CT, head technicians Mike Parrack and Hector Lopez were able to thoroughly clean the carpets and remove all stains. Now they have a completely restored look! Check out their menu: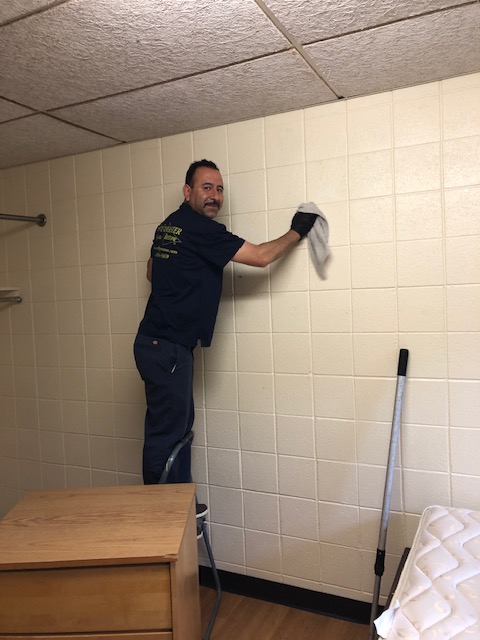 www.courthousebarandgrille.com
Our technicians then headed over to Eastern Connecticut State University for a detailed cleaning of RA rooms in two campus buildings. They returned on Saturday for a professional carpet cleaning to provide a new, refreshed look to the carpets to ensure their satisfaction.
Mold Remediation on Block Island
6/14/19
ServiceMaster by Mason is always available to respond when it comes to mold and water damage, even on Block Island. As soon as we received the call, Ryan Mason ferried over to inspect the water and mold damage in the house. After developing the best strategy to dry out the home and eliminate the mold growth, technicians David Epps, Lac Lebeau, and Roberto Roque ferried into assist with the job.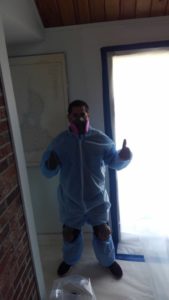 They started with removing the mold growth in the affected rooms, also cleaning contents and furniture. This included the following tasks:
Using advanced products and equipment to dry out all areas
Setting up air movers, dehumidifiers, and air scrubbers
HEPA-vacuuming finite mold spores and debris
Removing unsalvageable materials including mattresses and upholstered cushions
Using anti-microbial growth from returning and spreading
After working diligently to remove all cases of mold, both the property and the owners' peace of mind were restored.
Disaster Restoration in Coventry, CT Pizzeria and Dance Studio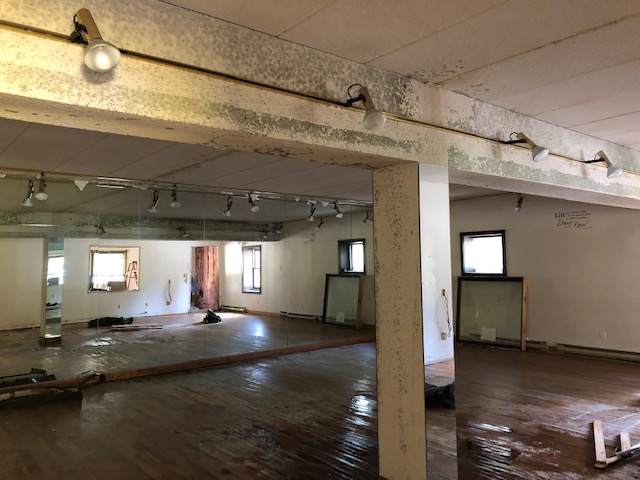 6/5/19
There's an old saying that goes "when it rains it pours," and unfortunately that was the case for this local pizzeria in Coventry, CT. After extinguishing the flames, there was extensive water and mold damage not only on this property, but in the dance studio below, spreading behind the walls, floors, and ceilings.
After finding this, ServiceMaster by Mason was called right away to dry out and restore the building materials from water and mold damage. Our team began with demolition work to remove all insulation, vapor barriers in the dance floors and walls, mirrors, flooring, drop ceiling tiles and grid, as well as affected furniture.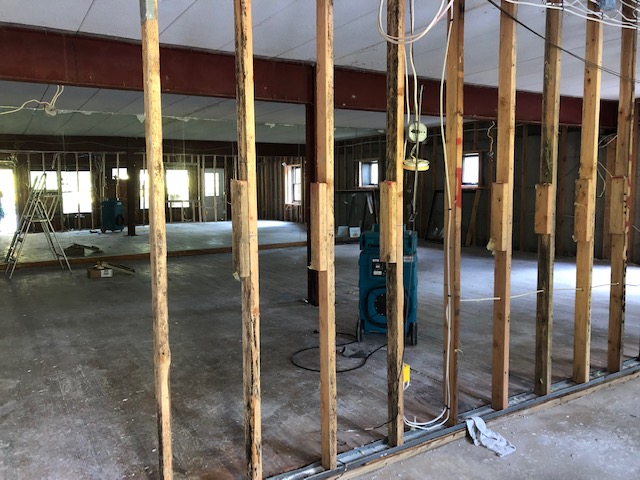 ServiceMaster by Mason then brought in and set up a large generator to provide adequate power for the equipment, including a large desiccant dehumidifier and spreading plastic tubing around the building. This allowed the area to dry faster, saving both time and money for the insured.
After using advanced products and equipment to dry all areas, the mold spores and debris were HEPA-vacuumed, unsalvageable materials were discarded, and peroxide and an anti-microbial spray were used to spray clean all areas to prevent future mold growth. After 2 weeks of hard work, the team was able to finish restoring both the facilities and peace of mind.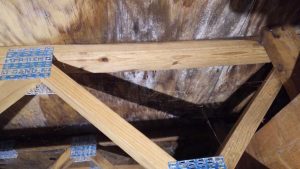 Mold Remediation in Groton, CT Assisted Living Facility
5/20/19
While it thrives in dark, moist areas, mold makes itself known by triggering allergies and consuming building materials. When the staff of a local assisted living facility in Groton, CT had found this unwelcome guest in their ductwork, they called ServiceMaster by Mason!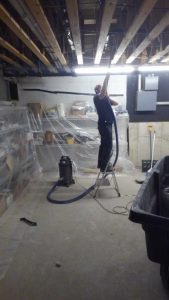 Our technicians responded right away, setting up containment chambers to prevent the mold from spreading to other areas. The ceiling drywall was then removed to find and remove the ductwork from the main level of the property. All mold was located and removed as our professionals worked throughout the crawlspaces as well as sprinkler and supply rooms.
A fireplace was also deconstructed in the lobby where additional ductwork was located, also creating a containment chamber to prevent cross-contamination. To remove the dust and mold spores, our technicians used HEPA-vacuums, advanced products, and cleaning methods to disinfect the air as well as anti-microbial spray to prevent the mold from returning.
After working effectively to remove all mold from the affected spaces and contents, ServiceMaster by Mason had restored the living facility to a safe and healthy environment for the staff, guests, and clients.
Smoke Damage Restoration in Connecticut College Residential Property
5/3/19
When smoke invades a property, it can do serious damage to the interior structure, covering the drywall, ceiling, and flooring. This was what had happened to a local Connecticut college's residential home when a gas-log fireplace insert had caused soot and smoke damage throughout the home.
As soon as ServiceMaster by Mason was called, we moved quickly to assemble a large team, working closely with the college's staff, to remove the smoke and soot residue before the deadline. After the college's President had left the home, owner Phil Mason and his team went straight to work.
Our experienced technicians started with HEPA-vacuuming finite soot and dust particles, followed by using advanced products and processes to deeply clean all affected walls, doors, ceilings, windows, fixtures, etc. in various bedrooms, hallways, bathrooms, hallways, and office.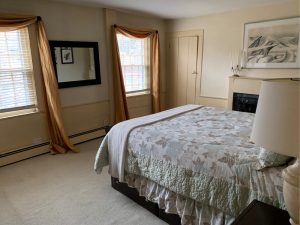 Our truck-mounted equipment was then used to fully restore the carpets and floors as well as the HVAC/air duct system. ServiceMaster by Mason had also arranged for specialty dry cleaning services for the window treatments.
After working efficiently and effectively to restore the property, the homeowners were left fully satisfied!
Water Damage Restoration in Southbury, CT Home
4/8/19
As a result of multiple pipes bursting in a Southbury, CT home, serious water damage had affected the main floor, basemen, and garage. For a job such as this, ServiceMaster by Mason called on the helping hands of ServiceMaster Albino to assist in the water damage cleanup efforts. Together, the experienced technicians responded right away, removing damaged materials, including drywall, insulation, and hardwood & tile flooring to effectively restore the subfloor underneath. The team had also restored the basement and garage from water and mold issues, installing drying equipment for proper air flow as well as containment chambers to prevent cross-contamination of mold to other areas.
They also advanced products and equipment, all areas were thoroughly dried, cleaned, and sprayed with anti-microbial spray to prevent future mold growth. HEPA vaccuums were used to remove all finite dirt and mold spores, followed by discarding debris.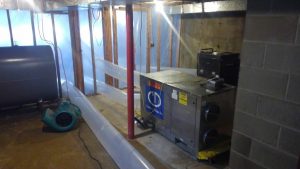 After working diligently to restore the structure from it's damaged state, the owners were happy to return home!
Puffback Cleanup in Cranston, RI Home
3/21/19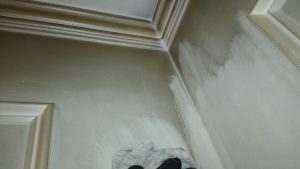 When "puffbacks" occur, they can severely damage the structure of your home, spreading finite soot and oil residue. When a homeowner in Cranston, RI experienced this problem, they were quick to call on ServiceMaster by Mason! When our technicians arrived, they found the bedrooms, hallways, bathrooms, and other areas of the home were affected.
After the initial inspection and carefully removing the unaffected items, our technicians got right to work. They used advanced products and processes to carefully remove the soot and oil residue from all walls, ceilings, and contents.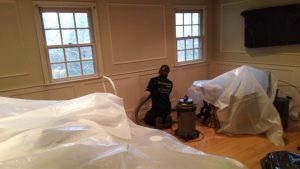 We also worked with a trusted dry cleaning company to deep clean and repair the affected textiles. After the structural cleaning, they addressed the HVAC systems, cleaning the ducts and removing the particles. After conducting a thorough cleaning of the affected areas, the home was finished and ready to go again!
Burst Pipes Water Damage Cleanup In Block Island
3/4/19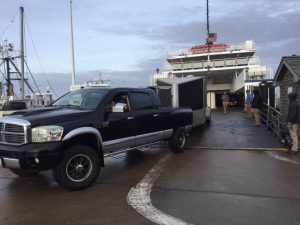 When it comes to burst pipes in Rhode Island and Connecticut, ServiceMaster by Mason is available at all times of the day to help – even at Block Island! As soon as we received word that there was trouble in one of the homes, Ryan Mason quickly responded to assess the damage of a broken pipe from a baseboard heater.
He found that the broken pipe was pouring water into the bedroom, damaging the flooring, carpet, and even running along the exterior walls to affect additional rooms. After calling for help, Head Technicians Jeff Moriarty and David Epps ferried over to assist with the restoration.
They carefully removed all affected carpeting, exterior walls, and insulation in both the bedroom and dining room, as well as 10′ of cabinetry to restore another damaged walls.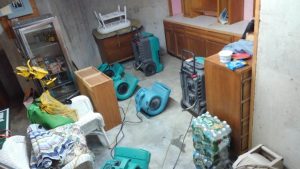 After using advanced products and methods to completely dry all areas, cleaning and applying anti-microbial spray to prevent mold growth, and throwing away the debris, ServiceMaster by Mason had successfully restored the home and the homeowners' peace of mind.
Commercial Kitchen Cleaning Westerly, RI
2/26/19
Depending on the type and size of a business, they will have small and large cleaning needs, needs that can be satisfied by our technicians at ServiceMaster by Mason. When a pizza kitchen in Westerly, RI had requested that their kitchen's interior awning be cleaned, Phil Mason and his cleaning team had tackled the challenge.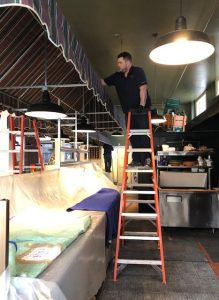 As soon as we arrived, we first covered all kitchen items and then got to work, using advanced products and cleaning process to fully clean the fabric awning. This was done in the early morning hours before the business had opened to avoid disrupting the operations of the business. After every inch was sanitized and cleaned, our team had exceeded the restaurant staff's expectations. It was a good day for everyone as they enjoyed the restored, clean look to their kitchen!
Burst Pipe Water Restoration in Wilcox Park, Westerly, RI
2/19/18
As frozen pipes are common in the later months of winter, some homes and businesses experience the disaster of them bursting, sending water in all directions and flooding the surrounding areas. When a Westerly, RI home had experienced this catastrophe, they had found water damage on all three levels. Not hesitating to take action, the owners called ServiceMaster by Mason.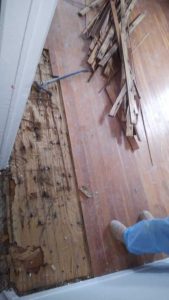 As soon as our technicians arrived, they immediately began extracting the standing water and conducting controlled demolition. Removing porous materials, including the drywall, wood floors and subfloors, paneling, and ceiling joists in the first and second floor bedrooms, living and dining rooms, den, kitchen, hallways, and stairwell. They had also worked on the water issues in the concrete foundation as well as additional electrical needs, removing all contaminated items.
During the drying process, our ServiceMaster by Mason professionals closely monitored the equipment, HEPA-vacuumed finite dirt, dust, debris, and plaster, and used an anti-microbial spray to prevent mold growth. After using advanced products and equipment, they were able to successfully restore the home to its original condition.
December 5, 2019
Donald Madura
Waterford, CT
I have a list of likes: 1. Quick response to my request for service. 2. Competent Crew - They worked together to get the job done expeditiously. 3. Courteous Crew - they listened to and understood my needs. 4. They were respectful of my home and property 5. The finished product was excellent - The odor from the damage was gone 6. I could easily move on to the restoration stage of the damages.
More Reviews