(401) 622-4156
Educational institutions from preschools to high schools and universities must provide an environment that is conducive to student learning and growth.  An important part of maintaining a good environment for student growth and success is keeping the building clean.  A clean and well-maintained facility will not only protect the health and wellbeing of the students, but also help instill some school pride in the students and staff.  If your school does not have an in-house janitorial staff, you can hire a professional university cleaners like ServiceMaster by Mason.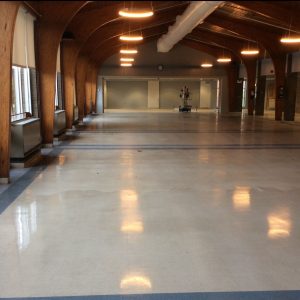 ServiceMaster by Mason provides complete school cleaning services for schools and educational institutions in Westerly, RI.  Our technicians use advanced cleaning products and methods to ensure that your school is spotless and provides a clean, sanitary environment for the students and staff.
Importance of School Cleaning
Every school experiences a high volume of foot traffic as students and staff pass through the building each day, dragging in dirt, mud, and other outside debris.  Hard surface floors and carpeting throughout the school can quickly become dirty, worn out, or stained from this extensive foot traffic.
Allowing the floors to become dirty and worn out will cause the building to look poorly maintained.  If the floors are not cleaned regularly, they could sustain damage that will greatly shorten their lives, costing the school money to replace them.  It is also more difficult for students and staff to take pride in a school that looks dirty and worn down.
Protecting the health and well-being of your students and staff is another reason why regular school cleaning is important.  With so many students attending school each day, schools can become a haven for germs.  It is important to regularly clean classrooms and remove germs from desktops and other surfaces that will only lead to more absences.
Disinfection with Electrostatic Spraying
It is very easy for illnesses to spread in schools, daycares and universities as there are many people that pass through the building each day and come into contact with the same surfaces.  Desks, countertops, gym equipment and other commonly used surfaces can become contaminated with germs and bacteria that can spread serious illness, including the flu and norovirus.  It is very important for these surfaces to be properly disinfected to prevent the spread of illnesses from students, staff and guests.
At ServiceMaster by Mason, we can disinfect commonly used surfaces with electrostatic spraying.  Our advanced electrostatic spraying equipment puts a positive charge in the disinfectant before it is sprayed which causes the positively charges particles to repel each other and spread over the surface.  The particles adhere to the negatively charged surfaces and kill germs and bacteria as they dry.  We can use this method to efficiently disinfect surfaces, items and hard to reach places and help decrease the spread of illnesses like Influenza H1N1, Norovirus, MRSA, HBV, HIV, and Klebsiella Pneumonia.
University Cleaners Westerly, RI
Our professionals at ServiceMaster by Mason use advanced cleaning methods, equipment, and green cleaning products to thoroughly clean and sanitize school buildings.  We will remove dirt and debris to create a healthy and impressive looking environment.  You can work with our professionals to create a unique cleaning plan that covers the needs of your facility.
Our school cleaning services will produce the following benefits:
Better indoor air quality
Less absences due to illness
Reduction of allergy and asthma symptoms
Higher average scores in reading and math
We can cover the following types of schools with our school cleaning services:
Preschools and daycare centers
Kindergartens
Elementary and middle schools
High schools
Preparatory schools
Charter schools
Universities and community colleges
Technical schools
If your school in the Westerly, RI area could benefit from professional cleaning services, contact ServiceMaster by Mason for our school cleaning services.  Our professionals will thoroughly clean your school building with effective cleaning products to help create a healthier and more comfortable learning environment.
Get a Free Estimate
You can reach us at (401) 622-4156 to learn more about our school cleaning services in Westerly, RI.
---
Related School Cleaning Services:
School Cleaning Warwick, RI
School Cleaning Professionals Providence, RI
School and University Cleaning Waterford, CT
University Cleaning Services Manchester, CT
University Cleaning Company Hampton, CT
September 30, 2020
M.A.D.C.
Killingworth, CT