(401) 622-4156
It is very important for schools and educational institutions at all levels to provide a comfortable environment for their students to learn and prosper.  This not only involves providing students with the proper resources for their studies, but also with a clean environment in which to study and attend classes.
Studies have shown that students perform better when their schools are regularly cleaned and maintained, and they are more likely to take pride in a school with an impressive appearance.  While many schools employ their own custodial staff, schools that don't have their own staff can work with a cleaning professional like ServiceMaster by Mason.
Our professionals at ServiceMaster by Mason are committed to providing school cleaning services for educational institutions at all levels in Warwick, RI.  We use eco-friendly and effective cleaning products, as well as advanced equipment and cleaning methods, to thoroughly clean and sanitize your facility.
School Cleaning Warwick, RI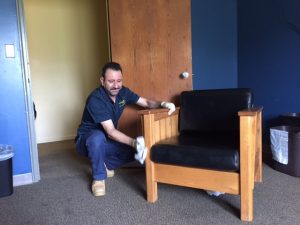 Hundreds of people including students and staff walk through the average school building each day.  This level of foot traffic can put a lot of stress on the floors and contribute to dirt and debris buildup, stains, and minor surface damage.  Dirty and stained floors can negatively affect the overall appearance of the building and if they are not cleaned regularly, they can quickly deteriorate and need to be replaced.  Providing consistent cleaning for the floors is important for prolonging their life, and it will also help improve the appearance of the building.
Another problem that schools commonly face is the accumulation of germs that can spread illness among the students and staff.  If the school is not cleaned regularly, the germs and bacteria will continue to spread and lead to more school absences.  Surfaces that are commonly touched like desks must be cleaned regularly to remove germs and protect the health of your students and staff.
Electrostatic Spraying

Illnesses can spread through schools, childcares and universities very easily which can cause students and faculty to miss class.  This can happen in part because many people within a school building come into contact with the same surfaces each day including desks, doorknobs, computers, sink handles, and countertops that can harbor harmful germs and bacteria.  These surfaces must be disinfected regularly to help prevent the spread of illnesses and reduce the number of absences.
Our technicians can thoroughly disinfect heavily used surfaces and areas with electrostatic spraying.  We use advanced equipment that puts a positive electric charge into the disinfectant before it is sprayed.  Once sprayed, the disinfectant covers the surface evenly as the positively charged particles repel each other and adhere to the negatively charged surface.  The disinfectant will work to kill germs and bacteria as it dries on the surface.  This method can be done quickly and efficiently to help prevent the spread of illnesses and bacteria like Influenza H1N1, MRSA, Norovirus, HBV, E.Coli and Salmonella.
University Cleaning Services
At ServiceMaster by Mason, we can thoroughly clean and sanitize schools and educational institutions using state of the art equipment and techniques.  Our green cleaning products effectively remove dirt and debris and contribute to a cleaner, healthier environment.  We will create a custom cleaning plan for your school to ensure that the unique cleaning needs of your building are met by our services.
When you call ServiceMaster by Mason for school cleaning services, you can expect the following benefits:
Improved indoor air quality
Reduction of school absences
Lower risk of allergy and asthma symptoms
Improved reading and math scores
Our school cleaning services are effective for the following:
Preschools and daycares
Charter schools
Kindergartens
Elementary schools
Middle schools
Preparatory schools
High schools
Technical schools
Universities and community colleges
Get a Free Estimate
Having a school building consistently cleaned and maintained will help improve the appearance of the school and create a healthier environment, which will positively affect the students.  If you need the help of a cleaning professional for your school in Warwick, RI, contact ServiceMaster by Mason for our school cleaning services.
You can give us a call at (401) 622-4156 for more information or to schedule an appointment. 
---
Related School Cleaning Services:
School Cleaning Services Providence, RI
School Cleaning Company Waterford, CT
School Cleaning Contractors Westerly, RI
Professional School Cleaning Manchester, CT
School and University Cleaning Hampton, CT