(401) 622-4156
At ServiceMaster by Mason, we offer burst pipes flood cleanup services to property owners in Warwick, RI. We specialize in removing any excess water and moisture on your property caused by frozen or burst pipes and restore affected areas in your home or business.
If you notice signs that your pipes may be freezing, we encourage you to consider the helpful tips listed below. Winters in the northeast can be brutally cold and take a toll on exposed pipes. It is critical to be prepared to avoid costly water damage.
How to Prevent Your Pipes from Freezing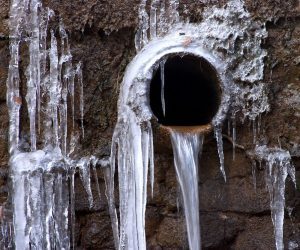 Winters in Rhode Island can be extremely long and cold, and it is important to understand how to prevent your pipes from freezing. When pipes freeze and burst, hundreds-to-thousands of gallons of water can rapidly enter your property and lead to large-scale damage. Utilizing the tips and tricks below can help prevent your pipes from freezing:
Keep your faucets running at a slow drip to keep water in your pipes circulating
Keep pipes under your sinks warm by opening up cabinet doors
Utilize electrical tape or pipe insulation to protect vulnerable pipes
Safely make use of a place heater to warm areas with uninsulated pipes
Turn off your outdoor water supply, and store your garden hose inside
How to Thaw Out Frozen Pipes
If your pipes do freeze, there are things you can do to prevent them from bursting. If you notice low water pressure, or frost/ice on your pipes, it is important to:
Locate which line includes the frozen pipe
Identify the freezing spot
Determine how bad the damage is (is the pipe frosty, covered in ice, or bulging?)
Slowly thaw out the pipe with a hairdryer or heat lamp (never an open flame)
Remove drywall to access frozen pipes in order to prevent larger-scale damage
Turn on any faucets that the freezing pipes are supplying water to
Burst Pipe Water Restoration Warwick,RI
Even if you are proactive, it is still possible for your pipes to burst. This can lead to severe water damage, and other complications such as mold, in a hurry. If this occurs to you, shut off your water right away, and contact our burst pipe flood cleanup experts. We are available 24/7 to address your emergency.
Once on your property, we will do the following:
Remove standing water
Eliminate excess moisture
Restore affected areas
Ensure that no mold growth has begun
Available 24/7
If you experience frozen or burst pipes on your property, contact our ServiceMaster by Mason representatives about our burst pipes flood cleanup services. We are available 24/7 at (401) 622-4156. We are proud to offer our services to residential and commercial property owners in need in Warwick, RI and throughout the state.
---
Related Frozen Pipe Water Damage Restoration Services:
Frozen Pipes Water Damage Cleanup Manchester, CT
Frozen Pipes Water Cleanup Providence, RI
Frozen Pipes Water Damage Restoration Waterford, CT
Frozen Pipes Water Extraction Hampton, CT
Frozen Pipes Flood Cleanup Westerly, RI