During the cold winter months in Hampton, CT, property owners need to be aware of the possibility of frozen and burst pipes. At ServiceMaster by Mason, we offer frozen pipe damage restoration services if your pipes burst to clean up the resulting water damage.
If you suspect that your pipes are freezing, consider these helpful tips below to prevent them from bursting. If your pipes rupture, we will respond rapidly to extract water, dry your property and restore affected areas.
Tips to Prevent Your Pipes from Freezing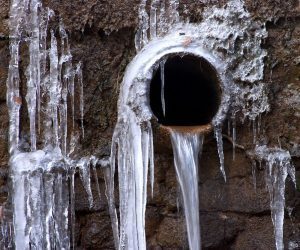 Connecticut winters can be both mesmerizing and dangerous. For property owners, they can lead to major building damage if precautions are not taken. To lower the chances of your pipes freezing, we encourage you to take the following actions:
Keep water in your pipes flowing by letting faucets run at a slow drip
Open up cabinet doors beneath sinks to keep the areas warmer
Insulate vulnerable piping with pipe insulation or electrical tape
Carefully warm uninsulated pipes with a space heater
Turn off your outdoor water supply
Keep your outdoor hoses inside
How to Safely Thaw Frozen Pipes
Even when you do everything right, your pipes can still freeze. If you notice low water pressure or frost on your pipes, then the process is likely beginning. In instances such as these, you should take the following actions:
Determine which pipe line is freezing
Locate the spot where the freeze is occurring
Contact piping professionals if severe damage has already taken place
If the pipe hasn't burst, you can thaw it by applying heat from a heat lamp or hairdryer (never use an open flame)
Remove drywall as necessary to reach freezing pipes
Turn on the faucet to which the freezing pipe is supplying water
Burst Pipe Water Restoration Hampton, CT
If your pipe bursts, we encourage you to contact our water damage restoration professionals at ServiceMaster by Mason as soon as possible. Our technicians are available 24-hours a day and know what to do to fully dry and restore your property and belongings. We utilize advanced water and moisture removal equipment to dry your property, provide demolition services for any affected and unsalvageable materials such as drywall and insulation,  and will restore affected areas.
In cases of severe water damage, it is common for mold to grow within 24-48 hours of water issues. However, we will provide mold removal if needed.
Contact Us
To leverage our frozen pipes damage restoration services, contact our ServiceMaster by Mason representatives at (860) 455-4969. Our lines are open 24/7 so that we can assist you in your time of need. We are proud to service residential and commercial property owners in Hampton, CT.
---
Related Burst Pipes Services:
Burst Pipes Water Damage Cleanup Warwick, RI
Burst Pipes Water Damage Restoration Westerly, RI
Burst Pipes Flood Cleanup Providence, RI
Water Damage Cleanup from Burst Pipes Manchester, CT
Water Damage Restoration from Burst Pipes Waterford, CT
More Reviews