ServiceMaster by Mason
Known for their dedication to restoring homes and buildings from severe destruction, ServiceMaster by Mason's team of experienced professionals uses advanced equipment to return building materials and personal items to their original conditions. From flood extraction to complete reconstruction, we have the capacity to handle projects of all sizes in all of the following counties: Washington, Kent, New London, Newport, Bristol, Tolland, Windham, Hartford, and Middlesex.
Our technicians are available 24/7 and will quickly respond to all emergency calls to prevent further damage to all affected surfaces.
For questions regarding these projects or our services, please don't hesitate to call us at (401) 622-4156 and we will be more than happy to assist you!
Water Damage Mitigation in Providence, RI
9/15/22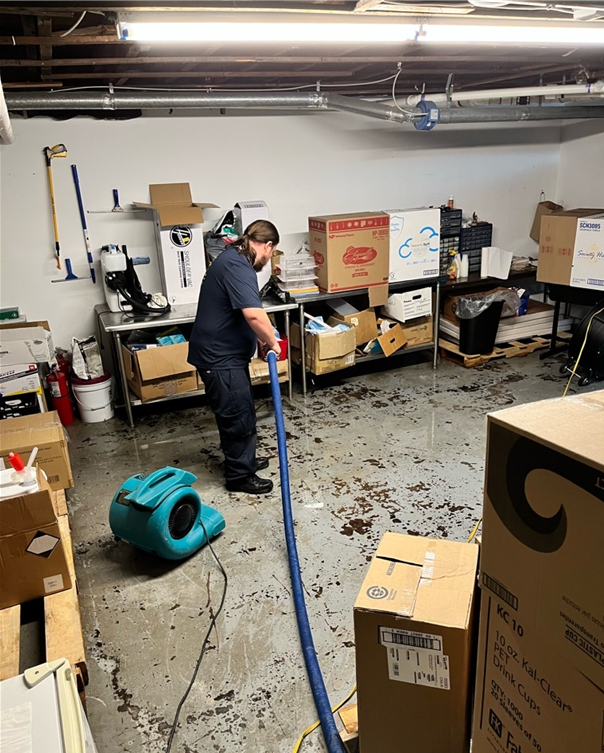 The accumulation of rainwater often leads to water damage in homes, businesses and other buildings. When recent rain storms drenched a Providence RI business, they called ServiceMaster By Mason to save the day!
Our certified technicians quickly arrived on-site to assess the water damage, and extract standing water from several rooms at the facility. We installed professional drying equipment including dehumidifiers, air movers, and fans to thoroughly dry carpets and floors before we clean and apply an anti-microbial product to prevent future mold growth. After drying the hallways, utility room, boiler room, and other affected spaces, our team promptly returned to remove equipment and provide a deep-cleaning of the carpets.
We worked diligently to limit the interruptions to this Rhode Island business, and their staff and clients.
Upholstery Cleaning in Groton, CT
9/6/22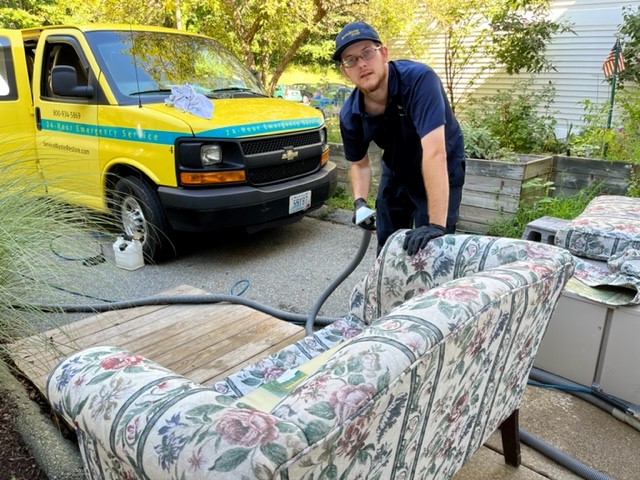 It's important that the cushions in your home or business remain clean, hygienic and in pristine condition. Sofas and chairs are used daily and can quickly become soiled. When the Mystic River Homes Congregate in Groton, CT wanted to have upholstered furniture cleaned thoroughly, they called ServiceMaster by Mason.
Our experienced technicians used powerful equipment and the latest cleaning products to remove dirt, debris, and stains from the fabric chairs and couches throughout the lobby and common room areas. We deep-cleaned and sanitized the upholstered furniture, giving it a clean and refreshed look that all staff, residents and guests can enjoy.
Water Damage Mitigation for Westerly, RI Property
8/17/22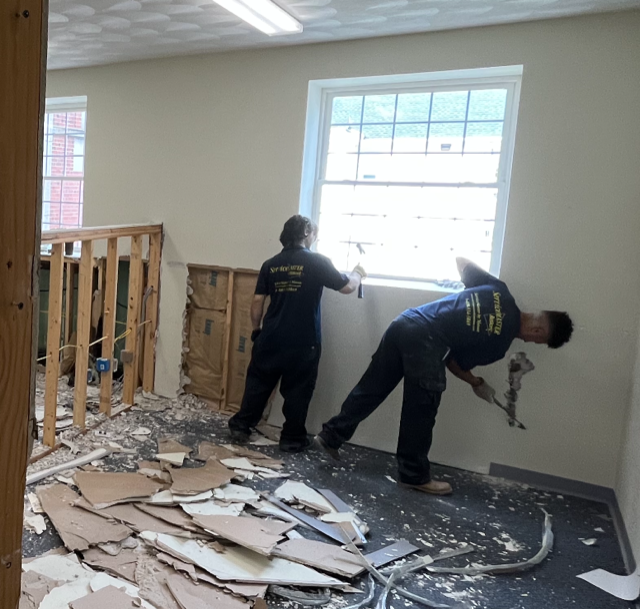 When a Westerly RI property experienced extensive water damage from a toilet malfunction, the ServiceMaster By Mason team sprang into action to assist. The incident resulted in over 3700 gallons of water spilling thru multiple levels of the building, affecting numerous business tenants.
Our team respond quickly to assess the damage, extract standing water and set-up our powerful drying equipment throughout the property. We removed damaged drywall and ceiling tiles, insulation, carpet, floors, debris and more. We partnered with professional movers as they removed tenants' belongings into a safe and climate-controlled storage facility. Our team worked for several weeks to complete demolition and drying services, applied an anti-microbial product to prevent mold growth. We prepared the property for rebuild services and ensured that the building is safe and clean again.
Puffback / Smoke Damage Mitigation in Hampton, CT
8/5/22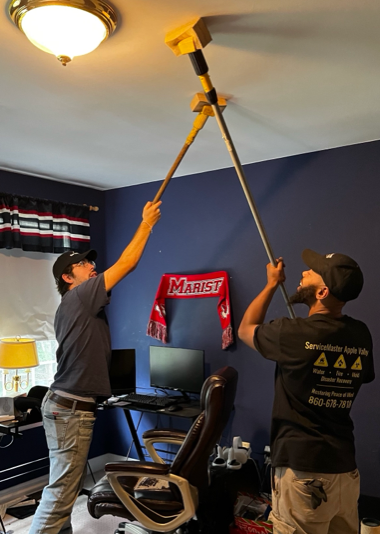 A puffback is a type of chimney fire caused by insufficient airflow through the flue. When this happens, soot and residue can gather in the home and make it necessary to remove it completely. When a faulty flue caused a puffback in a CT home, the homeowners called ServiceMaster By Mason for help in removing the finite soot and residue that made its way throughout their property.
Soot buildup can be detrimental to many different types of items and surfaces, so we expanded our team with the help of Technicians from our neighboring ServiceMaster franchise. Our crew used powerful HEPA vacuums to remove the dust and debris, chem sponges to remove soot and smoke damage, as well as damp wipes using commercial-grade cleaning products. The Technicians carefully cleaned walls, ceilings, appliances, cabinets, counters and all belongings. Then they deep-cleaned carpets, upholstery and floors. As a final step, they eliminated the soot and dust trapped in the HVAC system with a professional air duct cleaning, preventing debris from re-circulating in their air and home.
They worked diligently to restore the house and bring peace of mind to its owners.
RV Cleaning Project in Westerly, RI
7/21/22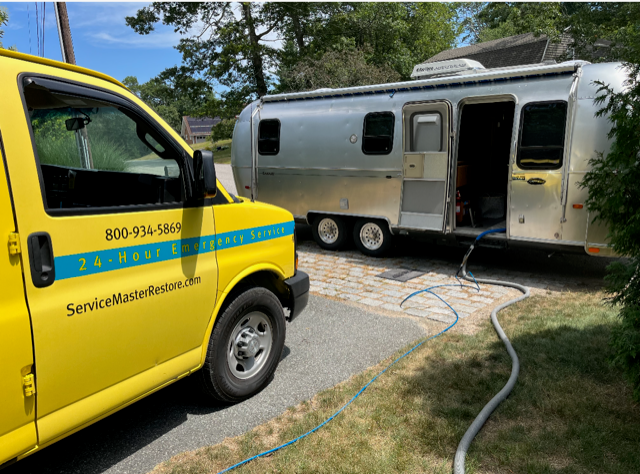 Summertime is the best time of year to explore! Now is the perfect time to freshen up your RV or caravan before heading out on a trip. During the winter and spring seasons, RV's and Caravans easily collect dust and debris, which can lead to mold & mildew concerns, nuisance animals infestations, odors and other problems. To prepare for their summer trip, a Westerly RI resident called ServiceMaster by Mason to freshen up their 27' Airstream.
Our Head Technician Collin used our professional equipment and the latest products and processes to deep-clean and sanitize the carpets, upholstery & more, also wiping down walls and tackling odor issues. He worked diligently to create a clean environment and prepare the client's caravan for fun summertime adventures.
Water Damage Cleanup Services in Providence, RI
7/8/22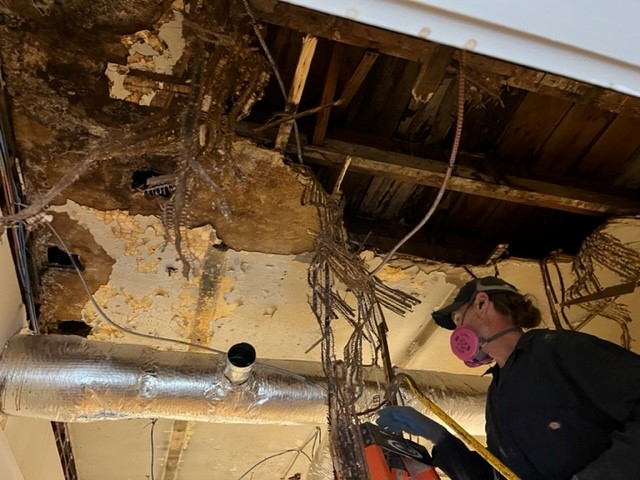 A leaky roof can damage building materials, causing problems such as mold. It is vital to take care of the problem before the damage spreads. When a popular Providence RI business experienced sagging and stained ceiling panels, along with rainwater gushing inside their facility, they called ServiceMaster by Mason for help.
Our experienced team quickly responded to the water damage, extracting standing water and setting up air movers and other equipment to begin drying the affected areas. We were able to save our clients' floors from "cupping" damage and costly replacement by the quick action of our technicians. Before beginning demolition of ruined plaster, drywall, insulation, tile and a suspended ceiling, our head technician Shawn installed layers of containment to stop dust and debris from reaching unaffected areas.
We thoroughly cleaned and treated all areas impacted by the flood with an anti-microbial to prevent mold growth. Finally, we disposed of all debris and prepared the business to re-build and re-open.
Fire & Smoke Mitigation Services in Pomfret Center, CT home
7/1/22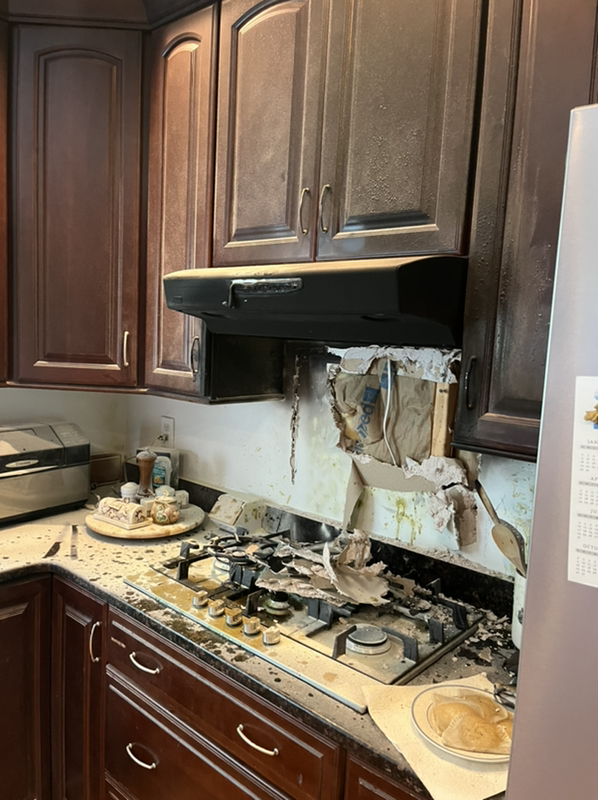 Grease fires are dangerous because they can spread and cause extensive damage from the smoke and soot produced. When a grease fire occurred in a Pomfret Center CT home's kitchen, the homeowner called ServiceMaster by Mason for help.
Owner Phil Mason quickly travelled to the home and assessed the situation. He devised a mitigation plan to clean damaged walls, ceilings, air ducts and belongings in multiple levels of the home. Our team then set up air scrubbers to improve air quality and malodors. We welcomed additional technicians from ServiceMaster Apple Valley to assist us in removing particles and soot from ceilings and walls, disposing of non-salvageable items, and demolishing cabinets above the damaged stove using a using a large team HEPA vacuum. Our team used chem-sponges and advanced products to remove soot and smoke from walls and ceilings, preparing them for repainting. We deep-cleaned upholstery and carpets to remove soot trapped in the fibers, ensuring that no soot remained after cleaning.
After a fire, soot and smoke can travel throughout your home using the air ducts. So, our final step is to clean the HVAC system thoroughly to remove the soot that remains after an event like this. Our technicians worked diligently each day to restore the home, and peace of mind.
Upholstery Cleaning Services in Westerly, RI Home
6/10/22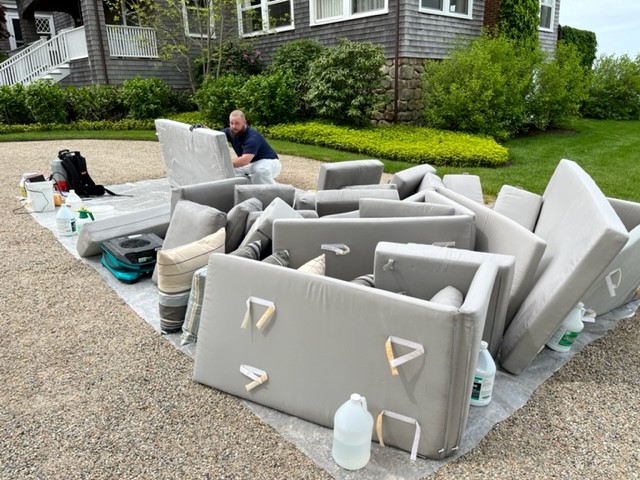 After noticing mold and mildew stains on her outdoor patio furniture, a Westerly RI homeowner called ServiceMaster By Mason for help cleaning her upholstered cushions to prepare for summer enjoyment.
To preserve the specialized fabric's integrity, we researched the best cleaning methods and ServiceMaster products to use before servicing their 30+ cushions in multiple lounge and chair sizes. Then, we carefully used our equipment and applied commercial-grade cleaning products on the cushions, left them to completely dry before-reapplying multiple treatments. We repeated the process until all mildew and mold stains were removed.
While we are happy to have patio cushions delivered to our office for cleaning, our team also provided service at our customer's home to minimize interruption to the homeowner and their weekend plans. We worked hard to ensure the fabric was thoroughly cleaned and ready for fun in the summer sun!
Commercial Cleaning Services in Westerly RI
5/26/22

After a long-term tenant moved out of their apartment in Westerly, RI, the property owner knew who to call! ServiceMaster by Mason could prepare the residence for a new tenant with our commercial deep-cleaning and sanitizing services.
Our professional team used effective commercial-grade products to clean the walls, window frames and baseboards throughout the property, and provide some extra TLC to the kitchen and bathroom areas, cleaning cabinets, appliances, bathtub and more. After the cleaning was completed and dust, dirt, mildew and ground-in debris were removed from the carpeting, our technicians provided a deep-clean of the carpets to remove stains and refresh high-traffic areas.
We worked hard to create a clean and healthy environment for the new tenant to enjoy!
Fire Damage Remediation in Pawcatuck, CT
4/21/22

Fire can start in the most unexpected places, including a detached garage. When a Pawcatuck, CT home's detached garage suffered from fire damage, the homeowner called ServiceMaster by Mason for our fire restoration services. Our team quickly arrived on scene to remediate affected items and restore the home.
Our experienced technicians first packed and removed all personal belongings to be cleaned and stored in our climate-controlled warehouse. Because of the extensive damage throughout the property, we demolished the remains of the destroyed garage and removed appliances, walls, insulation, ceiling, floors and more. All remaining framing, joists and other building materials were cleaned thoroughly with the latest products and processes to eliminate smoke and soot damage. Our owner, Ryan Mason, then provided high-volume media blasting services on the heavily scarred interior framing and ceilings, and exterior garage pad. This effective method prepared the surfaces for a new finish.
ServiceMaster by Mason worked hard to prepare the home for the rebuilding process and to provide the homeowner with peace of mind.
Commercial Cleaning in Attelboro, MA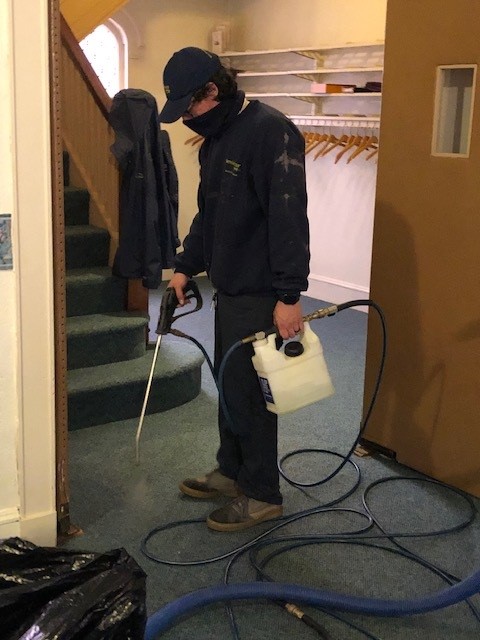 4/14/22
Easter is a time when congregations come together. The Refuge Church called ServiceMaster by Mason for our specialized cleaning services tailored for Houses of Worship so they can welcome holiday guests in a clean and sanitized environment.
Our professional team used powerful truck-mounted equipment along with the latest commercial-grade products to effectively clean over 150 upholstered chairs, even tackling tough spots and stains. Our team thoroughly cleaned the carpets by removing ground-in dirt, debris, and bacteria. ServiceMaster by Mason worked hard to prepare The Refuge Church for their holiday guests and create a clean and healthy setting for all to enjoy.
Fire and Smoke Damage Cleanup for Marlborough, CT Home
3/22/22
Unexpected fire accidents can start anywhere within a property, even in a detached garage. ServiceMaster by Mason was called by a Marlborough, CT home to quickly remediate affected items and restore the home from fire and smoke damage.
Due to the extensive damage, we expanded our professional team with experienced technicians from Advanced Restoration Services. We first packed and removed all belongings that need to be cleaned, demolished the remains of the destroyed garage, then removed the home's damaged materials including walls, insulation, ceiling and floors. All remaining items were thoroughly cleaned to eliminate the smoke and soot damage with the latest products and processes. Our owner Ryan Mason also provided media blasting services on the heavy scarred garage pad.
Our team worked hard to prepare the home for the rebuilding process and providing the homeowner with peace of mind.
Commercial Floor Cleaning in Westerly, RI
3/11/22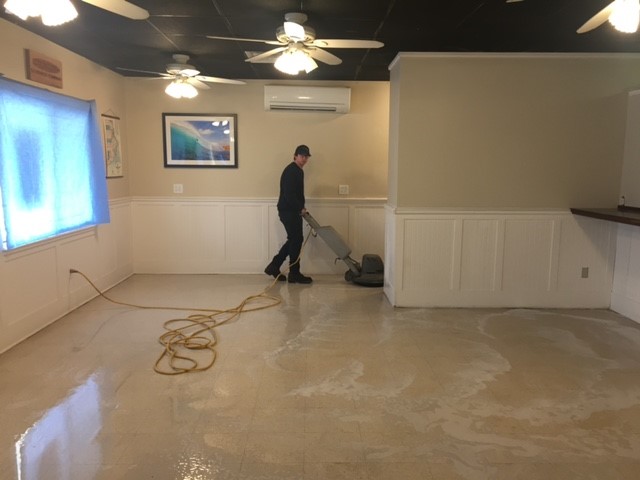 Businesses need to clean the carpets and floors regularly as the daily foot-traffic from the visitors and employees can grind dirt, debris, bacteria and more into the floors. When the floors of a popular sandwich shop located near the Misquamicut beach need some extra TLC from ground-in sand by thousands of yearly visitors, they contacted ServiceMaster by Mason for help!
Our professional technicians thoroughly washed, stripped off the old wax, and applied a fresh new wax coating to the sanitized, shiny, and clean floors throughout their dining room and kitchen. We used the last products and processes for our floor cleaning services, including slip-resistant method to prevent slips and falls. Out team worked hard to return the floors to like-new condition and ready them for the busy 2022 season and customers.
Water Mitigation in Warwick, RI Home
2/28/22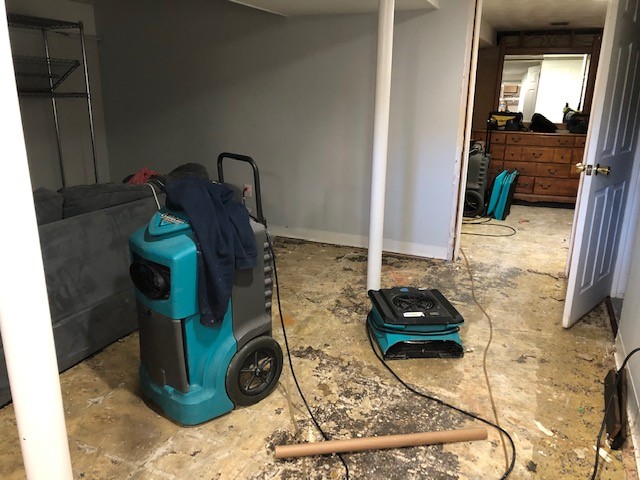 Water leaks from appliances can cause some serious water damage for properties. When the Salvation Army discovered a hot water heater leak in their residential property, they called ServiceMaster by Mason for water mitigation!
Our technicians traveled to their Warwick RI home and quickly developed a mitigation plan for the water damaged lower level and set-up our professional equipment to begin drying. The team removed and disposed of affected vinyl tile, carpet & pad, wood paneling, drywall, furniture and various items. Once the demolition was complete, our certified Technicians thoroughly cleaned all materials and spaces, and applied an anti-microbial treatment to prevent future mold growth and mold damage.
Our team worked hard to prepare the home for reconstruction and for its residents to enjoy.
Post Construction Cleaning in Coventry, CT
2/16/22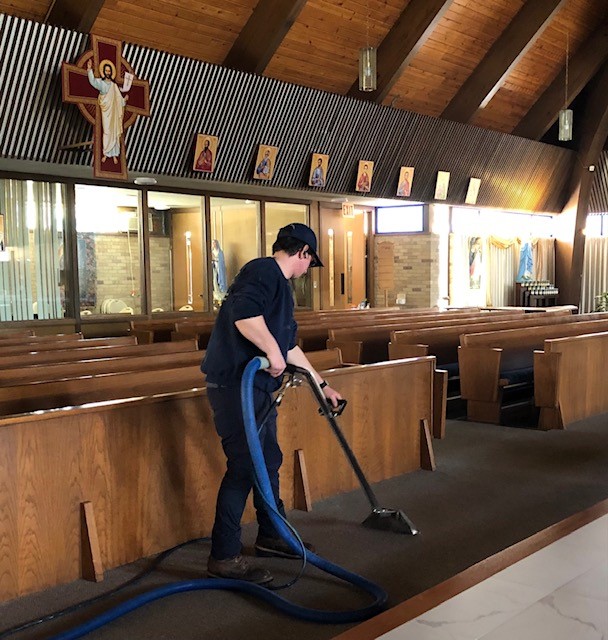 After installing a new roof, finite dust, debris, plaster, and more covered items and spaces throughout St. Mary Church, it is time for post construction cleanup. Even when construction is done, it is not safe to enter the construction site because there are always debris and construction materials left on-site. That is why St. Mary Church reached out to ServiceMaster by Mason for thorough post-construction cleanup and sanitization of their facility.
Our team used the latest products and equipment, including HEPA vacuums, to methodically clean and remove the dirt and debris from pews and benches, eaves and lights, walls, doors, windows and areas high and low.  Once the ServiceMaster by Mason Technicians removed the dust and renovation remnants from the rectory, office, restrooms and all areas of this ornate house of worship, our team provided a professional deep-cleaning of their carpets and floors.  Our team worked a full week to make sure every corner of the church is clean and safe for the parishioners and guests to enjoy!
Water Mitigation in Worcester, MA
1/24/22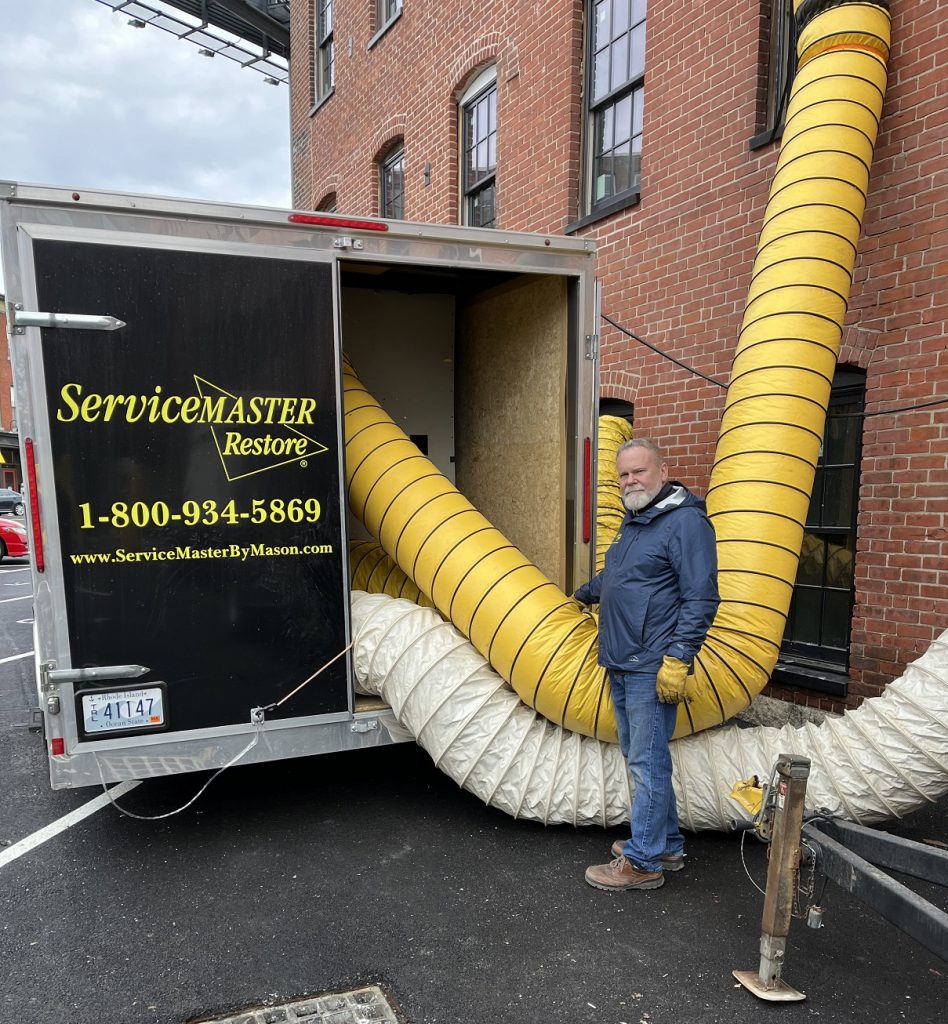 When the sprinkler heads freeze and break, it can cause severe damage to the property.  A newly renovated apartment is expected have tenants move in mid-January and they need help from professional restoration companies to help them fix this problem. To make sure the tenants can move in on time, another restoration company contacted ServiceMaster by Mason to help with the water mitigation project to work as a team to extract the water and minimize the damage to the building.
Our team quickly mobilized and arrived on scene within a few hours with the latest drying equipment to save the day! Our state-of-the-art Heat Drying Trailer gradually heated the property to 80 degrees, allowing various building contractors to complete needed renovations before the move-in date, while we quickly dried the units and materials. The Trailer saved numerous man-power hours and drying time, and this huge water mitigation project was completed in only 7 days! The tenants were able to move-in on time as expected, with everything fixed.
Carpet Cleaning in Wakefield, RI
1/10/22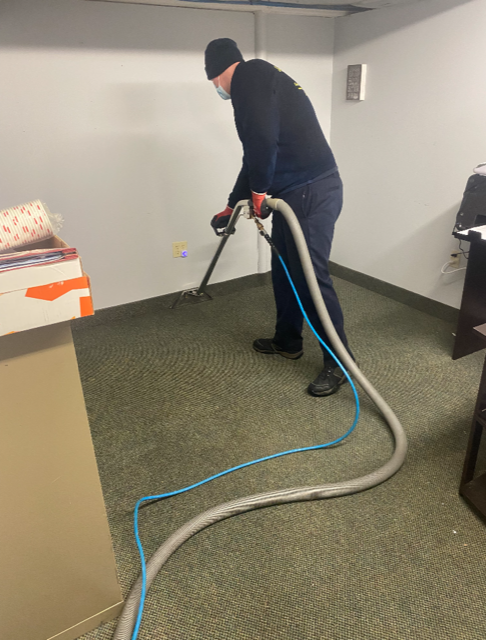 Businesses' carpets and floors dull and stain at a quicker rate from the frequent use of employees, customer and guests. When Save One Soul reTAIL needed carpet cleaning services, they called ServiceMaster by Mason for help.
Our owner Phil Mason and Carpet Technician Jonathan used the latest products and equipment to remove ground-in dirt & debris, bacteria, pollen, hair, and more that was embedded in the carpet's fibers from everyday foot traffic. Our team then deep-cleaned and sanitized carpets, refreshing them and removing malodors using our powerful truck-mounted equipment, extending the life of the carpet and creating a clean and healthy environment.
Save One Soul was excited by the transformation of their carpets, stating: "They are cleaning our carpets at SOS reTAIL for FREE and have been nothing short of amazing to work with! Owner Phil Mason is donating his time and services to make sure our store stays squeaky clean. THANK YOU, ServiceMaster!" We were happy to assist this non-profit organization helping dogs in need, and you can too! To purchase items or services for your furry friend, or to adopt a new dog for your family, visit their website.