ServiceMaster by Mason
Known for their dedication to restoring homes and buildings from severe destruction, ServiceMaster by Mason's team of experienced professionals uses advanced equipment to return building materials and personal items to their original conditions. From flood extraction to complete reconstruction, we have the capacity to handle projects of all sizes in all of the following counties: Washington, Kent, New London, Newport, Bristol, Tolland, Windham, Hartford, and Middlesex.
Our technicians are available 24/7 and will quickly respond to all emergency calls to prevent further damage to all affected surfaces.
For questions regarding these projects or our services, please don't hesitate to call us at (401) 622-4156 and we will be more than happy to assist you!
Commercial Carpet and Floor Cleaning in Coventry and Putnam, CT
4/30/21
Similar to furniture, carpet and flooring absorb dirt, debris, mold spores and other allergens, only to a much higher extent from all the foot traffic. Every time someone walks in the door, their shoes track in dirt and debris that sinks down within the fibers and crevices, wearing it down over time.
So when the Coventry CT Department of Public Works and The Courthouse Bar & Grille in Putnam, CT noticed this issue within their buildings, they needed a professional to restore a clean environment for all guests, patrons, customers and employees. They called ServiceMaster by Mason for floor and carpet cleaning services.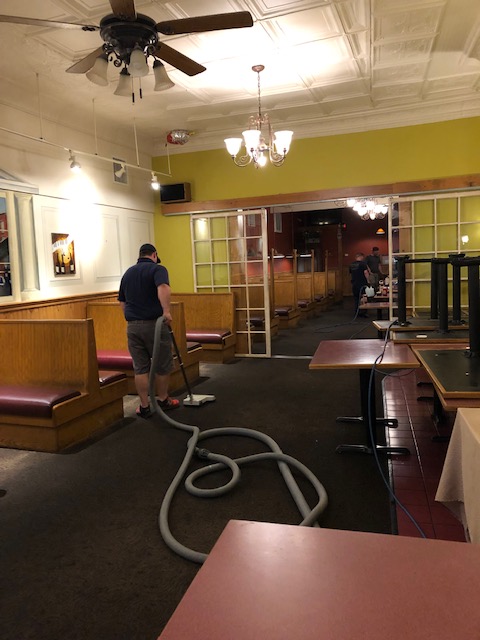 As soon as we arrived, our technicians went straight to work, sanitizing and deep cleaning all carpeting and hard-surface floors using advanced cleaning products, techniques and equipment. After removing deeply embedded dirt and debris from the office, hallways and dining room floors and worked around their busy schedules, the staff were excited to see the results.
Our professionals worked efficiently and effectively using eco-friendly products and methods to restore a like-new condition within the carpet as well as enhance the appearance of the interior spaces.
Content Cleaning and Pack Outs from Fire Restoration and Mold Remediation Projects
4/16/21
When disaster strikes, your home or building structure may not be the only materials affected; furniture, antiques, clothing and many other valuables can become damaged from water, mold, fire and smoke. ServiceMaster by Mason was recently called for content cleaning and pack out services from both mold and fire damage.
Our certified Technicians quickly responded right away, carefully inventorying and packing each item and transporting them our climate-controlled, secure warehouse for detailed cleaning and storage.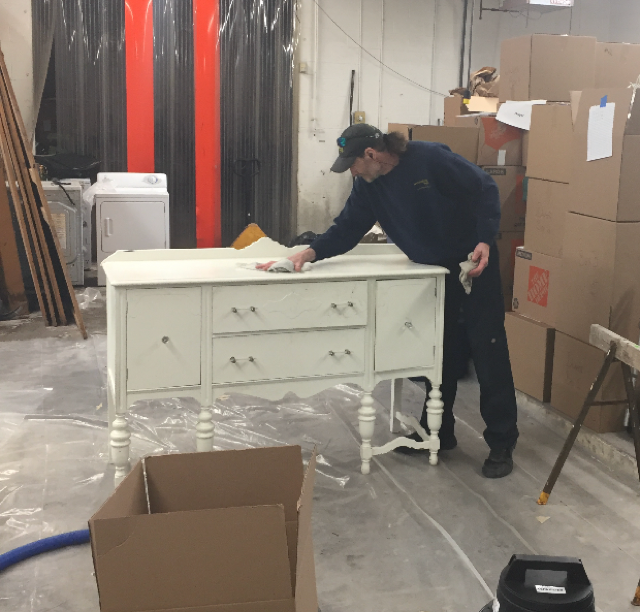 With damage from both mold and fire, our team was prepared for a detailed process of restoring each precious item to its original condition. Once everything arrived to our storage facility, they were carefully unwrapped, cleaned and deodorized. Everything from small items to large furniture was cleaned using a perfected cleaning technique and commercial-grade products.
After removing harmful smoke and soot residue and mold spores from hundreds of items, they were carefully wrapped, packed and store until the restoration projects were complete on the homes.
Church Cleaning in Attelboro, MA
4/5/21
Just as Easter festivities were on the horizon, the Refuge Church in Attelboro needed to prepare! When looking around for a detailed commercial cleaning service, they found ServiceMaster by Mason, ready to clean, sanitize and disinfect all surfaces.
Using powerful, truck-mounted equipment as well as advanced products to clean over 150 upholstered chairs and remove stain, they also removed deeply embedded debris and bacteria from the carpet fibers. After preparing the floors and chairs for the expected guests, our technicians wiped down the walls, ledges and doors to remove all dust and cobwebs were removed. After restoring the church to a clean and healthy environment, they were ready for the holiday mass!
Air Duct Cleaning in Providence, RI Home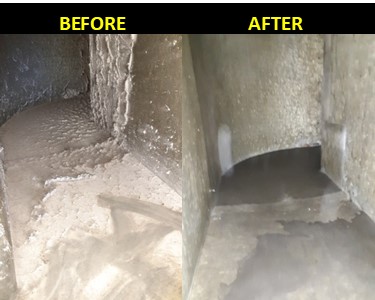 3/19/21
It's not often that one pays attention to how much dirt and debris is circulating through their home, but over time, it's hard not to notice. A particular homeowner in Providence, RI noticed this issue in his home and wanted to remove all the dust, dirt and debris from a recent renovation as well as remove the accumulated dirt in the air ducts. So he called ServiceMaster by Mason for air duct cleaning services!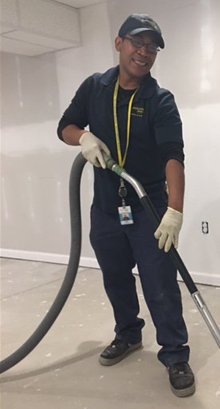 Our professional technicians responded with advanced equipment and a perfected process that would remove all dirt and contaminants within the air ducts and HVAC system, allowing clean air to flow throughout the home. After detailed cleaning of the system, all access holes were resealed and the system was returned to a like-new condition!
After working hard to remove all the dirt and debris from the air ducts, the homeowners can enjoy improved energy efficiency as well as cleaner air in their home, making it much easier to breathe.
 Disinfection Services at Bogue's Alley in Pawcatuck, RI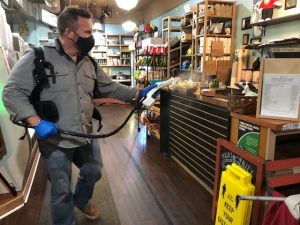 Winter is FINALLY coming to an end! And what better way to get a spring cleaning than a disinfection service to eliminate those nasty bacteria, viruses and pathogens. Bogue's Alley in Pawcatuck, CT was thinking the same thing as they wanted to take preventative measures and provide a sanitized and safe environment for their customers, guests and staff.
After calling ServiceMaster by Mason for commercial cleaning and disinfection services, one of our owners, Ryan Mason, used the Sani-Guard Electrostatic Spraying tool, the most effective method to eliminate harmful germs and viruses like Norovirus, COVID-19, Influenza H1N1 and more, to efficiently disinfect the whole restaurant.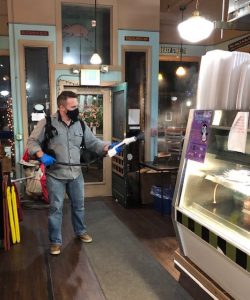 As these harmful bacteria can hang out on surfaces and crevices, Ryan paid extra attention to disinfect all areas, cracks and corners, including doors and handles, tables and chairs, sinks and coolers, shelves, counters and phones as well as the kitchen area, lobby, office, restroom and other areas with high-touch surfaces.
With only a few minutes of dwell time, the Sani-guard Electrostatic Sprayer is fully effective when sanitizing and disinfecting commercial spaces big and small. It's also food-safe, non-toxic and non-corrosive! At ServiceMaster by Mason, we're happy to restore and maintain clean environments within our community. We also love this local business and highly recommend checking out their menu of delicious breakfast and lunch options (as well as their new salad options) at https://boguesalley.com.
Water Damage Restoration with Heat Drying Trailer in Wakefield, RI Home
2/11/21
As ServiceMaster by Mason is committed to using only the most powerful tools and equipment to restore homes ad businesses from water damage, Phil & Ryan Mason were excited to try out their new tool on the latest water damage restoration project at a Wakefield, RI home, called the 800K BTU 5K CFM Heat Drying Trailer.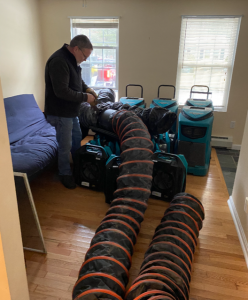 Using its own generator to create a heat source, the self-contained heating and drying unit warmed up the home to 80 degrees to prevent additional damage. Phil Mason set up the reusable flex ducts that fed into the home from the trailer, using the generator to draw the heat. It fully dried and thawed out the building materials and belongings to reduce the homeowners' and insurance company's costs.
The Heating Trailer ran for three days while our professionals conducted the water mitigation process with the smaller equipment. The heat was regulated in the home by using a thermostat, however, the trailer can run up to 145 degrees! Using tools both large and small to restore properties quickly and effectively, ServiceMaster by Mason can provide some much needed peace of mind after a major disaster like water damage!
Fire Restoration in Portsmouth, RI Home
2/5/21
Every year, thousands of fires occur as the result of faulty appliances. First starting with a spark, they will spread within seconds to cover the surrounding combustible materials in flames. With quick action, the fire can be extinguished, but the damage to the home's contents and building materials will continue to spread without proper restoration and cleaning methods. When this happened to a homeowner's laundry appliances in Portsmouth, RI, he quickly called ServiceMaster by Mason for fire restoration services!
With 30+ years of experience, our team knew exactly what to do. As soon as they arrived, they removed all standing water that was used to put out the fire, followed by boarding up all windows and the roof to secure the property. Our professionals also worked with the following contractors during the restoration process: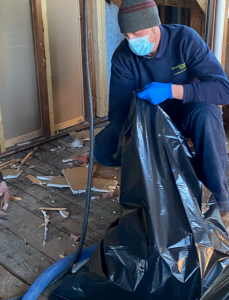 Amity Electric to install the necessary generators
Sal's Clothing Restoration to repair the affected clothing and fabrics
Mass Bay Movers to pack and return all salvageable items to our climate-controlled warehouse for cleaning and restoration
Our professionals were careful to remove and dispose of all destroyed walls and insulation, multiple layers of flooring, cabinetry and more. We also used commercial-grade cleaning products to remove multiple smoke layers from items and building materials. Finally after preparing the home for reconstruction, the homeowner was happy to see the progress made in restoring his property from the disaster.
Smoke and Soot Removal at Hampshire Heights Housing Complex
1/20/21
With everyone spending more time indoors and staying home at this time of year, kitchen fires are incredibly common. Once it starts, smoke and soot can quickly spread throughout the rest of the home and deem the area unsafe. As this was the case at the Hampshire Heights Housing Complex, Putnam Housing Authority quickly called ServiceMaster by Mason for smoke and soot removal services!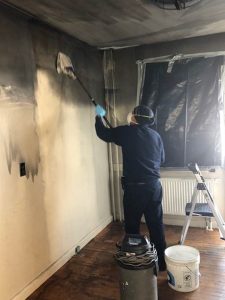 Our owner, Phil Mason, responded right away, bringing in air air scrubbers with charcoal filters to remove the smoke odor. Our licensed and trained technicians then extracted the water in the basement that was used to douse the flames, followed by setting up dehumidifiers and air movers to dry out the affected areas and materials.
Chem-sponges and commercial-grade cleaning products were then used to clean the ceiling, stairs, walls and more throughout the three-story property. After carefully removing and discarding damaged floor tiles, the sub-floor beneath it and other destroyed materials and furniture, our team HEPA-vacuumed all finite dirt and debris. After removing multiple layers of smoke damage, the property was prepared for the upcoming renovations, so the tenants could move back in.
Puffback Cleanup in Westerly, RI Home
1/4/21
For homeowners with oil burners or gas fireplaces, there is always a potential for a "puffback" to occur. This is when the system backfires and sends thick and oily soot and debris throughout the exhaust and air vents within the home.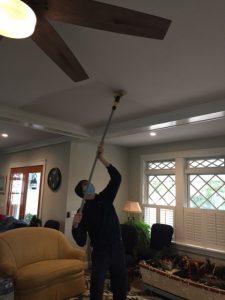 When this homeowner in Westerly, RI experienced a puffback from their gas fireplace, they were quick to call the pros at ServiceMaster by Mason for professional puffback cleanup services!
Our technicians were quick to respond, using commercial-grade cleaning products and chem-sponges as any over-the-counter treatments would worsen the problem. Using these cleaning materials to manually and methodically remove every layer of the soot, they cleaned the living room from top to bottom. Washing down all walls and surfaces, they quickly returned the home to its beautiful condition, restoring both the property and homeowners' state of mind.
Flood Cleanup at Two Stores in Providence, RI
12/9/20
When it comes to Mother Nature showing her wrath, she doesn't spare any mercy during the holidays! After the strong rainstorms in flooded two retail stores Providence, RI, the managers were quick to call ServiceMaster by Mason for water damage restoration!
As our technicians are certified in Water Mitigation, they responded right away to extract water from the store's floors and carpets. Setting up numerous dehumidifiers and air movers throughout each store, they created an air flow to effectively dry out each of the wet areas.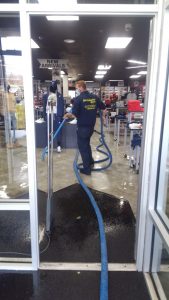 Our owner, Phil Mason, also checked back frequently to monitor the drying process, meeting with the store managers, who were also willing to stay late or come in early, which contributed to the success of mitigating the water damage.
With a quick response from our team, we minimized the risk of additional damage, restoration time and costs as well get Expressions and CitiTrends ready for the holiday shoppers within 48 hours. As all businesses need the support during the holidays, please be sure to shop locally while staying safe!
ServiceMaster Franchises Talk DR Services, COVID Cleanup & More on WFSB's "Better Connecticut"
12/1/20
To share the many services provided by ServiceMaster by Mason and ServiceMaster Apple Valley, owners Ryan Mason and Isa Criscitello appeared on WFSB's "Better Connecticut", meeting with the legendary talk show host Scot Haney. At first, the studio was closed to visitors, but ServiceMaster Restore's efficient and effective disinfection services provided a great solution!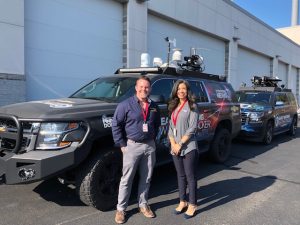 Ryan sanitized and disinfected the WFSB studio and Weather Tracker Vehicles using our Electrostatic Sprayer. Afterwards, both Ryan and Isa were both invited to appear at the WFSB CH3 to provide some insight on ServiceMaster Restore's various restoration and specialty cleaning services.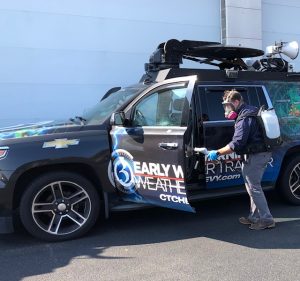 This included a demonstration of three cleaning techniques, comparing the effectiveness of manual cleaning and wipe-downs vs. the fogging method vs. the electrostatic sprayer to kill and remove viruses, bacteria and germs.
With a number of safety concerns now put in place due to mold infestations, we also highly recommend to contact a professional for mold remediation instead of trying basic over-the-counter products. The segment aired on October 28th and November 8th. For more information regarding our mold remediation and electrostatic disinfection services, give us a call at (401) 622-4156.
Floor and Carpet Cleaning at Woonsocket RI Housing Authority
11/20/20
Especially in commercial buildings, carpeting and floors take a heavy beating from everyday foot traffic, absorbing dirt, pollutants, mold spores, pollen and more. Hundreds of shoes are tracking in dirt and debris that seep down into the fibers of the carpet and in floor crevices, which can all dull its appearance.
ServiceMaster by Mason has over 30 years in carpet cleaning and floor care, restoring these surfaces and materials in facilities of all sizes. Our latest project was at the Woonsocket RI Housing Authority, cleaning and sanitizing their carpets and floors for all residents and guests.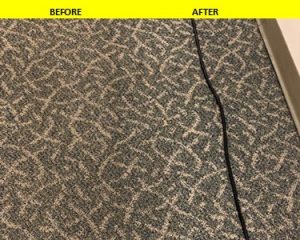 Our owner, Phil Mason, led our trained and experienced team, using commercial-grade equipment and products as well as advanced techniques to remove embedded dirt, debris and bacteria from floors and carpets throughout the facility. These include laundry and community rooms, hallways and other areas on all 10 floors of the Saint Germain Manor apartment complex.
After working efficiently and effectively with eco-friendly, hospital-grade cleaning products to restore the floors and carpets to a like-new condition, they also improved the overall appearance of the rooms!
HarborOne Bank Disinfection in East Providence, RI
11/13/20
With the heightened spread of COVID-19 as temperatures continue to drop, there's no such thing as being careful when clean. So to keep everyone safe and healthy, HarborOne Bank of East Providence wasted no time in calling ServiceMaster by Mason for complete commercial cleaning and disinfection services.
One of our owners, Ryan Mason, quickly responded, using the Sani-Guard Electrostatic Spraying tool to quickly sanitize their facility. This advanced equipment is a beauty in eliminating harmful bacteria, viruses and pathogens like Influenza H1N1, COVID-19, Norovirus and more, all without the use of harsh chemicals.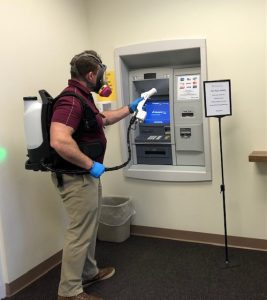 Another great benefit is that the hospital-grade disinfectant only requires a few minutes of dwell time to be fully effective in sanitizing the high-traffic branch. The  Electrostatic Sprayer is also non-toxic, food-safe and non-corrosive!
Covering all nooks and crannies where germs and bacteria love to hide, Ryan Mason took extra care to sanitize and disinfecting these areas thoroughly. High-touch areas and surfaces were also given special attention, including tables and chairs, restrooms and breakroom, offices, lobby, ATM area, desks and counters, phones and computers as well as outdoor drive-thru lanes.
Working around the branch's busy schedule, Ryan worked diligently to restore a clean and safe environment for all employees, customers and guests.
Air Duct Cleaning at Westerly Housing Authority in Rhode Island
10/26/20
While it's normal for dust, dirt, debris and other allergens to accumulate within homes and buildings over time, it becomes pulled into the HVAC system and redistributed throughout the building. A dirty HVAC system can lead to decreased efficiency, expensive electric bills and poor air quality, but a good air duct cleaning can help.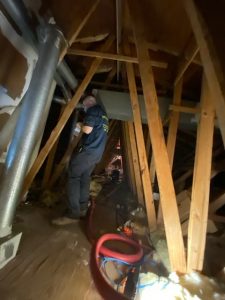 When the Westerly Housing Authority's Chestnut Court started to notice the allergen buildup within their HVAC system, they called ServiceMaster by Mason! Our professionals responded with advanced equipment  and powerful vacuum system to improve he indoor air quality for all residents in the 50 units. Spending several days in the attic, they removed built-up pollen, mold spores, dirt, debris, and dust from the ductwork. Removing these allergens not only improves the air quality but also removes bad odors, even extending the life of the HVAC system.
After restoring a healthy and clean environment for the residents of the Westerly Housing Authority in Rhode Island, they were happy to enjoy a much cleaner living space.
Post Construction Cleanup in Westerly, RI Restaurant
10/19/20
Following the construction and renovation project of a new restaurant in Westerly, RI, business owners certainly didn't want to risk any finite dust and debris falling into guests' plates! So before opening, they called ServiceMaster by Mason for a detailed post construction cleanup!
Our commercial-grade cleaning products and equipment would add the finishing touch to a clean and healthy environment for guests, staff and patrons. Our professionals removed all dirt and debris from pipes, ceiling areas and cracks, air ducts, lights and fixtures, and more, following all OSHA safety regulations.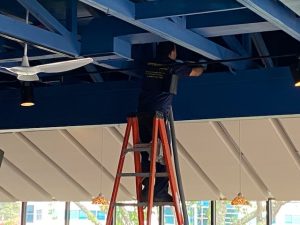 Our technicians also used perfected methods to HEPA vacuum, eliminate and clean finite dust, dirt and debris to give the restaurant owners full confidence of being ready on opening day. ServiceMaster by Mason is excited to see this restaurant in full operation and can't wait to start dining here ourselves!
You can check out the menu  and grand opening schedule here: https://www.nobullsteakhouseri.com.