ServiceMaster by Mason
Known for their dedication to restoring homes and buildings from severe destruction, ServiceMaster by Mason's team of experienced professionals uses advanced equipment to return building materials and personal items to their original conditions. From flood extraction to complete reconstruction, we have the capacity to handle projects of all sizes in all of the following counties: Washington, Kent, New London, Newport, Bristol, Tolland, Windham, Hartford, and Middlesex.
Our technicians are available 24/7 and will quickly respond to all emergency calls to prevent further damage to all affected surfaces.
For questions regarding these projects or our services, please don't hesitate to call us at (401) 622-4156 and we will be more than happy to assist you!
Commercial Cleaning in Putnam, CT Town Hall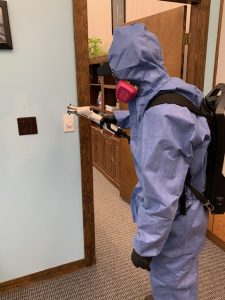 3/31/20
With little to no foot traffic in businesses around the country, now is the perfect time to call a commercial cleaning service to disinfect your property! Putnam Town Hall and Town Garage surely didn't hesitate to call ServiceMaster by Mason to clean out their facility. As the Town officials and their team provided essential services within the community, we were able to schedule an appointment that was convenient for them.
Upon our arrival, our crew went straight to work, cleaning numerous high-touch surfaces and spaces often filled with bacteria, germs, and even disease-causing pathogens!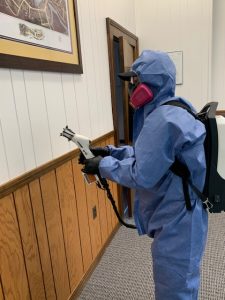 Cleaning crew Phil Mason and Head Technician, Collin Chaffee, each used the Sani-Guard Electrostatic Spraying tool, the most effective method to fully kill both germs and viruses including Norovirus, COVID-19, MRSA, Influenza H1N1, and many more. This method is also the most cost-effective as it eliminates downtime and the need for maintenance staff to do a manual cleaning.
The Electrostatic Sprayer also only needs a few minutes of dwell-time in order to take effect. It is a hospital-grade disinfectant as well as EPA-registered, food-safe, and non-corrosive.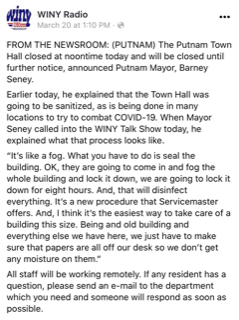 After the cleaning, Putnam Mayor, Barney Seney, announced our work on WINY Radio regarding our cleaning services for the Town. He explained that both Phil and Collin worked efficiently and effectively to clean all surfaces and spaces throughout the facility, including computers, restrooms, phones, offices, closets, walls, doors and handles, and even the town vehicles! Within just a few hours, they had created a clean and healthy environment for all guests and staff to enjoy.
Spurwink School Cleaning in Lincoln, RI
3/23/20

While schools are empty to protect the health and safety of children, schools are actively taking measures to have the buildings clean and ready for when they return. Everything including offices, classrooms, restrooms, gyms, play areas, and more, must be disinfected.
This was the case for a local school in Lincoln, RI when they reached out to ServiceMaster by Mason for school cleaning services. Our professionals responded right away as owner Phil Mason and Head Technician Collin Chaffee used the Sani-Guard Electrostatic Spraying tool to decontaminate and sanitize the facility.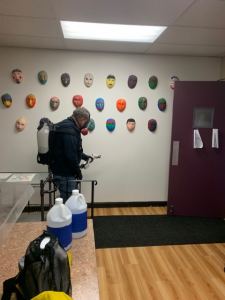 This equipment is the most effective and efficient method for fully eliminating a number of bacteria and viruses, including Norovirus, COVID-19, MRSA, Influenza H1N1, and many more. This equipment is also non-toxic and offers an eco-friendly way of cleaning high-touched surfaces. Finally, the Electrostatic Sprayer only requires just a few minutes of dwell-time to remain effective, saving the staff lots of time from manual cleaning.
Working throughout the facility, both Phil and Collin worked to clean all offices, classrooms, community room, gymnasium, lockers, computers, doors, nurse's station, kitchen, restrooms, gym equipment, and games. After a few hours of cleaning, the school was fully decontaminated and ready to host the kids and staff to enjoy.
Disinfection and Cleaning at Ocean Community Chamber of Commerce in Westerly, RI

3/16/20
While everyone is encouraged to stay home, businesses have been proactive in maintaining a clean and healthy environment throughout the midst of the virus pandemic. As a business that is fortunate to provide commercial cleaning services that ensure to eliminate the majority of these disease-causing bacteria, viruses, and pathogens, ServiceMaster by Mason volunteered their services to help out the local Ocean Community Chamber of Commerce in Westerly, RI.
To maintain a clean and healthy environment for the facility's staff, daily guests, and volunteers, our team had recently performed Electrostatic Spraying services throughout the property. The Electrostatic Spraying has been proven to kill 99.99% effective in killing bacteria, germs, and viruses, such as the Norovirus, MRSA, Mononucleosis, Hepatitis, HIV, C.Diff, E. Coli, Salmonella, Influenza H1N1, and more from all surfaces, rooms, and items.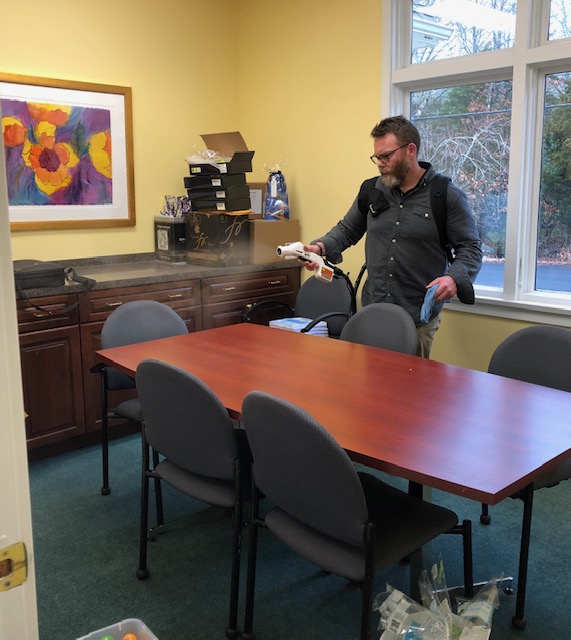 Both Ryan and Phil Mason worked diligently to sanitize and disinfect each of the following in the Chamber's conference room, hallway, kitchen, offices, lobby area, and restrooms:
Walls
Counters
Desks
Tables and chairs
Phones and computers
Handles and doorknobs
Light switches and fixtures
Appliances and printers
Bookcases and more!
After disinfecting all surface areas of the facility, ServiceMaster by Mason was happy to restore a clean and sanitary environment for the Chamber's staff, guests, and volunteers. For more information about our Electrostatic Spraying services to disinfect your business, please call (800) 934-5869.
Norovirus Cleaning in Mansfield, CT Home
3/9/20
Flu season is definitely in full gear as a mother and son living in Mansfield, CT were hospitalized due to the Norovirus. But before they returned home, it was crucial to have the space sanitized to prevent the virus from spreading.
They were quick to call ServiceMaster by Mason for professional deep cleaning services! Using full bio-suits, respirators, and an Electrostatic Sprayer to combat the contagious bacteria, they cleaned, sanitized, and disinfected all surfaces in the Mansfield home. During this process all illness-causing bacteria including MRSA, C.Diff, Mononucleosis, Norovirus, Influenza H1N1, and other bloodborne pathogens. After 2 days of cleaning each room, including the closets, pantry, ceilings, walls, floors, personal contents, and household surfaces, they restored the home to a clean and safe environment.
For more info on our newest Electrostatic sprayer and its abilities to provide an efficient deep cleaning, give us a call at (401) 622-4156.
Commercial Cleaning at Local Church in North Stonington, CT

3/2/20
It's normal for household surfaces to collect dusts and occasional bacteria from the family, but commercial facilities that are widely used by the public are quick to collect swarms of bacteria and pathogens. With the risk of disease and sickness quickly spreading, it's imperative to have a commercial cleaning service conduct a deep cleaning top to bottom.
This was exactly what was needed at a rather large church in North Stonington, CT. Everything including the pews, bathrooms, kids' play areas, offices, classrooms, and much more all needed a thorough sanitation restoration from all disease-causing pathogens and bacteria. Especially during flu season, the floors, walls, and doors are loaded with it!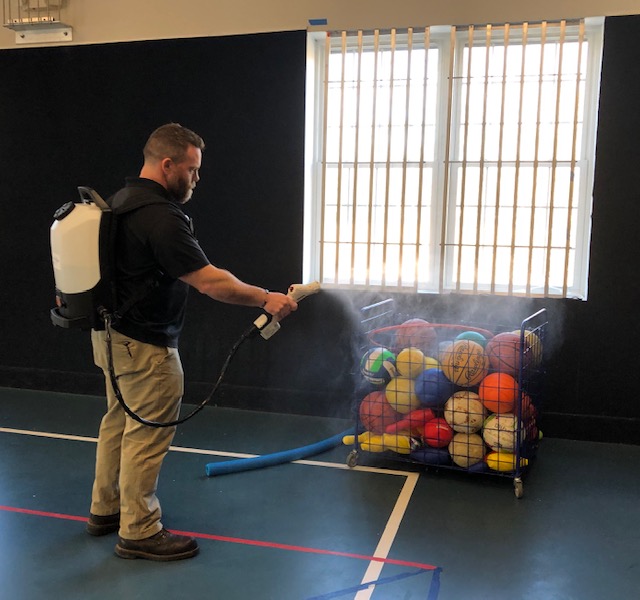 So Grace Fellowship Evangelical Free Church quickly called ServiceMaster by Mason to handle the job. Ryan Mason responded quickly, using our new Sani-Guard Electrostatic Spraying tool, which is most effective when eliminating bacteria, pathogens, and viruses including H1N1, MRSA, Norovirus, and much more. These eco-friendly products are also cost-effective and safe to humans!
In order to be fully effective, the Electrostatic Sprayer only requires a few minutes of dwell time, allowing the maintenance staff to take a break from manual cleaning. The Electrostatic Sprayer allows everyone to enjoy these benefits: food-safe, non-toxic, and non-corrosive.
After working efficiently to deeply sanitize and disinfect each room within the large facility, including the activity rooms, restrooms, stairwell, toys, equipment and mats, and sanctuary, Ryan had finished in under an hour! As we are so happy to offer cost-effective services to our customers, the parishioners, staff, and guests were all excited to congregate again in a clean, healthy environment.
Commercial Cleaning at Westerly Public Library

2/18/20
Part of maintaining a professional work place and making a lasting impression with customers is having clean carpets and floors. It's normal for dust, dirt, and debris to be tracked in daily, but the staff at the Westerly Library & Wilcox Park noticed it was time for their next deep cleaning. So they called ServiceMaster by Mason!
Our certified Technicians responded right away and began the cleaning process using professional products, equipment, and techniques throughout the pubic facility. They thoroughly sanitized the carpets in the entrances, computer labs, hallways, and other rooms on multiple floors. But they didn't stop here.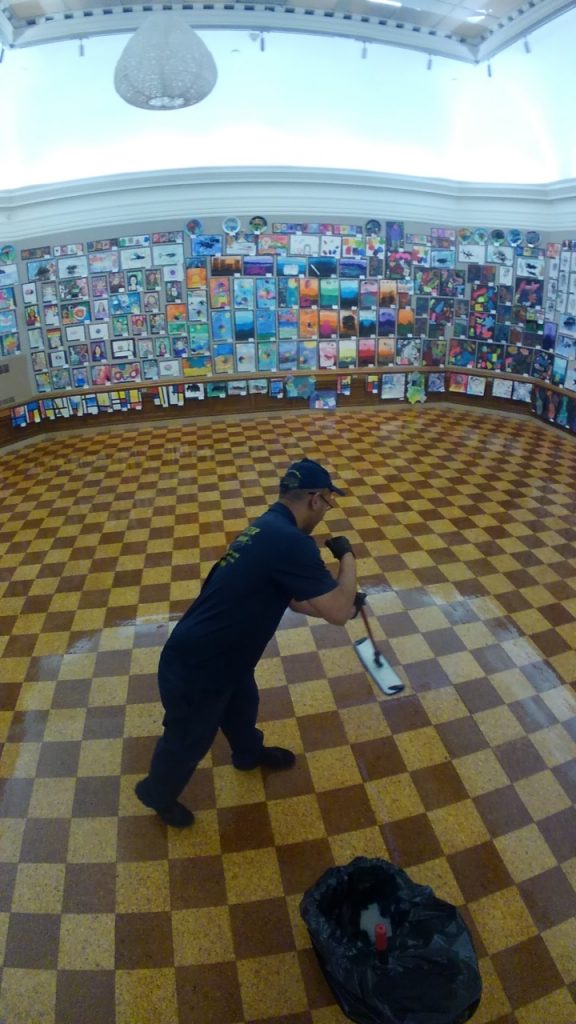 Our Head Floorcare technician Michael Parrack and Head Technician Carlos Torres Diaz took extra special care to provide a deep cleaning and adding multiple coats of finish to the tile flooring in the Hoxie Gallery. The room is currently displaying the Westerly Elementary Schools Art Show until February 28th.
When working with commercial cleaning services, our technicians use eco-friendly cleaning products, free of harsh chemicals and VOCs that would normally aggravate allergies and asthma. We find that these are also most effective when cleaning and sanitizing public facilities. Our professionals also understand that the library can also be a busy place, so we were happy to be flexible and schedule the service at a time that was most convenient for them. Michael and Carlos then worked efficiently and effectively to restore a clean and professional environment for all customers and staff to enjoy.
Deep Cleaning at Child Care Center in North Stonington, CT

2/13/20
Everything from the cubbies to toys and books to mats and sleeping spaces, school environments are known to carry lots of bacteria as they threaten the health and safety of kids and their families. Especially during flu season, the walls, floors, and doors are covered in dangerous bacteria.
Kidds & Co. Childcare in North Stonington, CT is certainly no stranger to this issue, so they took action to call for a professional school cleaning to decontaminate and sanitize their facility. After calling ServiceMaster by Mason, owner Ryan Mason responded quickly, using our new Sani-Guard Electrostatic Spraying tool which proves to be the most effective in eliminating germs and viruses, including the Norovirus, Influenze H1N1, MRSA, and others that contribute to the common cold. This is all done without exposing dangerous chemicals or toxins that could be harmful to the kids.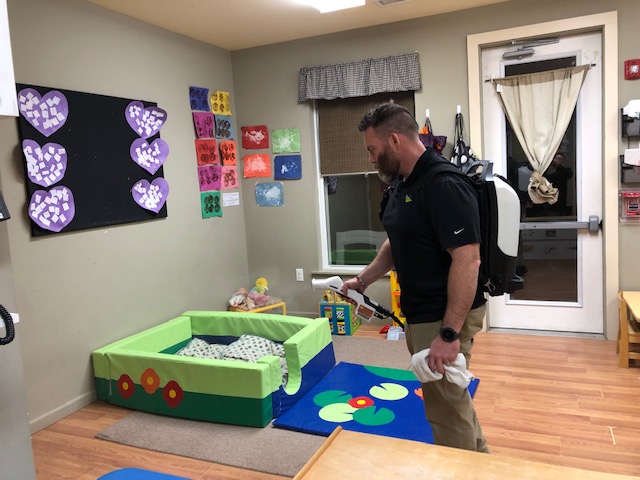 To be fully effective, the Sani-Guard Electrostatic Sprayer only requires a few minutes to dwell, whereas previous manual cleanings have taken hours! This new equipment is not only hospital grade and EPA-registered, it's food-safe, non-corrosive, and non-toxic.
After working efficiently, Ryan Mason had sanitized and decontaminated each room within the child care center, including the activity rooms, restrooms, toys, bedding mats and areas, kitchen, and closets, all within an hour! After returning the facility to a clean environment, the kids and staff now look forward to a safe space to learn and enjoy themselves.
Commercial Cleaning and Odor Removal in Manchester, CT Office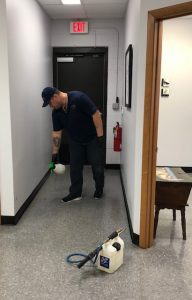 2/5/20
ServiceMaster by Mason has been removing odors and stains from homes and businesses for over 30 years. This month, we were called by Our Companions Animal Rescue to remove some extensive pets and odor from a poor, abandoned cat. Our furry friend was found late at night at their facility in Manchester, CT.
While the cat was injured and scared, he was trapped, leaving biohazards and odors throughout the empty office. This was the first thing ServiceMaster by Mason noticed upon entering the next day.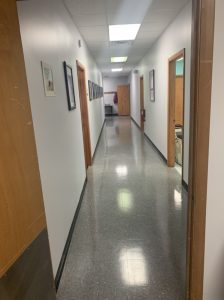 Our Companions worked carefully to treat and comfort the cat while our technicians worked to remove the stains and odors from their facility. Our Head Carpet Technician, Mike Parrack, used advanced products and methods, including an effective pet enzyme to remove the cat's urine, disinfecting the walls and floors. After applying multiple coats of the cleaner, Mike worked throughout each room to ensure the facility was returned to a safe and clean environment.
Check out Our Companions website to see the pets available for adoption:  www.ourcompanions.org
Water Damage Restoration and Mold Removal in Vernon, CT Home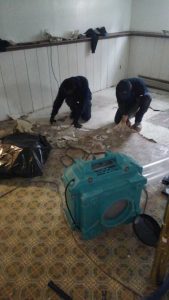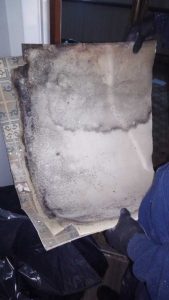 1/2/20
While water damage is common, one of its biggest problems is that many occur in hidden areas and go unnoticed for long periods of time. One such area includes boiler and outdoor water spigots, leaking water quietly while spreading significant damage to the surrounding areas. When the homeowners of a property in Vernon, CT discovered both disasters in addition to the spread of mold, they were quick to call ServiceMaster by Mason.
Our lead technicians were quick to respond, first addressing the water and mold safety concerns by setting up containment chambers to prevent the mold spores from spreading to unaffected areas. They also used air scrubbers to produce negative air flow and venting, all while wearing personal protective equipment.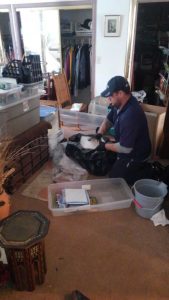 Following mold removal, our team performed demolition, removing drywall, carpet, and insulation in each affected room as well as the basement. All belongings were also cleaned and packed out. We also worked with third parties, including Sal's Clothing Restoration and Ackert Electric, to provide additional services, such as professional dry cleaning for linens and repair circuit breaker and electrical problems.
After using advanced products and equipment, our licensed team had dried out all areas, discarded debris, and HEPA-vacuumed all dirt and mold spores from the affected spaces. After all debris was removed, ServiceMaster by Mason continued cleaning out all spaces to prevent future mildew and mold growth. After working hard to restore the area, they had also restored the homeowners' peace of mind!
December 5, 2019
Donald Madura
Waterford, CT
I have a list of likes: 1. Quick response to my request for service. 2. Competent Crew - They worked together to get the job done expeditiously. 3. Courteous Crew - they listened to and understood my needs. 4. They were respectful of my home and property 5. The finished product was excellent - The odor from the damage was gone 6. I could easily move on to the restoration stage of the damages.
More Reviews