ServiceMaster by Mason
Known for their dedication to restoring homes and buildings from severe destruction, ServiceMaster by Mason's team of experienced professionals uses advanced equipment to return building materials and personal items to their original conditions. From flood extraction to complete reconstruction, we have the capacity to handle projects of all sizes in all of the following counties: Washington, Kent, New London, Newport, Bristol, Tolland, Windham, Hartford, and Middlesex.
Our technicians are available 24/7 and will quickly respond to all emergency calls to prevent further damage to all affected surfaces.
For questions regarding these projects or our services, please don't hesitate to call us at (401) 622-4156 and we will be more than happy to assist you!
Floorcare and Cleaning Project in Pawcatuck, CT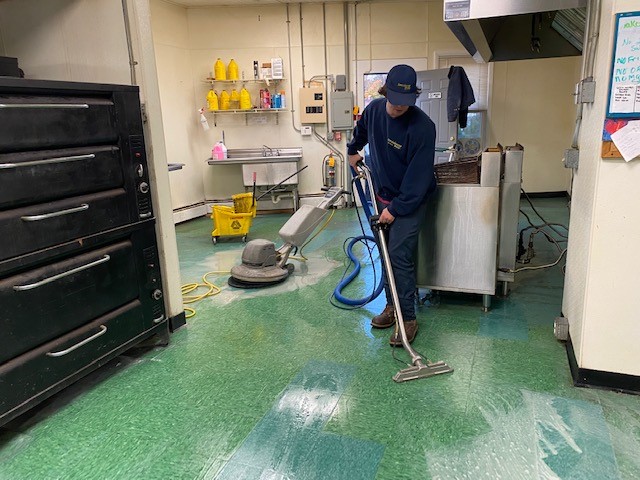 11/15/21
As time passes, floors in businesses can gradually dull and need TLC to revive and clean them. ServiceMaster by Mason, specialized in commercial cleaning and floorcare services, is there to help when The Pizza Lady wanted their floors refreshed for the customers, employees and guests!
To not interfere with their busy schedules during work hours, our team provided professional deep-cleaning floorcare services during early morning hours for this popular Pawcatuck, CT restaurant. Our owner Phil Mason and Technician Collin Chaffee used the latest equipment and products to remove the old layer of wax on the vinyl tile floors, thoroughly cleaned eliminated ground-in dirt and debris, and placed a fresh, new layer of finish. On top of that, we used slip-resistant products to prevent future slips and falls. Our wonderful team worked very hard to make sure the floors were fully cleaned and looked like new!
Mold Remediation Project in Westerly, RI
10/21/21
Pipe leaks and backups behind the walls can cause more than just water damage, mold can quickly form and spread when the moisture level is high. When a homeowner in Westerly, RI discovered plumbing issues and mold behind the walls and floors, they know it's time to contact a mold removal professional – ServiceMaster by Mason.
First,  Ryan Mason performed an air quality test to examine the affected areas in the house, creating a detailed remediation plan based on the results.  Our technicians then set-up containment chambers around affected areas to prevent mold from spreading to other unaffected areas. We performed almost a full demolition of the bathroom and the kitchen, removed cabinets, flooring, and areas of walls in several rooms. Our technicians used the latest products and equipment for quick, effective mold removal, and all the affected materials were disposed. Items in the house were carefully packed to be professionally cleaned at our facility, and we sealed all exposed subfloor and studs.
Our hardworking team worked passionately to create a clean and healthy home.
School Cleaning Project at High School at Coventry, CT

9/17/21
It's Back-To-School Season again! For schools, nothing is more important than the health and well-being of the students and staff members.
The Coventry High School wanted to professionally deep-clean and sanitize their auditorium's upholstered chairs and carpets, so they called ServiceMaster by Mason to create a clean environment for the CHS Patriots! ServiceMaster by Mason specializes in school cleaning projects big and small and loves to help prepare for the new school year to welcome the students and staff members. Our team of technicians, led by our owner Phil Mason, used powerful, truck-mounted equipment and state-of-the-art products to remove ground in dirt, debris, and tough statins. They worked diligently to deep-clean all 691 chairs and carpets in the auditorium, and now they are ready for students and staff to enjoy!
Commercial Cleaning at Cranston Animal Hospital in Cranston, RI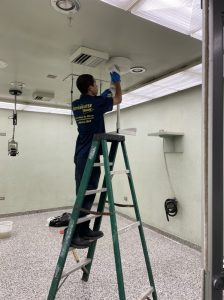 9/2/21
When Cranston Animal Hospital was preparing a clean and sanitized space for their furry clients, they contacted ServiceMaster by Mason to do a top-to-bottom cleaning and sterilization of their dormant surgery suite.
Our experienced commercial cleaning technicians first cleaned and sterilized the floors and walls thoroughly. Then, they used ServiceMaster's hospital-grade cleaners and disinfectants to wipe down all items and spaces including tables, cages, light fixtures, counters and more.
With our team's diligent work, the surgery suite is now a clean and safe environment for the animal hospital and their pawsitively precious patients.
Mold Remediation at Waterford, CT Condo
8/9/21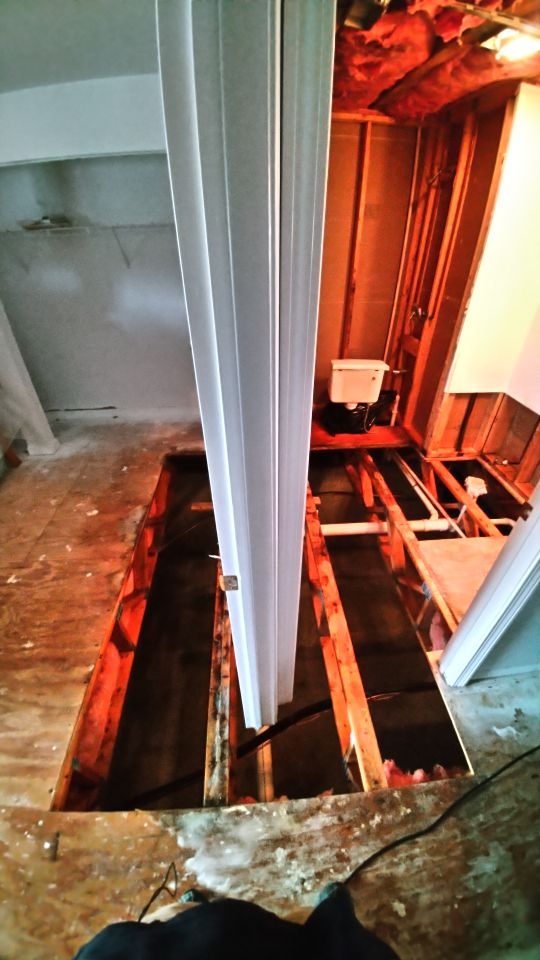 Mold can form and spread quickly through a leaky pipe. When the mold spreads, our team has to go through an extensive process of mold remediation to fully eliminate the mold presence. This is exactly what happened at a Waterford, CT condo.
The owner of ServiceMaster by Mason, Ryan Mason, performed an Air Quality Testing to determine the types and whereabouts of the harmful mold. Our skilled technicians installed containment chambers in the affected areas to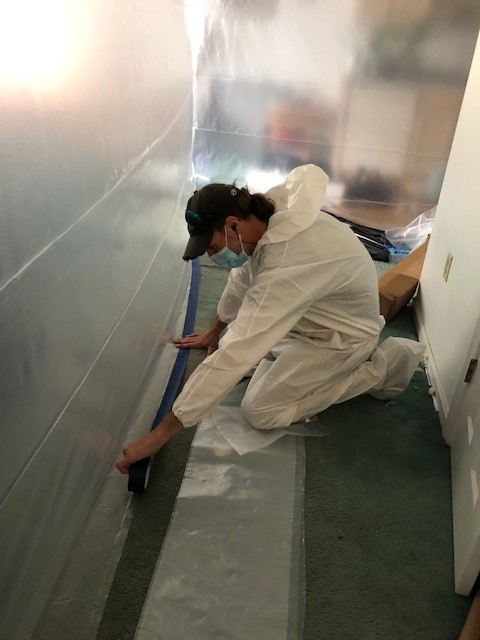 stop the mold from spreading to other areas. Then our team HEPA vacuumed personal belongings and spaces to fully eliminate the presence of mold spores.
Heavily affected materials such as walls, floorings and insulations etc. were removed. Linens and clothing were packed up for professional treatment using state-of-the-art products. Our team fully cleaned all items and applied an anti-microbial product to prevent future mold growth. The team set up drying equipment and negative air system and cleaned the mold from crawlspace below the complex.
Now the condo is mold free! The homeowners can return to a clean and safe environment.
Fire and Water Restoration at Willimantic, CT Restaurant
7/27/21
Fires are more common than we think and they can spread quickly once they start. When the Willimantic, CT restaurant suffered from this disaster, their sprinkler system went on right away to extinguish the flames. But this left the building structure and contents in a complete mess of fire and water damage.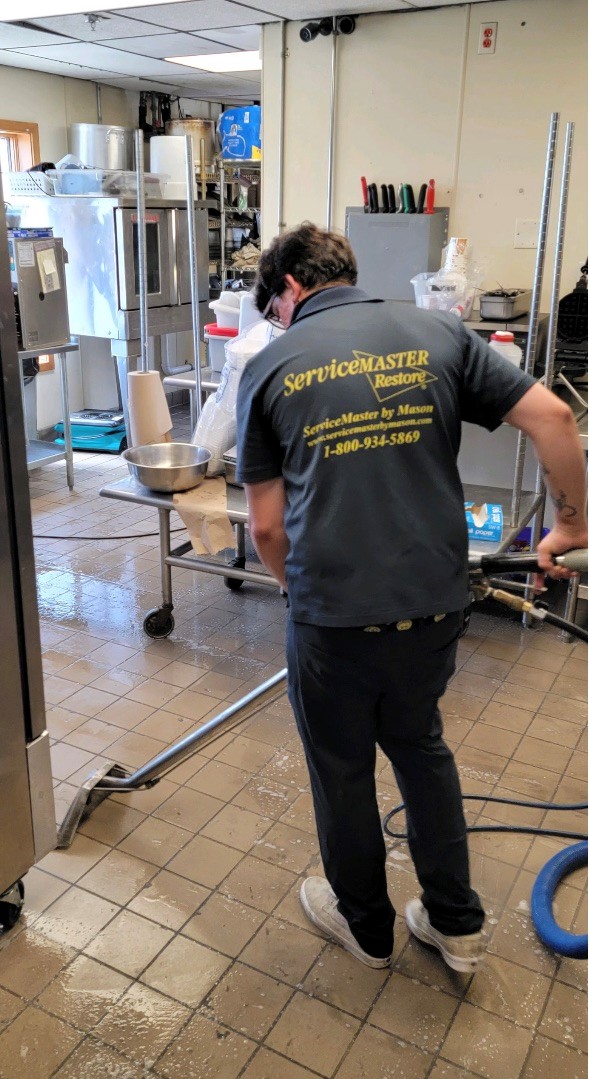 The restaurant  called ServiceMaster by Mason right away and we went straight to work. Our fire and water restoration technicians quickly assessed the affected area to develop an efficient cleaning and restoration plan.
Our professionals first extracted all standing water, then washed the floors with commercial-grade sanitizing products and set up equipment to start the drying process and eliminate the strong odor left behind. After removing the water, our team followed up with chem sponges and products to remove all smoke residue from the walls, ceilings and affected contents.
After working diligently to restore the restaurant from both water and fire damage, they were able to re-open within just a few days for all staff and customers to enjoy.
Post-Construction Cleanup at Smithfield Woods Senior Living
7/16/21
It can be a relief to find out the renovation/construction work is finally complete in your home or building, but stressful to find a big mess left behind from the construction project.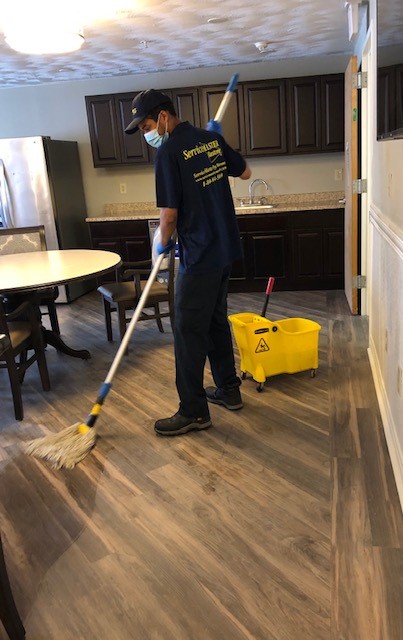 When this was discovered by the Smithfield Woods Senior Living in Smithfield, RI on their third floor, they called in ServiceMaster by Mason for post construction cleanup services!
Our technicians quickly responded by using a HEPA vacuum to remove all dust and debris as well as commercial-grade cleaning products to carefully remove the remaining construction debris from the renovation project. This included finite particles from the baseboards, ledges, chair-rails throughout the entertainment and common room areas and hallways.
After removing all the dust and debris, they deep cleaned all floors to provide the finishing touches for the residents, guests and employees to enjoy.
Preston Public Library Air Duct Cleaning
7/2/21
Especially during the summer time, indoor pollutants like dust, debris and pollen are common and find their way indoors and clog up air registers and ducts. With the HVAC systems working harder to heat and cool homes and buildings, energy costs increase.
As soon as the Preston Public Library noticed this issue within their air ducts, they were quick to call ServiceMaster by Mason for air duct cleaning services! Our trained technicians responded with powerful equipment and tools to clean out the ceiling vents, returns and trunk lines throughout the public library.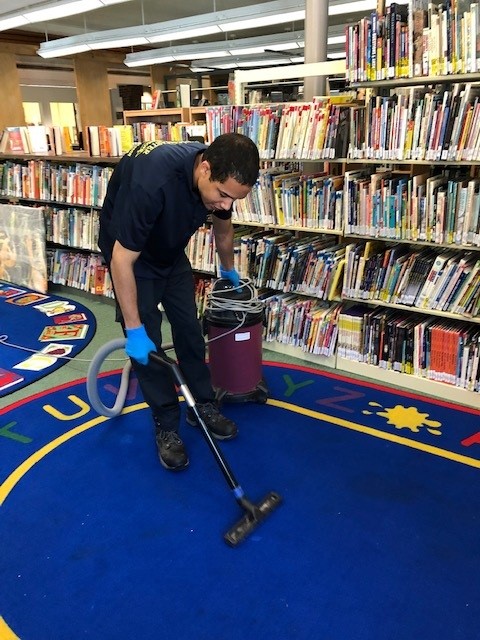 We successfully removed built-up dirt, mold spores, pollen, bacteria and debris within the HVAC system as well as wiped down all vent covers before re-installing them. Finally, all areas below the vents were vacuumed to remove any fallen dust and dirt while replacing the air filters.
After working efficiently to create a better breathing environment while lowing energy costs, all staff and library guests were overjoyed to move back into a clean environment.
Charlestown, RI Beach Facilities Electrostatic Spraying
6/22/21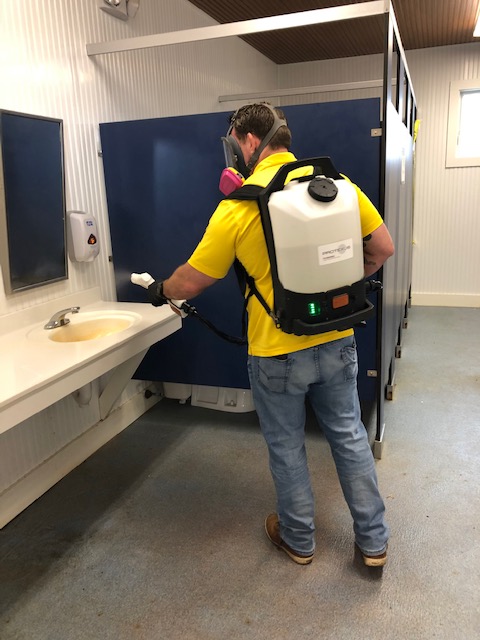 From Memorial Day through Labor Day, the Park & Rec Department for the Town of Charlestown, RI needs to have their Town Beach Facilities extra clean and safe for the guests. So they needed a disinfection service to disinfect, clean and sanitize the facilities from harmful germs, viruses and bacteria. They called in ServiceMaster by Mason!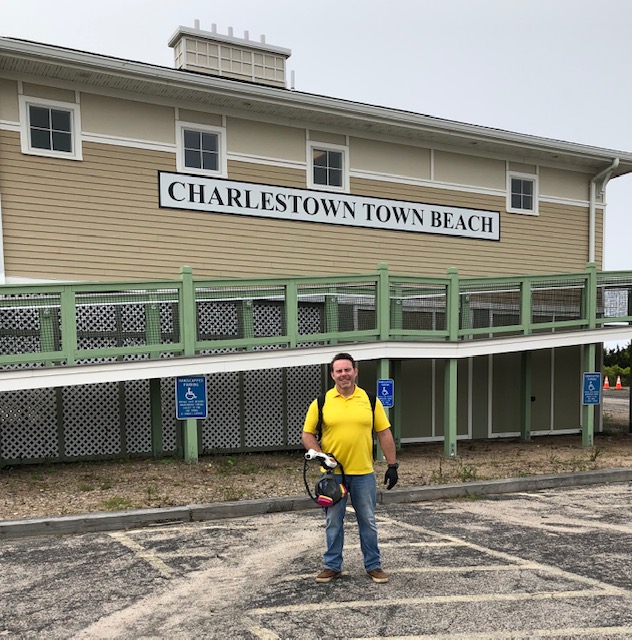 Ryan Mason arrives early each day to use the Sani-Guard Electrostatic Spraying tool, the most effective method to eliminate harmful germs and viruses like E.Coli, C.Diff, COVID-19, Norovirus, Influenza H1N1 and more, all while using eco-friendly products.
Ryan worked thoroughly throughout the beach facilities, spaces and items, including spraying the beach pavilions, restrooms, door frames and handles, changing stations, railings and more. After just a few hours of disinfecting, all areas were clean and ready for all employees, guests and community to enjoy!
Commercial Floor Cleaning in Westerly, RI
5/18/21
While we don't often think about it, flooring gets a lot foot traffic every day, especially for businesses that serve their customers in their building! All that dirt and grime that's tread deep into the floors will only accelerate the wear and tear process over time.
When the local business of Westerly Packing Company in Westerly noticed their floors could use a little TLC, they called ServiceMaster by Mason for hard surface floor cleaning!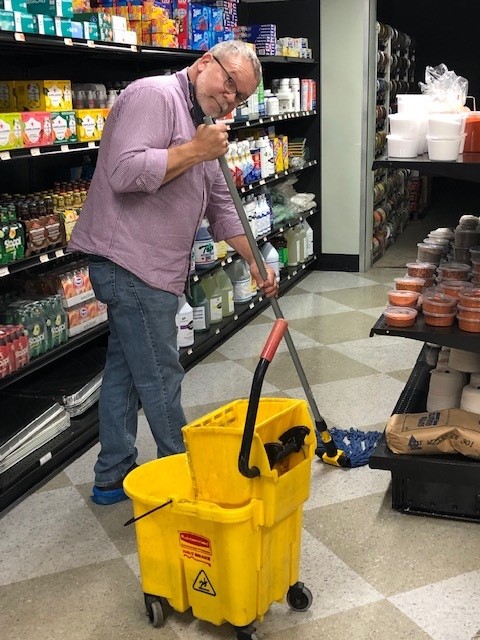 As soon as our team arrived, they went straight to work just after the business closed for the evening. Using our advanced cleaning equipment and commercial-grade cleaning products to remove the worn down sealant and provide a deep cleaning and sanitization to the floors. The job was finished after applying multiple layers of fresh wax to restore a like-new appearance and shine.
By morning, our owner Phil Mason and team of technicians checked to ensure the floors were dry, setting up air movers to keep air circulating throughout the room for an even dry. Using eco-friendly products and techniques to protect the floor's integrity and promote a consistent appearance, our professionals worked until the early morning hours.
You may also want to stop by and check out their wide selection of meats, deli, imported Italian products and other grocery items!