Water Damage Drying Services
Known for their dedication to restoring homes and buildings from severe destruction, Water Damage Drying Services' team of experienced professionals uses advanced equipment to return building materials and personal items to their original conditions. From flood extraction to complete reconstruction, we have the capacity to handle projects of all sizes in all of the following counties: Washington, Kent, New London, Newport, Bristol, Tolland, Windham, Hartford, and Middlesex.
Our technicians are available 24/7 and will quickly respond to all emergency calls to prevent further damage to all affected surfaces.
For questions regarding these projects or our services, please don't hesitate to call us at (401) 205-8130 and we will be more than happy to assist you!
Upholstery Cleaning in Cranston, RI
9/19/23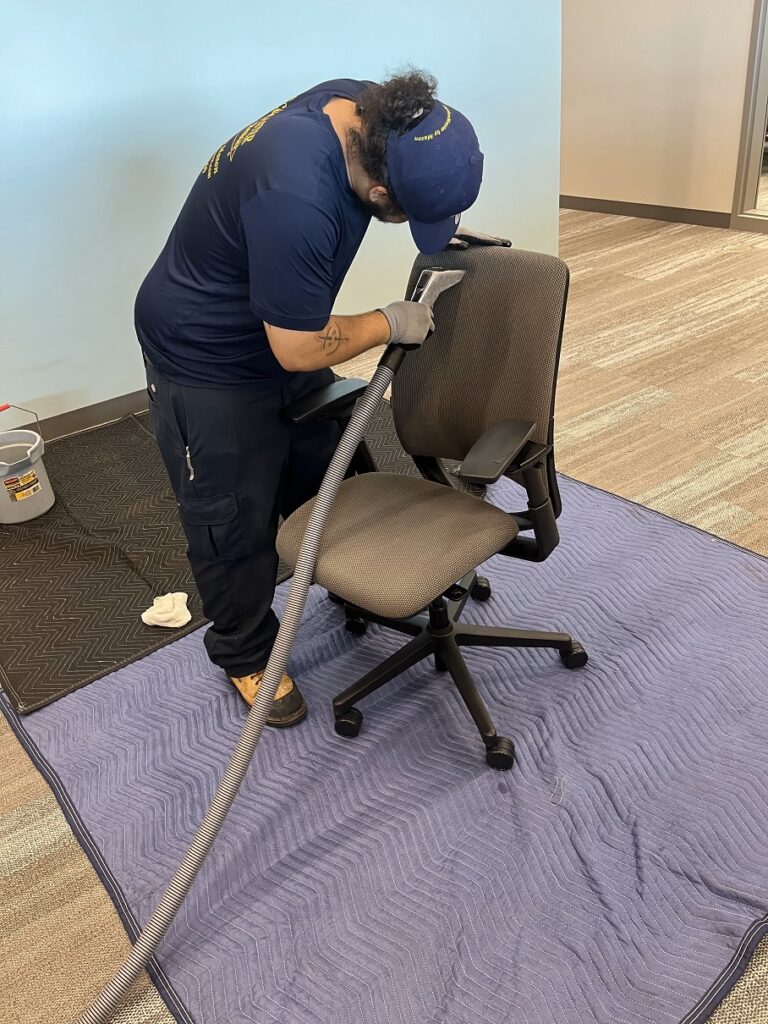 Furniture in commercial buildings is crucial since it gets used every day. It not only affects how the place looks but also how comfortable it is. As chairs, sofas, office partitions, and other furniture are used, dirt and debris can build up in the fabric. This can make the fabric look dirty and cause it to wear out faster. When a Rhode Island insurance agency relocated to their new Cranston office, they reached out to us for expert upholstery cleaning to revitalize their furniture.
Our experienced Technicians used powerful equipment and carefully applied the latest products to clean dozens of fabric chairs and office partitions. Our team removed bacteria, stains, and debris from the upholstery, thoroughly cleaning all items and creating a healthy environment for staff, customers and guests to enjoy.
Mold Remediation in Dayville, CT
8/25/23
If mold is not removed properly, it can eas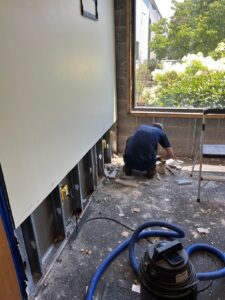 ily spread through the building, causing severe damage to affected surfaces. When a Dayville CT business discovered mold at their facility, they called Water Damage Drying Services for a quick resolution to the harmful problem.
Our expert team used professional equipment, including air scrubbers to create negative air. The team made large containment chambers to prevent mold from spreading to non-contaminated areas. Our Technicians removed and discarded damaged materials, thoroughly HEPA vacuumed and cleaned affected areas, and treated all spaces with an anti-microbial to prevent future mold growth.
With speed and efficiency, our team completed the mold remediation process in their manufacturing facility, ensuring a safe environment for everyone.
Water Damage Mitigation in Stonington, CT
8/9/23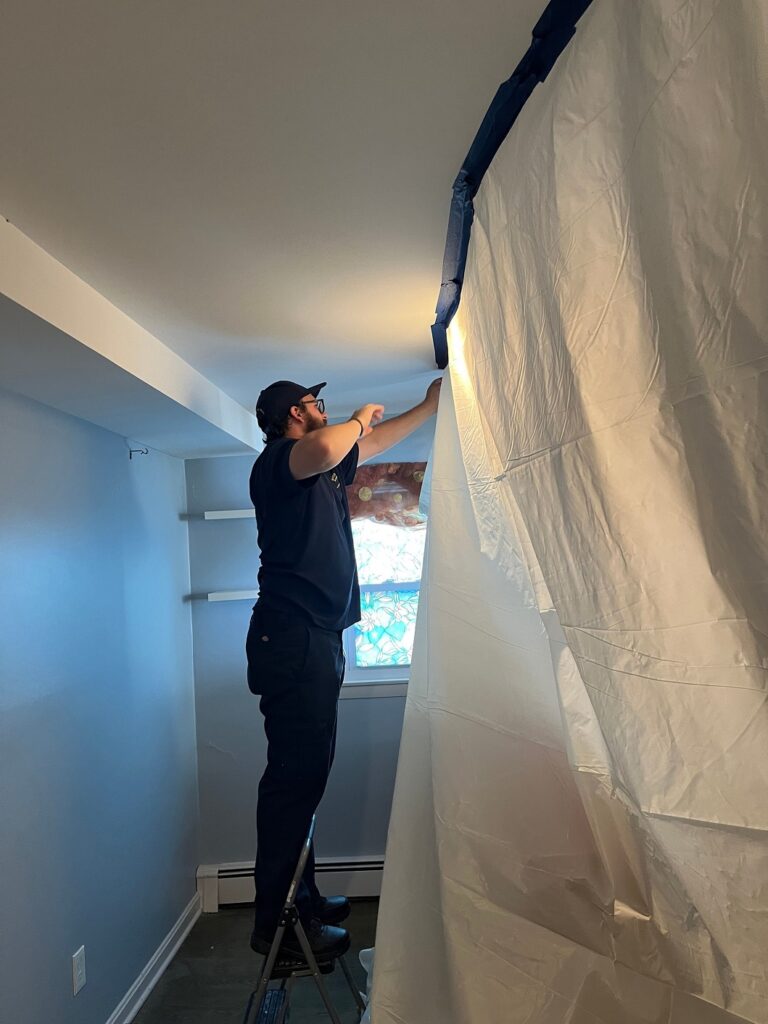 Water damage can stem from various sources, including water heaters. No matter where the damage is from, water damage requires immediate attention to prevent further harm to the property. When an apartment complex experienced a water heater malfunction, they sought the expertise of Water Damage Drying Services.
Our certified Technicians acted swiftly, extracting standing water, deploying advanced drying equipment, and started the drying process in the impacted hallway, common area, storage unit, and affected units. We performed necessary demolition, removing damaged flooring and drywall with 4′ "flood cuts" to eliminate wet insulation and ensure thorough drying behind walls. Our dedicated Technicians then applied anti-microbial treatments to prevent potential mold growth, working tirelessly to restore the property and ensure residents' peace of mind.
Fire Damage Restoration Project in Pawcatuck, CT
7/31/23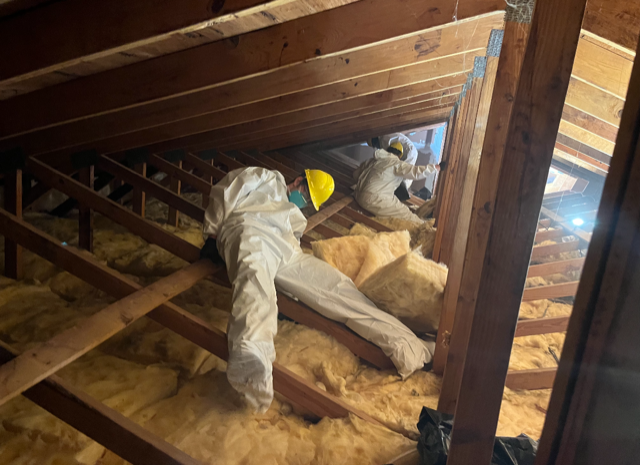 After a fire broke out in an apartment in Brookside Village, Pawcatuck, CT, they quickly contacted Water Damage Drying Services for fire & smoke remediation, water drying services, odor removal, and more. As the Town of Stonington helped out displaced residents, we jumped into action and swiftly took care of tarping and boarding up the damaged roof to make sure the place was secure and acquire additional equipment and staff to address all concerns.
Our Technicians used the latest products and processes to remove the smoke damage and strong odor that had spread throughout the building and removed insulation in the attic space. We packed-up tenant's belongings and returned them to our climate-controlled warehouse for professional cleaning and storage, thoroughly cleaned the HVAC system, and provided extensive demolition in apartments severely damaged by fire and also the water used in extinguishing the flames.
Our team worked tirelessly in 20+ units, allowing tenants to return home within just 3 days. We coordinated new siding, roof installation, and reconstruction with local professionals. It was a large team effort by professionals dedicated to restoring the property and providing peace of mind to the tenants and facility.
Water Damage Restoration Project in Willimantic, CT 
7/18/23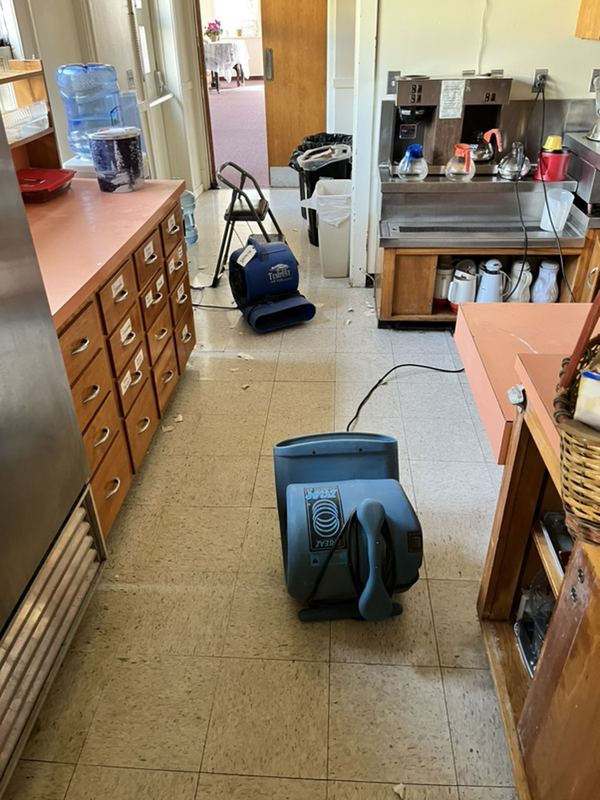 Upon experiencing water damage from a broken baseboard heater, the First Congregational Church in Willimantic, CT, immediately sought assistance from Water Damage Drying Services!
Our team quickly responded to the situation. We used professional drying equipment to dry all items and spaces affected by water. Then, we took preventive measures by applying an anti-microbial product to inhibit mold growth. Our Technicians diligently washed the walls and railings stained from hot steam. Furthermore, they thoroughly cleaned carpets in all rooms, hallways, and stairwells. Additionally, we packed all kitchen items to protect them during the necessary demolition.
Our team put in considerable effort to restore the church to its original state, ensuring the staff and parishioners could once again enjoy its space.
Fire and Smoke Damage Remediation Project Putnam, CT
7/6/23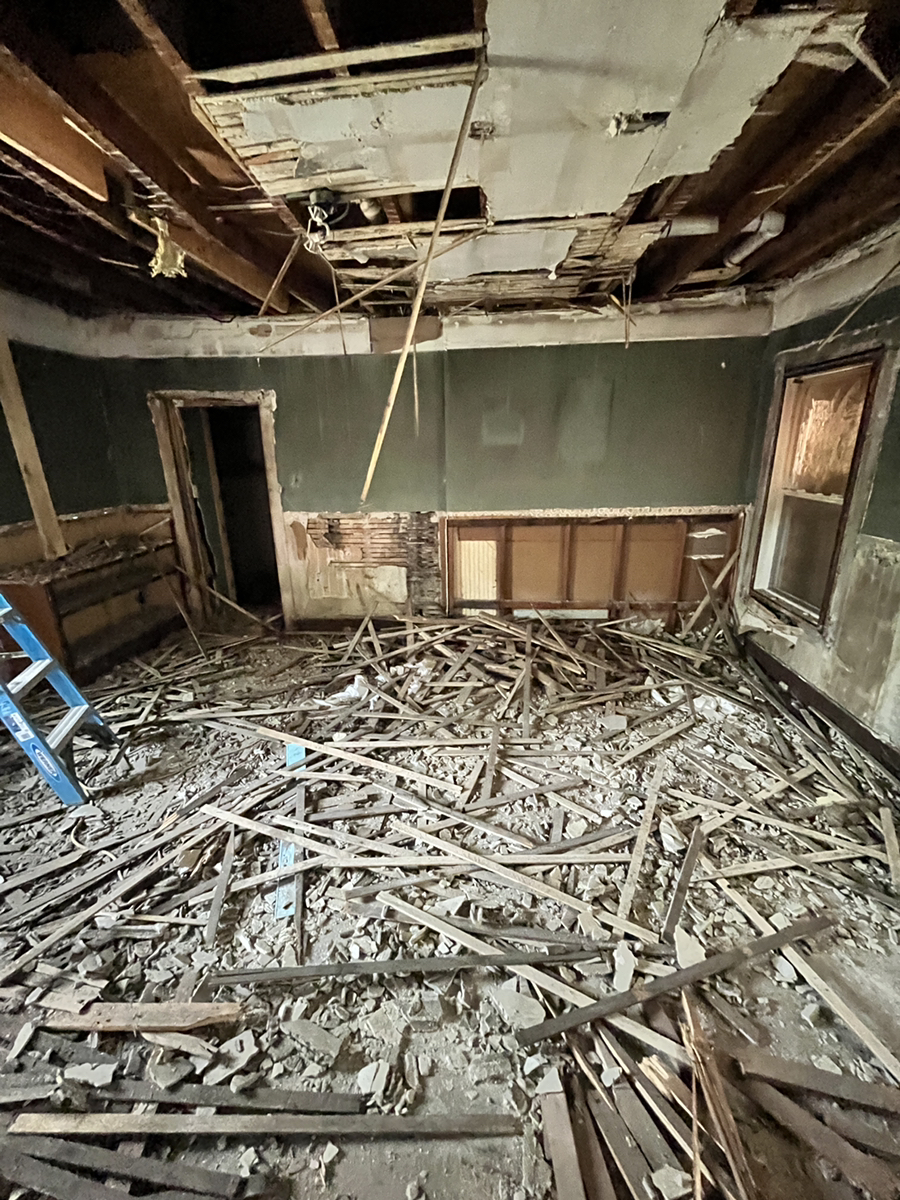 A fire caused by a heat lamp resulted in extensive damage to a multi-family property in Putnam, CT. The corrosive byproducts and chemical emissions resulting from a fire can continue to spread and affect areas untouched by the fire. Without prompt and efficient restoration, this damage has the potential to become permanent. That's why a fire and smoke professional needs to handle the situation as soon as possible.
Our team acted swiftly to secure windows and doors, eliminate the strong smoke odor, and provide board-up services. To prevent further damage, we safely packed and stored the tenant's belongings in our climate-controlled facility. Water Damage Drying Services' skilled technicians demolished and removed all unsalvageable materials across multiple levels, including floors, ceilings, walls, trim, baseboards, plaster, chicken wire, and appliances. We addressed items affected by mold growth, thoroughly cleaned them, and meticulously prepared the home for necessary reconstruction.
Fire and Smoke Damage Cleanup Project in Woodstock, CT
6/9/23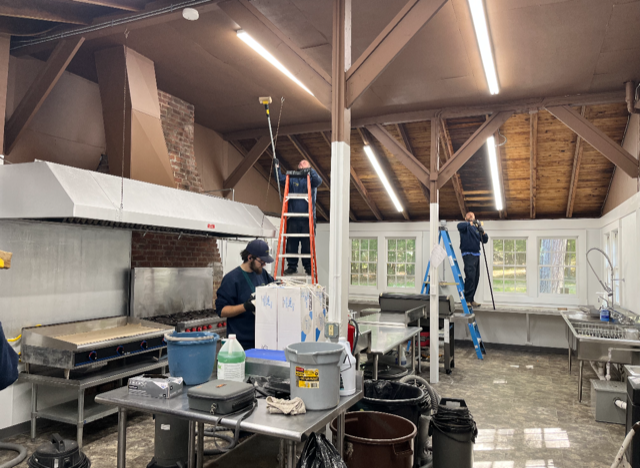 When a fire happened at a facility at Crystal Ponds Park in Woodstock, CT, Water Damage Drying Services sprang into action, quickly responded to assess the fire and smoke damage to the large dining room and commercial kitchen – a particularly challenging project because the building material was unfinished wood.
Our technician began the needed cleanup service immediately. We used HEPA vacuums to remove finite smoke particles covering all items and spaces, and chem sponges to eliminate smoke damage. From walls to rafters, our expert team thoroughly cleaned every space throughout the facility, utilizing effective tools and specialized products that were perfect for both unfinished and finished wood materials. With powerful truck-mounted equipment, we cleaned and sanitized 150 banquet chair upholstery and restored the stone fireplace, eradicating fire and smoke damage. Our dedicated team worked tirelessly to prepare the property for summer events and guests.
Carpet Cleaning Service in New London, CT
5/30/23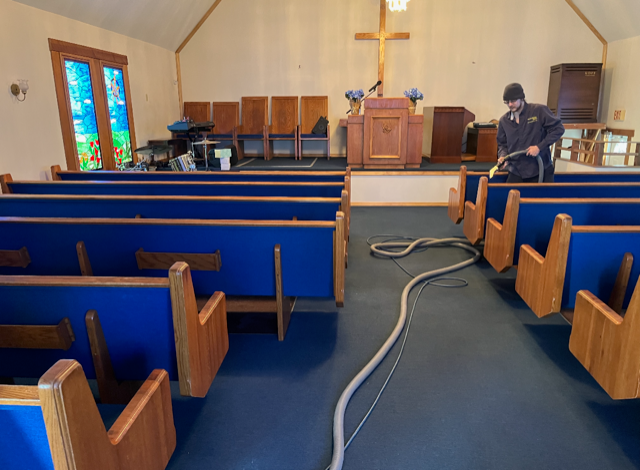 Carpet cleaning services can revitalize your business environment, ensuring a pristine and inviting atmosphere that leaves a lasting impression on clients and employees alike.
When the Pentecostal Rescue Mission Church in New London, CT needed a complete carpet and upholstery transformation, they turned to us for help! Armed with cutting-edge truck-mounted equipment and top-of-the-line products, our expert technicians worked tirelessly to revitalize the church's carpets and upholstery, erasing high-traffic wear and tear. Our professional deep-cleaning process tackled dirt, bacteria, stubborn stains, and much more, ensuring a pristine environment where parishioners and guests could truly unwind and enjoy.
Air Duct/HVAC Cleaning Project in Westerly, RI
5/15/23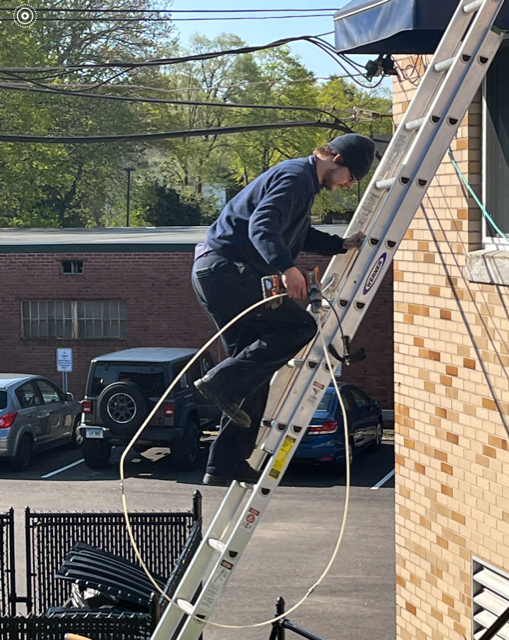 Cleaning your HVAC or air duct system is crucial for maintaining the safety of a business. Over time, dust and other debris can accumulate and become trapped within the system, which can pose risks to indoor air quality and overall system performance.
When businesses require professional dryer vent cleaning, they turn to Water Damage Drying Services for assistance! Owner Phil Mason and Technician Russell recently conducted a comprehensive dryer vent cleaning at the Westerly RI facility for PACE Organization of Rhode Island. Utilizing our powerful equipment and the latest techniques, we efficiently eliminated accumulated lint, dust, and debris, while also satisfying the local Fire Department's safety requirements. Our skilled and experienced dryer vent cleaning service will enhance PACE's system efficiency and ensure a safe environment for employees, guests, and clients.
Floor Cleaning Project in North Grosvenordale, CT
4/21/23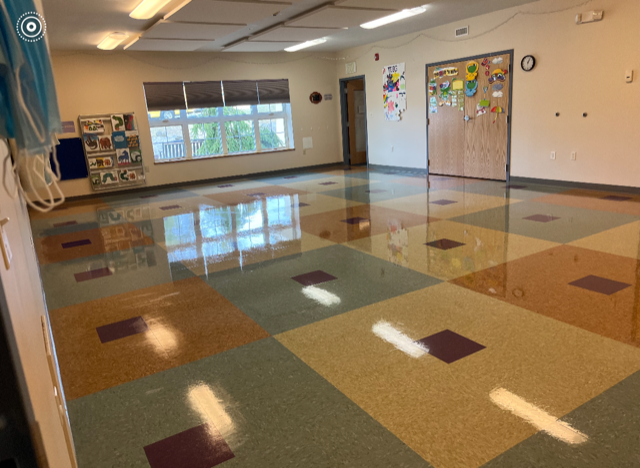 Clean and well-maintained flooring is vital as it's often the first thing visitors notice when entering a building. Dirty or worn-out carpets and floors can create a negative impression of your company. Keep them in good condition for a positive and lasting impact.  Commercial floors can become dull, scuffed, and dirty from everyday foot traffic by employees, clients, and guests. TEEG in North Grosvenordale, CT faced the same issue and reached out to us to help refresh their tile floors!
Our Technicians removed the previous layers of wax using our powerful equipment, thoroughly cleaned and sanitized the floors with our proprietary cleaning products, and once dried, added a fresh coat of finish. Our process provided some much-needed TLC to their floors, getting them clean and ready for their clients and employees to enjoy.
Water Damage Project in Providence, RI
4/13/23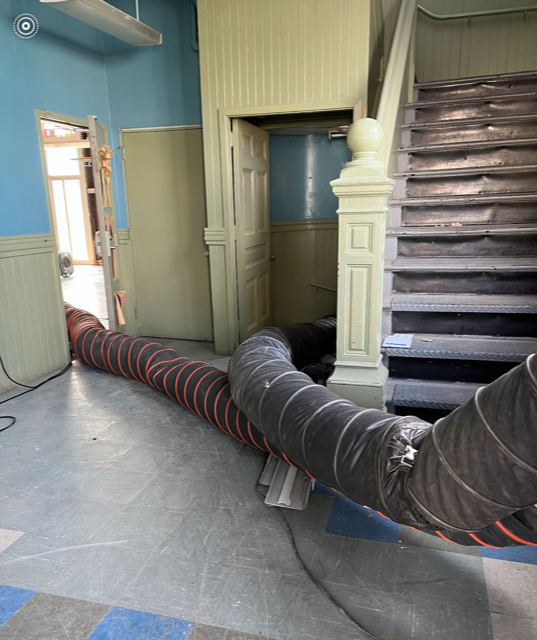 Water damage is a common and frustrating problem that many commercial businesses face. Burst pipes can quickly disrupt busy workspaces, causing inconvenience and potential financial losses. When a burst pipe occurs in commercial businesses, it can quickly disrupt busy workspaces. So, when the Joslin Community Center in Providence RI experienced a burst pipe in a baseboard heater, they called us for help!
Our team found that the water had affected materials on multiple floors of the property, so we carefully removed and disposed of damaged drywall, plaster, tiles, insulation, carpets, pads, and unsalvageable content. We used professional equipment, including our state-of-the-art Heat Drying Trailer, to thoroughly dry all areas. After drying, we cleaned the entire area and applied an anti-microbial product to prevent future mold growth. Our team worked hard to restore the property and bring peace of mind to the community center.
Carpet Cleaning Project in Putnam, CT
4/4/23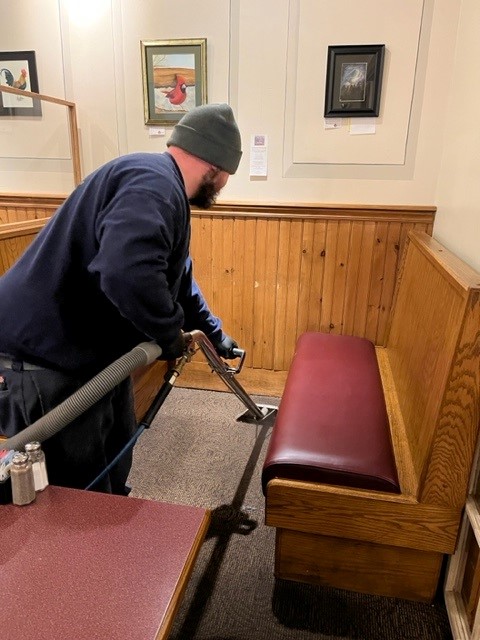 Carpet cleaning is an essential maintenance activity that can significantly extend the life of carpets and reduce the need for replacement. By removing dirt, debris, and stains that accumulate over time, carpets can maintain their aesthetic appeal, texture, and durability. Regular cleaning can also prevent the buildup of mold, bacteria, and allergens, which can pose health risks to employees and customers.
With decades of experience in commercial carpet cleaning, businesses in CT & RI know Water Damage Drying Services can spruce up their carpets and floors, especially in high traffic areas. When the Courthouse Bar & Grille in Putnam CT wanted to get their carpets professionally cleaned and sanitized, they called us to help! Our technician, Drew, used powerful truck-mounted equipment and the latest cleaning process to remove spots and stains and create a uniform look. We used a pre-treatment solution to break down deep soil, Water Damage Drying Services's cleaning products & equipment to remove dirt and debris, and extremely hot water to remove detergent and residue. We worked hard to create fresh, sanitized and clean carpets for employees, customers and guests to enjoy beneath their feet!
Carpeting Cleaning Project in Coventry, RI
3/24/23
Don't let dirty carpets bring down the appearance of your home or business. Not only does carpet cleaning services improve the aesthetics of your space, but it also promotes a healthier indoor environment. And by regularly scheduling professional carpet cleaning, you can extend the lifespan of your carpets, protecting your investment. When businesses need their carpets and floors professionally cleaned, they know Water Damage Drying Services  can help!
Our experienced Technicians Aiden & Russell spent 2-days cleaning and sanitizing the carpets and vinyl floors at Summer Villa assisted living facility in Coventry RI. They used powerful truck-mounted equipment and the latest cleaning products to remove dirt, debris and stains from carpets and floors, and reduce the effects of everyday wear-and-tear. They refreshed the carpets and floors in their kitchen, dining hall, stairwells, hallways, recreation room and other commonly used areas on multiple levels of this beautiful facility. We worked hard to provide some needed TLC to their carpets and floors, and have residents, guests, and employees enjoy clean and sanitized carpets beneath their feet.