ServiceMaster by Mason
Known for their dedication to restoring homes and buildings from severe destruction, ServiceMaster by Mason's team of experienced professionals uses advanced equipment to return building materials and personal items to their original conditions. From flood extraction to complete reconstruction, we have the capacity to handle projects of all sizes in all of the following counties: Washington, Kent, New London, Newport, Bristol, Tolland, Windham, Hartford, and Middlesex.
Our technicians are available 24/7 and will quickly respond to all emergency calls to prevent further damage to all affected surfaces.
For questions regarding these projects or our services, please don't hesitate to call us at (401) 622-4156 and we will be more than happy to assist you!
Water Damage Restoration and Mold Removal in Vernon, CT Home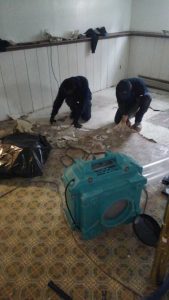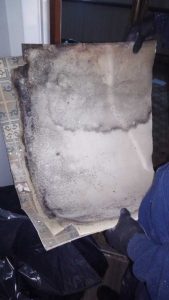 1/2/20
While water damage is common, one of its biggest problems is that many occur in hidden areas and go unnoticed for long periods of time. One such area includes boiler and outdoor water spigots, leaking water quietly while spreading significant damage to the surrounding areas. When the homeowners of a property in Vernon, CT discovered both disasters in addition to the spread of mold, they were quick to call ServiceMaster by Mason.
Our lead technicians were quick to respond, first addressing the water and mold safety concerns by setting up containment chambers to prevent the mold spores from spreading to unaffected areas. They also used air scrubbers to produce negative air flow and venting, all while wearing personal protective equipment.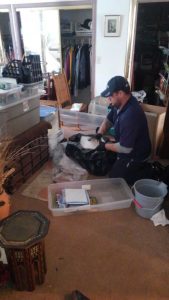 Following mold removal, our team performed demolition, removing drywall, carpet, and insulation in each affected room as well as the basement. All belongings were also cleaned and packed out. We also worked with third parties, including Sal's Clothing Restoration and Ackert Electric, to provide additional services, such as professional dry cleaning for linens and repair circuit breaker and electrical problems.
After using advanced products and equipment, our licensed team had dried out all areas, discarded debris, and HEPA-vacuumed all dirt and mold spores from the affected spaces. After all debris was removed, ServiceMaster by Mason continued cleaning out all spaces to prevent future mildew and mold growth. After working hard to restore the area, they had also restored the homeowners' peace of mind!
Fire Damage Restoration in Westerly, RI Home
12/11/19

One of the most devastating effects of property fires is that the damage can spread long after the flames are extinguished. This was exactly the case for a Westerly, RI home that experienced a fireplace ember landing on the roof of their 3-story property. As soon as they noticed the fire damage, they were quick to call ServiceMaster by Mason and we responded quickly to prevent further damage as well as start the cleanup process.
Our technicians first boarded and tarped up the roof and broken windows, followed by setting up a drying trailer and ventilation ducts to absorb the water from the building materials. Large dehumidifiers and floor "rescue mats" were then set up to dry out the floors and other areas of the damage structure, all while working efficiently to remove insulation, drywall, subfloors, and duct work that were destroyed from the fire.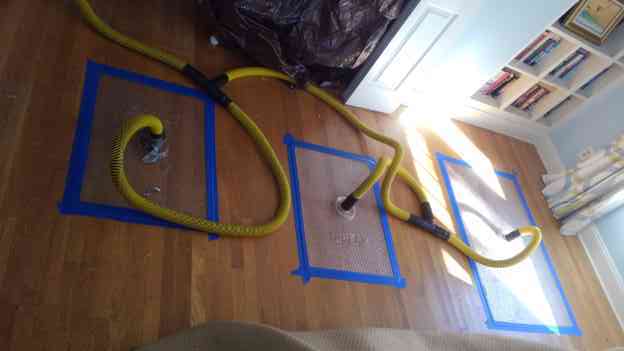 After using advanced products and methods, our licensed technicians conducted a deep cleaning of the home, preparing it for reconstruction. They also conducted content cleaning and pack out services, in which each item was carefully packed and delivered to our climate-controlled facility to be effectively restored from the soot and odors.
Additional measures were also taken to prevent frozen pipes in the home by capping the plumbing and creating a "false door" on the 2nd floor to protect the top floor from rain and other elements, protected unaffected wood flooring, and finally removing all indoor and outdoor debris. After working diligently to restore the home, ServiceMaster by Mason had also restored the homeowner's peace of mind.
Water Damage Restoration in Waterford, CT Home Crawlspace
11/22/19

One of the toughest jobs about water damage restoration is that excess water and moisture seep into cracks within porous materials that can make them challenging to reach. This was exactly what happened to the crawlspace of a home in Waterford, CT. After a nasty flood had caused extensive damage to the 2 1/2″" area with a 10″ access point, our technicians at ServiceMaster by Mason persisted to remove all standing water and dry out the affected areas.
Each of our skilled professionals addressed all water issues by setting up powerful desiccant dehumidifiers to remove excess moisture, remove destroyed porous materials, including insulation and the vapor barrier, all while wearing protective gear (PPE) and respirators.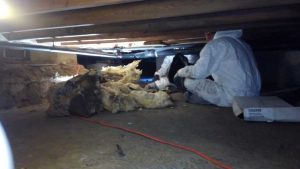 Our owner, Ryan Mason, had joined their efforts to cut through the concrete barrier to allow us access to the small space. After using advanced products and equipment, ServiceMaster by Mason had effectively dried all areas, cleaned and HEPA-vacuumed all joists and studs (even in the tight spaces), removed remaining debris, and applied anti-microbial spray to prevent future mold growth.
After all issues were fixed within the crawlspace, our team proceeded to tackle the water damage restoration project in the garage. After days of hard work, our team had successfully restored the affected spaces AND the owners' peace of mind!
Carpet Cleaning in First Baptist Church in Narragansett, RI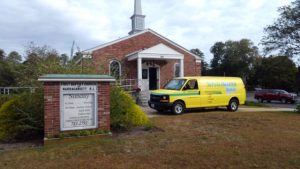 10/22/19
With constant foot traffic and dirt tracked in on carpets and floors, they will accumulate debris and stains that lie deep within the fibers, beyond what regular vacuuming can remove. This was the case for First Baptist Church in Narragansett, RI as they noticed the color was fading within their carpet.
After a quick phone call to ServiceMaster by Mason to schedule a carpet cleaning, our Head Floorcare Technician, Michael Parrack and Technician Zan Lebeau used advanced cleaning products and methods to sanitize and clean call carpeting within the sanctuary, foyer, and stairwell areas.

The products used in our carpet cleaning services are eco-friendly and designed for minimal environmental impact, free of harsh chemicals and VOC's that often trigger asthma and allergies. Both Zac and Michael worked efficiently and effectively to deep-clean the carpeting, removing all dust, dirt, and debris, restoring a healthy, clean environment for all to enjoy.
Tile and Floor Cleaning in Westerly, RI
10/4/19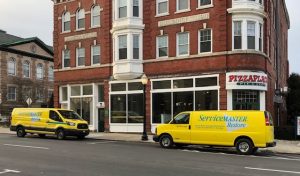 Due to their durability, tile and grout flooring is a popular choice for many businesses, especially when they serve customers at their location. While they are tough against foot traffic, they aren't impenetrable. Over time, constant foot traffic bringing in dirt and soil will dull their appearance.
When our technicians received the call for a deep tile and grout cleaning at a local pizza place in Westerly, we were on it! ServiceMaster by Mason used advanced products, processes, and equipment to fully remove deeply embedded dirt and soil, sanitizing the floors throughout the kitchen, dining room, and other areas of the local eatery.
Our staff was also happy to accommodate the restaurant's busy schedule, working efficiently to have the floors fully cleaned for the staff and customers to enjoy.
Don't forget to check out the pizza place menu.
Water and Mold Loss in Coventry, CT Home
9/10/19
Who would've thought that a small water line could cause such damage to a home? When a family returned from vacation, they were horrified to discover that their refrigerator line was leaking, spilling hundreds, possibly thousands, of gallons of water throughout the home's structure.

The family was quick to call ServiceMaster by Mason, and our technicians responded immediately to extract the standing water and remove the mold growth that was starting to form around the home. All affected materials were removed including the following: drywall, insulation, cabinets, countertops, tile floors, wood floors, and subfloors. They had to be removed from most rooms, including the kitchen, hallway, bathroom, and laundry room. Other damaged materials were packed out to be cleaned and restored at our facility.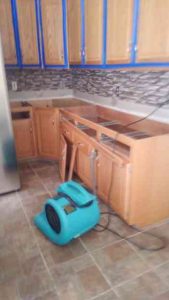 To prevent the mold from spreading to unaffected areas, a containment chamber was set up. Then using advanced products and methods, ServiceMaster by Mason had dried out all rooms, HEPA-vaccuumed finite dirt, mold spores, and dust, and finally removed the remaining debris. They finished the job by applying anti-microbial spray to prevent future mold growth.
After working efficiently and effectively, our technicians were able to restore both the home's structure and the family's peace of mind!
Water and Mold Mitigation in South Windsor, CT Home
8/28/19
One of the many ways water can destroy property structures is through pipe burst. When this disaster has occurred to a home in South Windsor, CT, the ceiling, belongings, and many other building materials were connected. Combined with the summertime humidity, it wasn't long until the mold showed up.
ServiceMaster by Mason was quick to respond as soon as we received the first call. Our technicians began by putting on their protective gear (PPE) and respirators, followed by creating containment chamber to address the water, mold, and safety concerns. In order to prevent mold from contaminating other areas, air scrubbers were set up to create negative air flow and venting.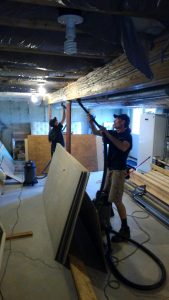 Now starting the mold remediation work, permanently damaged materials were removed in the basement, including drywall, flooring, insulation, and some contents. Advanced products and equipment were then used to dry and sanitize the area, including HEPA-vacuuming finite dirt and mold spores. After all debris was removed, ServiceMaster by Mason had cleaned all joists and studs in the basement, finally spraying anti-microbials to prevent the mold from returning.
After working efficiently and effectively to restore the home to its original condition, ServiceMaster by Mason had also successfully restored the homeowners' peace of mind.
Commercial Carpet Cleaning in Westerly Public Library
8/19/19
Clean carpets and floors can make a big difference when making a first impression with customers, guests, and employees, and ServiceMaster by Mason knows this very well. But when the flooring materials are built up with dirt and debris from constant foot traffic, they can leave everyone with the wrong idea.
When the Westerly Public Library had noticed their floors could use some deep carpet cleaning, they were quick to call in ServiceMaster by Mason! Our licensed technicians had arrived and got to work right away, using advanced products and processes to completely clean carpeting in the entrances and hallways across multiple floors of the building.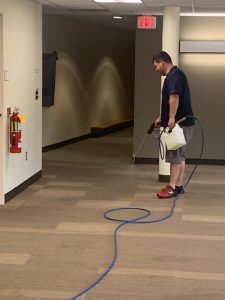 Our head Floorcare Technician, Michael Parrack, had also took the initiative to remove stains and deep clean the carpets the computer room, terrace room, and auditorium. Our products are specifically created with eco-friendly ingredients in order to sanitize carpets and leave them in their best condition, WITHOUT triggering allergies or asthma.
ServiceMaster by Mason was also happy to work around the library's busy schedule, performing our cleaning services at a time that worked best for them. Both Michael and Alex worked efficiently to restore a cleaning environment for all customers, guests, and employees to enjoy.
Post Construction Cleanup at Brewery & Taproom in Woodstock, CT
8/7/19
After the construction project of the new Taylor Brooke Brewery in Woodstock, CT was complete, it was almost ready to open its doors to the public. But there was much cleanup to be done; fixtures, equipment, and other items throughout the property were covered in finite dust and debris.
The owners were quick to call ServiceMaster by Mason for post construction cleanup services. As soon as our crew arrived, they used advanced products and methods to remove all debris and worked effectively to clean and HEPA-vacuum all windows, fixtures, trim, and other parts of the property. They also climbed up extension ladders to clean out air ducts, ensuring that all dust was removed high and low.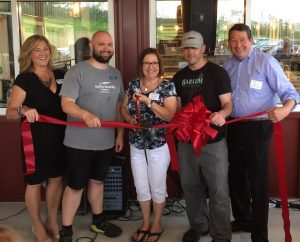 After the finishing touch was given to the new beer production and taproom, preparing it for the staff and public, over 170 guests had attends its Ribbon Cutting event with the Northeastern CT Chamber of Commerce. The Taylor Brooke Brewery is located on Route 171 in Woodstock, CT alongside the Taylor Brook Winery, open Wednesdays through Sundays. Check out their website: www.taylorbrookebrewery.com.
Tile and Grout Cleaning in Manchester, CT and East Providence, RI Homes
7/31/2019
Disaster restoration is certainly not all we do; ServiceMaster by Mason is a proud provider of a number of professional cleaning services in the southwest Rhode Island and Southeast Connecticut area. When we received a call concerning mildew growth in the bathroom tile of a Manchester, CT home, our technicians quickly responded with tile and grout cleaning!
As soon as we arrived, our technicians got to work, cleaning and sanitizing the area to remove the mildew growth on the bathroom tile. Both surface soil and embedded dirt were also removed using advanced products and processes in order to restore its original appearance.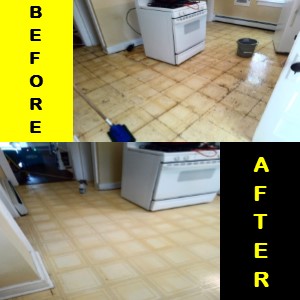 There was also a property in East Providence, RI that needed deep cleaning to restore the original look of their kitchen and hallway floors. With frequent foot traffic on tile floors, they become embedded with dirt and debris, making them dull in their appearance. Scrubbing and mopping can slow the process, but won't bring back that shiny new look.
But with 29 years of experience and professional products, ServiceMaster by Mason, was able to bring back that shine, both in the hallways and kitchen. Check out the before and after pictures!
Commercial Floor and Carpet Cleaning in Rhode Island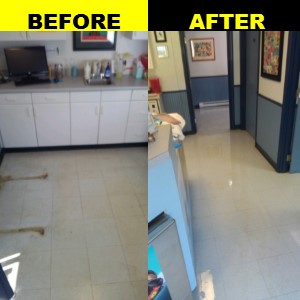 7/19/19
The condition of the floors can have a big impact on the impression of employees, customers, and guests. When they're caked with dirt and debris, the carpeting becomes faded from all the foot traffic. This was exactly the case in 3 local Rhode Island businesses; they called ServiceMaster by Mason to give these carpets a whole makeover!
Our licensed technicians were quick to respond, using advanced products and processes to conduct detailed cleaning and sanitizing of the laminate floors of a new café  in Wakefield, RI as well as the tile floors in the Atlantic Animal Hospital and Wellness Center in Charlestown, RI.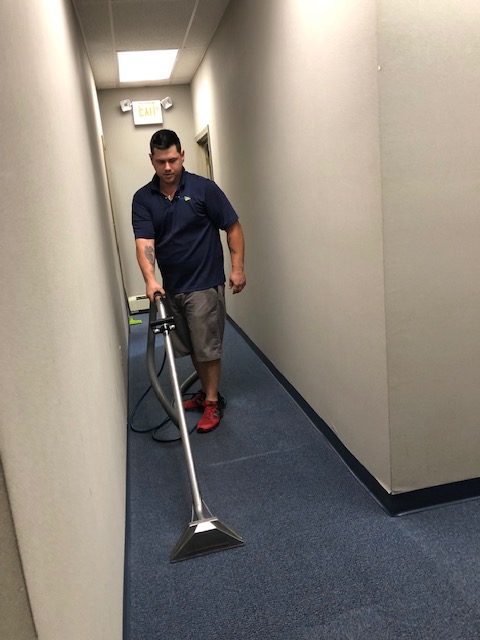 Head technician Michael Parrack took extra care to deep clean all floors and remove the dirt, dander, and pet hair spread by little paws and shoes. In fact, our products are eco-friendly and free of harsh chemicals that can trigger asthma and allergies.
ServiceMaster by Mason is also happy to accommodate all work schedules while performing carpet cleaning services before or after business hours as needed, such as the case with an insurance agency in Wyoming, RI. Michael had worked efficiently and effectively to deep cleaning their carpets and upholstery on office and lobby chairs, removing dust, stains, and dirt. Overall, he had created a clean work environment for all customers, employees, and guests in the public spaces.
Post Construction Cleaning in Charlestown, RI
7/9/19
It's exciting to have a home or building remodeled, but what many property owners don't think about is the dust and debris leftover from the construction project. When the property owners of a local home in Charlestown, RI found themselves in this position, they called ServiceMaster by Mason!
Our technicians had arrived promptly for the post construction cleaning project, using advanced products and processes to clean up the space. This included HEPA-vacuuming and removing all dust and dirt particles, working effectively to clean all walls, ceilings, appliances, cabinets and drawers, floors, interior windows, and trim. After giving the home its finishing touch, the homeowners couldn't wait to move back in!
December 5, 2019
Donald Madura
Waterford, CT
I have a list of likes: 1. Quick response to my request for service. 2. Competent Crew - They worked together to get the job done expeditiously. 3. Courteous Crew - they listened to and understood my needs. 4. They were respectful of my home and property 5. The finished product was excellent - The odor from the damage was gone 6. I could easily move on to the restoration stage of the damages.
More Reviews