(860) 455-4969
Water Damage Related Info
Water damage is no joke, as it can cause severe destruction to structural elements of buildings, personal belongings, and important equipment if left untreated. If you discover excess water and moisture on your property, it is important to get a professional inspection completed as soon as possible to prevent further damage and harmful mold growth.
In many cases, the extent of the damage is greater than what is visible to an untrained eye. As time passes, the water can penetrate porous building materials (such as wood, drywall, and flooring), cause damage to these materials, and spread throughout the property. At ServiceMaster by Mason, we offer water damage restoration services to restore the buildings and belongings of affected property owners in Manchester, CT and the surrounding areas.
Water Damage Restoration Manchester, CT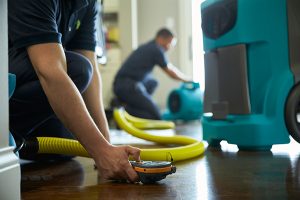 In the Northeast, burst pipes, ice dams and sprinkler head breaks are a common problem during cold winter months. This occurs when the water within these pipes freezes, expands, and ruptures the pipes. Once a pipe bursts, water will freely flow onto your property, and pose a risk to anything in its path.
Whether the water damage occurs from a burst pipe, sewage backup, major storm, flood, or broken appliances or water heaters, we have the equipment, products and procedures to remove it. Our ServiceMaster by Mason technicians are highly trained and certified in a variety of water extraction and drying techniques and will restore affected areas and your belongings in the process.
Water Restoration Manchester, CT
For professional water damage restoration services in the Manchester, CT area, contact ServiceMaster by Mason at (860) 455-4969.
When you choose to make use of our water damage restoration services, you can expect the following:
24-hour availability and a rapid response
Removal of excess water and moisture
Complete drying and dehumidification services
Restoration of affected structural elements and personal belongings
The disinfection of damaged areas
Complete deodorization services
Content cleaning services
Restoration of important documents and electronics
Demolition services when required
Our specialists are also experienced with: responding to seepage, mitigating the effects of water damage, removing mold, limiting corrosion, cleaning up contaminated sewage, reinstallation techniques, and dehumidification systems.
Flood Cleanup
Floods are particularly troubling because of the levels of water involved. After calling for emergency assistance, it is important that you remain proactive by doing the following:
Shut off the main water line
Soak up water through mopping and blot drying
Remove and hang wet area rugs
Wipe down furniture, prop up cushions, and put aluminum foil beneath furniture legs
Place paintings, photos, and similar items in a dry location
Pack affected books and documents tightly together to avoid further damage
Open doors, cabinets, etc. for greater air circulation
It is also imperative that you avoid several specific actions:
Do not mix chlorine bleach with other cleaning products
Do not enter rooms with structural damage or affected electronics
Do not enter rooms with standing water while the electricity is on
Do not use a vacuum to soak up water
Do not use electronics or appliances until they have been inspected
Do not walk on wet carpeting
Do not place newspaper on the floor (the ink can bleed out)
Available 24/7
To make use of our water damage restoration services, contact our ServiceMaster by Mason representatives at (860) 455-4969. We will remove excess water and moisture from your property and restore any damaged areas and belongings. We offer these 24/7 services to residents of Manchester, CT.
---
Related Water Damage Repair Services:
Water Restoration Westerly, RI
Flood Cleanup Warwick, RI
Water Damage Cleanup Waterford, CT
Water Damage Repair Providence, RI
Water Damage Mitigation Hampton, CT