In residential and commercial settings, the condition of your carpeting can leave a lasting impression on visitors and employees. When they are maintained well, carpets can complete the look of a room, and paint a positive picture. When they are poorly maintained, they can fray, fade, and become matted, requiring costly replacement.
At ServiceMaster by Mason, we provide professional carpet cleaning services in Manchester, CT and the surrounding areas to clean and refresh carpeting that is faded, frayed, discolored, or stained.
Dirty and Worn Out Carpeting
Your carpeting is the most frequently used furnishing in a room. To get anywhere in the building or home, individuals (and pets) are walking across them, causing debris from their feet or shoes to dig into the carpet fibers. Over time, this can result in a variety of complications and damage. Dirt and debris can quickly become embedded deep within the fibers of the fabric.
As these elements build up, your carpeting can become discolored. When pets, spills, and heavy foot traffic are added into the mix, the damage occurs more frequently and extensively.
Carpet Cleaning Manchester, CT
In order to increase the longevity of your carpeting, and return it to its original condition, we offer professional-grade cleaning solutions specifically designed to restore even the most heavily-damaged carpeting. If you own specialty carpeting (such as oriental or wool), our ServiceMaster by Mason technicians have the skill set and expertise to properly clean and refresh them.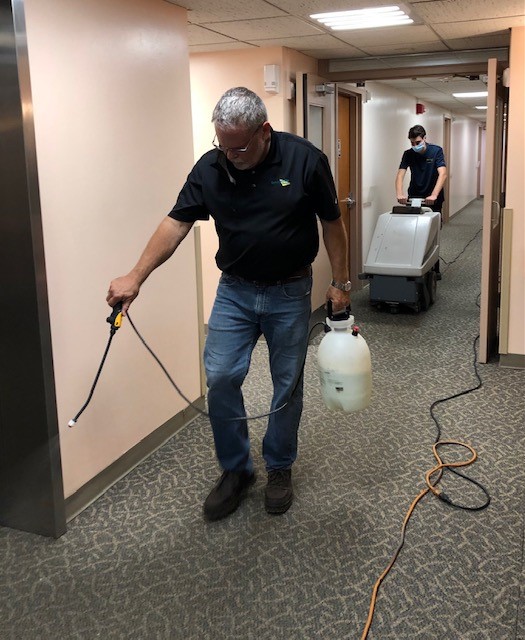 For over 30 years, the professional carpet technicians at ServiceMaster by Mason has provided effective deep cleanings, removed problem stains, and returned carpeting to its original appearance.
A thorough initial inspection to determine the needs of your carpeting
A deep cleaning with our hot water extraction cleaning method (this involves the use of a warm sanitizing solution that gets injected deep into your carpets' fibers, and then extracted along with debris that was formerly embedded)
Spot stain removal as required
A final inspection to ensure a quality result
Option of adding Scotchguard finish to preserve the carpet fibers
There are a number of benefits that this level of cleaning provides. They include an extension of the manufacturer's warranty on the carpeting, an increased operational life, the removal of all dirt and debris, and an overall renewed appearance.
Call for a Free Estimate
While standard vacuuming is a good habit, it simply cannot do everything that a professional-grade cleaning can. Through our carpet cleaning services, we will make your carpeting look as good as new. To schedule an appointment, call our ServiceMaster by Mason representatives at (860) 455-4969. We can perform one-time or recurring services for property owners of all kinds in Manchester, CT.
---
Related Carpet Cleaning Services:
Carpet Cleaning Hampton, CT
Carpet Cleaning Services Waterford, CT
Carpet Cleaning Company Providence, RI
Carpet Cleaning Contractors Westerly, RI
Carpet Cleaning Professionals Warwick, RI
Carpet Cleaning Norwich, CT
March 12, 2021
David Lucchesi
Charlestown, RI
December 10, 2020
Corrine Brzys-Mihlek and John Brzys
Somers, CT
We were so relieved to have actual professionals taking care of our mold find, especially after we inquired about a couple "treatment plans" from other companies. Ryan came in with his gear and showed us the real deal the others missed (like, 98% of the mold). He took air samples to send out. He had a logical plan forward that we felt absolutely positive about. This team made the others look like clowns and charlatans. We were thoroughly informed of what was being done and why, and I actually felt safe in my own home. There were many layers of inspection and testing, yet it was all done quickly. I'd recommend anyone with a mold problem to seek this team immediately. You'll be wasting your time and money with anyone else!
More Reviews