(860) 455-4969
At ServiceMaster by Mason, we provide puffback cleaning services to property owners in Manchester, CT and the surrounding area. Through these services, we eliminate the corrosive soot and debris that enters your living space due to a furnace puffback.
It is important to address these situations swiftly, as various surfaces and belongings can become permanently damaged in a short period of time. When you choose our professionals to assist you with our services, we will respond rapidly to return your building and items to their original condition.
Furnace Puffbacks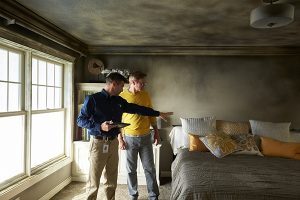 Furnace puffbacks take place when there are issues with your oil furnace or burner. They can occur at any instant, with the oil furnace backfiring, it spreads an oily, corrosive soot through the air/HVAC ducts and into your home.
Most commonly, we see walls, ceilings, floors, carpeting, and furniture take on the brunt of the damage. In order to limit the extent of the damage and strong odor of oil, we encourage you to contact our representatives right away. Just remember that it is important to never use any other cleaning product on the affected surfaces as it will only smear and spread the residue.
Technicians You Can Trust
Our ServiceMaster by Mason technicians are among the best in the industry at what they do. They are IICRC-certified, and regularly respond to a variety of property-damaging events. This includes fire damage, burst pipes, mold growth, floods, severe storms, major accidents, and more.
Essentially, we have the resources and knowledge to provide complete restoration services following a furnace puffback. From initial assessments and cleaning to full demolition, we will ensure that all corrosive oil and debris will be removed from your property.
Soot Puffback Cleaning Services
Through our comprehensive approach to soot puffback cleaning services, we will remove all hazardous materials from your property while returning it and your belongings to their original condition. This starts with a rapid response and entails diligent and calculated recovery efforts.
The soot and other hazardous materials involved require specific sanitization solutions and techniques to be properly removed. We adhere to these best practices.
Other things that you can expect when utilizing our services include:
Full deodorization services
Wall and ceiling cleaning
Content cleaning and restoration services
Floor and carpet cleaning
Debris removal
Air scrubbing
Furniture and upholstery cleaning
Area rug cleaning
Restoration dry cleaning
Demolition services
Even if some time has gone by since the furnace puffback occurred, we will work effectively to restore your property and peace of mind.
Emergency Response
To help you with soot puffback cleaning services, contact our ServiceMaster by Mason representatives at (860) 455-4969. We are available 24/7 in Manchester, CT and the surrounding areas, and look forward to assisting you soon.
---
Related Puffback Cleanup Services:
Furnace Puffback Cleanup Waterford, CT
Furnance Puffback Cleaning Hampton, CT
Furnace Puffback Cleanup Services Providence, RI
Soot Puffback Cleaning Warwick, RI
Soot Puffback Cleanup Contractors Westerly, RI