(860) 455-4969
Furnace puffbacks are a relatively common occurrence in properties within Waterford, CT. When these events take place, building materials and belongings in the path of the soot, smoke, and other debris are at risk of sustaining permanent damage, not to mention a lingering oil odor on the property.
At ServiceMaster by Mason, we offer complete  puffback cleaning services to not only remove these harmful elements, but restore affected areas. Through a rapid response, we will eliminate these hazardous materials, restore the structure and items, and deodorize your property.
About Furnace Puffbacks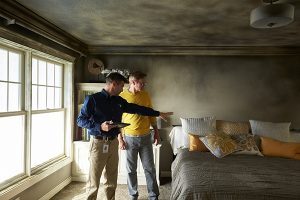 Furnace puffbacks are directly related to problems within oil furnaces or burners. When they occur, the oil furnace backfires and sends a corrosive soot-based product from the burner's exhaust system throughout the rest of the home. These furnace puffbacks can destroy walls, carpeting, flooring, furniture, upholstery, and personal belongings in their path, not to mention leaving behind a strong oil odor if immediate action is not taken.
To make matters worse, these ejected materials are hazardous to the health of individuals on the property. But simple cleaning products and home remedies will only smear the oily residue and make matters worse. The best course of action to take following a furnace puffback is to contact ServiceMaster by Mason regarding our soot puffback cleaning services. Our technicians use the latest products and equipment to fully clean your property
Technicians You Can Trust
At ServiceMaster by Mason, we offer the services of trained and experienced technicians that understand which cleaning methodologies are appropriate to use for your unique situation. They are also IICRC-certified, meaning they have expertise regarding a variety of property restoration techniques. Lastly, we know how to use professional-grade tools to get the job done right.
When it comes to restoring building materials and personal items, ServiceMaster by Mason is well-versed in responding to floods, fires, sewage backups, mold infestations, storms, and other property-damaging situation. Our tools, training, and experience ensures that we will restore your property and your peace of mind.
Comprehensive Soot Puffback Cleaning Services
When assisting you with ServiceMaster by Mason's puffback cleaning services, you will receive comprehensive results, and we truly mean it. Upon receiving your initial call, we will respond and arrive to your property right away. After developing a customized plan of action, our technicians will begin eliminating the hazardous materials, successfully restoring the affected surfaces and items using advanced products and equipment, and finally deodorizing the property. In addition to your property, our experts ensure to restore complete peace of mind.
As with any successful restoration project, the minor details matter. This is a concept our professionals have known and understood for years, especially for furnace puffbacks. They take the extra steps to ensure that your property is fully restored after a disaster.
You can expect the following from our puffback cleaning services:

The sanitization and restoration of affected belongings
Wall and ceiling cleaning
Odor removal services
Floor and carpet cleaning
Air scrubbing services
The removal of debris
Area rug cleaning
The sanitization of furniture and upholstery
HVAC/air duct cleaning services
Restoration dry cleaning
Demolition services
Immediate Response
To assist you with our soot puffback cleaning services in Waterford, CT, contact our ServiceMaster by Mason representatives at (860) 455-4969. We are available 24/7 and will respond rapidly to limit the extent of the damage and return your property to its original condition.
---
Related Puffback Cleanup Services:
Soot Puffback Cleanup Providence, RI
Soot Puffback Cleaning Westerly, RI
Soot Puffback Cleaning Company Warwick, RI
Furnace Puffback Cleaning Manchester, CT
Furnace Puffback Cleanup Company Hampton, CT
Puffback Cleaning Services Norwich, CT
March 12, 2021
David Lucchesi
Charlestown, RI
December 10, 2020
Corrine Brzys-Mihlek and John Brzys
Somers, CT
We were so relieved to have actual professionals taking care of our mold find, especially after we inquired about a couple "treatment plans" from other companies. Ryan came in with his gear and showed us the real deal the others missed (like, 98% of the mold). He took air samples to send out. He had a logical plan forward that we felt absolutely positive about. This team made the others look like clowns and charlatans. We were thoroughly informed of what was being done and why, and I actually felt safe in my own home. There were many layers of inspection and testing, yet it was all done quickly. I'd recommend anyone with a mold problem to seek this team immediately. You'll be wasting your time and money with anyone else!