(860) 455-4969
In the event of a natural disaster, not only can your property be left in an unstable condition, but your content can be affected as well. This can include all kinds of damages, such as water damage, fire damage, mold, and more. While there are restoration services that can effectively repair the damage, they will only cater to the building materials of property.
Content Restoration Waterford, CT
In the event that your content also needs to be restored, ServiceMaster by Mason is available 24/7 to provide emergency content cleaning, packout, and storage services in Waterford, CT. While these items can include: knick-knacks, furnishings, upholstery, collectibles, electronics, and documents, our technicians undergo frequent training in order to remain updated in using all of the latest products, equipment, and restoration trends in the industry.
This is to ensure the ongoing quality of our content cleaning services as we are dedicated in providing you with some peace of mind. But in the event that your belongings cannot be restored on-site, we provide packout services in which your items can be safely transported and restored at our facility.
Content Cleaning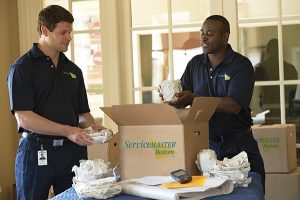 While personal content can certainly be affected during water, fire, or mold damage, many services do not restore household belongings. However, immediate treatment is crucial in order to avoid permanent damage.
In the event that your content has taken on severe damage, do not hesitate to call ServiceMaster by Mason. Our content cleaning services are designed to have your items restored quickly and effectively. In addition to their years of experience, our technicians attend classroom as well as on-the-job training to use the latest products and equipment to the industry. This way we continue to improve the quality of our services in effectively restoring your belongings more efficiently.
We will also work with your insurance company to allow the claims process to run as smoothly as possible for you. Finally, while we typically restore the content on-site, sometimes the property has taken on too much damage for this to be possible. When this occurs, we will provide packout services to have your items restored at our facility.
Packout Waterford, CT
Sometimes the home or building has taken on too much damage for the effective restoration of your personal belonging. In the event that this does occur, our technicians will securely pack out your belongings, creating a detailed inventory of each item and its condition and provide you and your insurance provider with a copy. This is to help you keep a record of each item that is in storage.
We will then have them cleaned, restored, and deodorized at our climate-controlled facility. Even if the restoration process on your content is completed before that of your property, the items can be stored with us until the necessary procedures on your home or building are complete. We will then deliver them to your property when it is ready. As personal content can take on severe damage during a natural disaster, immediate restoration is essential in order to prevent additional damage.
Emergency Response
When this occurs, call ServiceMaster by Mason. We are available 24/7 at (860) 455-4969 for emergency content cleaning, packout, and storage services in the Waterford, CT area.
---
Related Contents Restoration Services:
Content Cleaning and Pack Outs Providence, RI
Contents Restoration and Pack Outs Westerly, RI
Content Cleaning and Pack Out Services Warwick, RI
Content Cleaning and Pack Out Company Manchester, RI
Contents Restoration Services Hampton, CT