Natural disasters like storms, fires, and floods, or challenging circumstances from mold and vandalism, often cause widespread damage in a home or building that is difficult to contain.  That means that when these disasters occur, your personal items are just as likely to sustain damage as the structural elements. It is important for your damaged items to be cleaned and restored as quickly as possible to prevent them from becoming permanently damaged.
ServiceMaster by Mason provides content cleaning and pack-out services in Norwich, CT to clean and restore personal items damaged in a disaster.  We use advanced cleaning methods that are effective for a range of personal items, including soft goods and items like electronics, china and jewelry.  Our technicians can restore your items at home or take your items to our secure, climate-controlled facility for cleaning and restoration with our professional pack-out services.
Content Restoration in Norwich, CT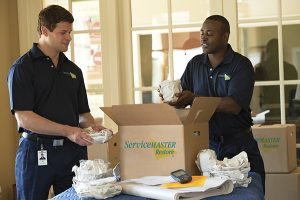 When a disaster occurs, it is inevitable that your personal items will sustain damage as well as the building materials and furnishings of your home.  Items such as clothing, electronics, jewelry, documents and artwork, dishes, and other knick-knacks may sustain severe damage from water, fire, smoke, and mold.
Our technicians use advanced restoration techniques to clean and restore a wide range of personal content.  If the conditions allow, we can fully restore and deodorize your damaged items on-site.  If we cannot do the cleaning and restoration on-site because of the conditions or extensive repairs, we will take your items to our facility instead with our pack-out services.
Pack-Out and Storage Services
With our pack-out services, your damaged items will be taken to our facility for a thorough cleaning and storage.  Our technicians will carefully pack each of your damaged items and enter them into an electronic inventory.  You will be provided with a copy of this list so you can keep track of your items.  We will then safely transport your items to our secured, climate-controlled facility where we can thoroughly clean, restore, and deodorize them with our advanced equipment and methods.
After the restoration, we will wrap your items in fresh packing materials and store your belongings safely until you are ready to have them back.
Contact ServiceMaster by Mason 24/7
Following any type of natural disaster, you need to react quickly to limit the damage to your home as well as your belongings.  Contact our professionals at ServiceMaster by Mason immediately after a disaster to help restore your home and your personal content.
You can reach us at (860) 455-4969 for professional content restoration and pack-out services in Norwich, CT.
---
Related Services:
Content Restoration Westerly, RI
Content Cleaning Warwick, RI
Content Cleaning and Pack Outs Hampton, CT
Content Restoration and Pack Outs Waterford, CT
Content Restoration and Pack Out Services Manchester, CT
Content Cleaning and Pack Out Services Providence, RI
June 1, 2022
P.A.C.S.
Vernon Rockville, CT
More Reviews