It is frustrating to discover that your home or business has been a victim of graffiti or vandalism.  These acts can result in severe damage to your property that you will have to fix or clean up promptly.  For businesses, this costly challenge takes time out of your business operations to clean up and repair the damage.  Regardless of whether your home or business was damaged or tagged by vandals, you need to call a professional to repair the damage and clean up the mess.
ServiceMaster by Mason provides graffiti and vandalism cleanup in Norwich, CT to repair property damage and clean up messes left by vandals.  Our technicians can board up broken windows, doors and walls, and remove graffiti, paint, eggs, and debris left behind, from shattered glass to building materials.  Our quick cleaning and repair will return your home or business to its previous condition.
Graffiti Removal in Norwich, CT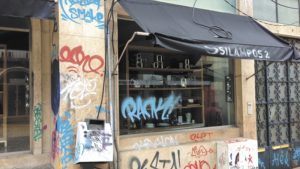 Vandals can cause damage to the exterior and interior of a home or building by breaking windows and throwing eggs, rocks, and other debris onto the property.  Broken windows leave a property vulnerable to further damage, animals and intruders which makes it important to board up and secure the property right away.
At ServiceMaster by Mason, we are dedicated to restoring your home or business to its original condition.  Removing all signs of vandalism or graffiti will give you some peace of mind and make additional vandalism less likely to occur.  We will board up damaged doors, walls and windows to secure the property and remove damaged materials big and small.  Our experienced technicians will also clean up eggs and other debris and effectively remove graffiti.
Media Blasting
One of the best features about our graffiti removal service is our new Abrasive Media Blasting service. This cost-effective, time-saving method allows us to remove graffiti, rust, paint, spray, adhesive glue and even smoke damage from all kinds of surfaces.
Eco-friendly substances like crushed glass, soda bicarbonate and walnut shells are used through a 185 cfm diesel compressor, producing a 110 psi to remove vandalism from homes, buildings, fountains, statues, gravestones, monuments and more. We can also reach confined spaces!
You can expect the following from our graffiti and vandalism cleaning services:
Board-up and tarping to secure the property
Removal of damaged materials
Top-to-bottom cleaning
Power washing and media blasting to remove graffiti
Removal of debris
Our vandalism and graffiti cleaning services can have the following results:
Decreased threat of reoccurring vandalism
Reduced threat to your security
Preservation of evidence for the police
Call ServiceMaster by Mason
Having your home or business damaged by vandals is disheartening.  But ServiceMaster by Mason is available 24 hours a day at (860) 455-4969 for graffiti and vandalism cleanup in Norwich, CT.
---
Related Services:
Vandalism Cleanup Providence, RI
Vandalism Cleanup Warwick, RI
Vandalism Cleanup Waterford, CT
Graffiti Removal Westerly, RI
Graffiti Removal Hampton, CT
Graffiti Removal Manchester, CT
March 12, 2021
David Lucchesi
Charlestown, RI
December 10, 2020
Corrine Brzys-Mihlek and John Brzys
Somers, CT
We were so relieved to have actual professionals taking care of our mold find, especially after we inquired about a couple "treatment plans" from other companies. Ryan came in with his gear and showed us the real deal the others missed (like, 98% of the mold). He took air samples to send out. He had a logical plan forward that we felt absolutely positive about. This team made the others look like clowns and charlatans. We were thoroughly informed of what was being done and why, and I actually felt safe in my own home. There were many layers of inspection and testing, yet it was all done quickly. I'd recommend anyone with a mold problem to seek this team immediately. You'll be wasting your time and money with anyone else!
More Reviews