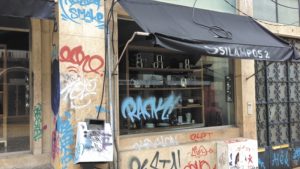 Whether or not the damage had occurred to a business, vandalism and graffiti is illegal and considered a personal offense. While graffiti and other forms of vandalism can cause significant amounts of destruction to a building, it can also quickly devastate a business reputation. To make matters worse, broken windows and glass doors will invite other vandals to cause further damage, not to mention threatening personal safety.
Discovering your property in this condition can be devastating, but quick action must be taken to prevent further damage, secure the property, and put your business back in business.
Vandalism Cleanup Waterford, CT
When it comes to graffiti removal, vandalism cleanup, and emergency board-up services in the Waterford, CT area, nobody handles the job better than ServiceMaster by Mason. With a quick response time, advanced equipment, and years of experience to make all repairs, our technicians will return your property to its original condition in a timely manner. We will also work with your insurance company and your building contractor to allow you to focus on other business matters.
Our vandalism cleanup services include all of the following:
24/7 availability
Removal of debris and damaged contents
Power washing and media blasting of exterior walls
Demolition and removal of damaged building materials
Window cleaning
Our technicians understand the emotional stress and anxiety a vandalized property can take on a business owner. But rest assured, ServiceMaster by Mason board-up damaged walls and windows while removing other building materials. We can also work with your building contractor to allow the reconstruction process to run more smoothly for you.
Media Blasting
One of the newest features within our graffiti removal services is Abrasive Media Blasting. This powerful method uses a combination of walnut shells, recycled crushed glass and soda bicarbonate through a 185 cfm diesel compressor that produces a 110 psi to remove graffiti, rust, adhesive glue, spray, paint and even smoke damage from all kinds of surfaces.
With this kind of speed and power, our technicians can quickly remove all types of unwanted vandalism from statues, monuments, gravestones, fountains, homes, buildings and more.  We can even reach confined spaces!
Graffiti Removal Waterford, CT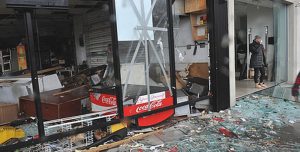 All vandalism, including graffiti, eggs, dirt, and other debris will be removed while our board up services will prevent other vandals from causing further damage. Our commercial cleaning products have been designed to remove harsh substances in order to return that brand-new, professional look to your business again. With our services, you can finally have some peace of mind knowing that your commercial building will be restored to its original condition as quickly as possible.
Our graffiti removal services will provide the following:
Reduce the risk of future vandalism
Preserve evidence, if needed
Increase property security
As soon as we are called for emergency vandalism cleanup services, our technicians will respond quickly to get your business back on track again. With us, you can be sure that your business property will be restored while preventing additional damage to your building in the future.
Available 24/7
ServiceMaster is available 24/7 at (860) 455-4969 in Waterford, CT and the surrounding communities to provide emergency graffiti removal and vandalism cleanup services. We will guarantee your satisfaction and work with all major insurance providers.
---
Related Graffiti Removal and Vandalism Cleanup Services:
Graffiti Removal Providence, RI
Vandalism Cleanup Warwick, RI
Graffiti and Vandalism Cleanup Westerly, RI
Graffiti Removal Services Hampton, CT
Vandalism Cleanup Company Manchester, CT
Vandalism Cleanup Norwich, CT
March 10, 2022
A.M.A.
North Kingstown, RI
March 12, 2021
David Lucchesi
Charlestown, RI
More Reviews