(860) 455-4969
The winter months in Waterford, CT, can take a toll on your property, and particularly your sewer and water pipes. It is common during winter months for pipes to freeze and burst in both residential and commercial settings, which can lead to severe water damage in a hurry.
At ServiceMaster by Mason, we offer assistance through our frozen pipes damage restoration services. Our frozen pipe and burst pipe specialists can help with water damage restoration, provide demolition of building materials that may need to be removed, and fully dry and  restore your property in the case of an water emergency.
Preventing Your Pipes from Freezing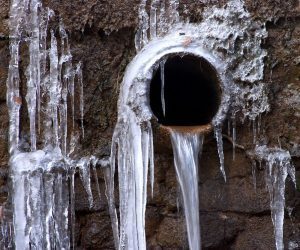 While homes in New England are beautiful and unique, many have older pipes and plumbing materials that could be susceptible to leaks and breaks during our harsh winter weather. A few ways that you can be proactive, and prevent your pipes from freezing in the first place, include:
Allowing your faucets to drip during cold days and nights to keep water in your pipes flowing
Opening up the cabinet doors beneath your sinks to keep pipes warmer
Carefully placing a space heater near uninsulated pipes
Using pipe insulation or electrical tape to protect your pipes
Turning off your outdoor water supply
Keeping your outdoor hoses inside
Thawing Out Frozen Pipes
Even if you are proactive, there are cases where your pipes will freeze. This happens quite often in areas where piping is more exposed to the elements (such as in outside walls and attics) or heat isn't frequently circulating. If your water pressure is abnormally low, or you notice frost or ice on your pipes, we encourage you to:
Find the line that includes the frozen pipe, and identify where it is freezing
See how bad the damage is (pipes can become frosty, covered in ice, and even bulge)
Contact frozen pipe restoration professionals if your pipes are freezing
Attempt to carefully thaw out the pipe with a heat lamp or hairdryer (never use an open-flamed source)
If needed, remove drywall to get better access to frozen pipes (this can save you money in the long-run)
Keep water in the affected pipes flowing by turning on the faucets they supply water to
Burst Pipe Repair Services

If one or more of your pipes burst, a very large quantity of water can rapidly flood your property. Obviously, this can lead to significant damage to your property and personal belongings. This is why we remain available 24/7/365 to answer your call and provide assistance.
Our ServiceMaster by Mason restoration experts are adept in burst pipe restoration, water damage restoration and drying, and mold removal. This means that we can fully restore your property following a disaster from water and burst pipes. When you utilize our burst pipe repair services, we will:
Extract standing water
Remove excess moisture and dry materials
Restore affected areas
Eliminate and/or prevent mold growth
Provide demolition and removal of unsalvageable materials
Emergency Services
To utilize our frozen pipes damage restoration services, contact our ServiceMaster by Mason experts at (860) 455-4969. We are available 24-hours a day to respond in your time of need, and proudly service property owners in Waterford, CT and the surrounding southeastern and central Connecticut areas.
---
Related Frozen Pipes Water Damage Restoration Services:
Frozen Pipes Water Damage Cleanup Providence, RI
Frozen Pipes Water Damage Restoration Warwick, RI
Frozen Pipes Water Extraction Westerly, RI
Water Damage Cleanup from Frozen Pipes Manchester, CT
Flood Cleanup from Frozen Pipes Hampton, CT
Burst Pipes Water Damage Restoration Norwich, CT
March 12, 2021
David Lucchesi
Charlestown, RI
December 10, 2020
Corrine Brzys-Mihlek and John Brzys
Somers, CT
We were so relieved to have actual professionals taking care of our mold find, especially after we inquired about a couple "treatment plans" from other companies. Ryan came in with his gear and showed us the real deal the others missed (like, 98% of the mold). He took air samples to send out. He had a logical plan forward that we felt absolutely positive about. This team made the others look like clowns and charlatans. We were thoroughly informed of what was being done and why, and I actually felt safe in my own home. There were many layers of inspection and testing, yet it was all done quickly. I'd recommend anyone with a mold problem to seek this team immediately. You'll be wasting your time and money with anyone else!