(401) 622-4156
Frozen pipes can quickly become a major issue for residential and commercial property owners alike. When water within the pipes freezes, the ice begins to expand and can burst the pipes with too much pressure. This can lead to a large amount of water damage as the water spills out of the pipe into your property and damages your materials and belongings.
At ServiceMaster by Mason, we provide burst pipe flood cleanup services in Westerly, RI to help clean up the damage caused by a burst pipe. Our technicians will remove the water and excess moisture and restore the resulting damage.
How to Prevent Pipes from Freezing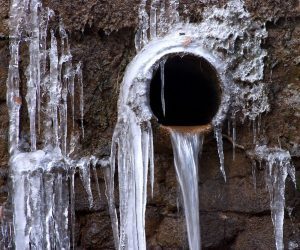 Winters in the northeast can become extremely cold and challenging. As a result, your property's pipes are at a greater risk of freezing. To be prepared, we recommend taking some of the following actions during particularly cold days and nights:
Run faucets at a slow drip to keep water in the pipes moving
Open cabinet doors below sinks to keep the pipes warm
Insulate pipes in vulnerable areas with electrical tape or pipe insulation
Safely utilize a space heater in areas with uninsulated pipes
Turn off your outdoor water supply, and store your garden hose inside
Thawing Frozen Pipes
Even if you are proactive, it is still possible for your pipes to freeze. Low water pressure is a sign of a freezing pipe, as is the presence of frost or ice on the outside of the pipe. If you notice any of these conditions, we encourage you to take the following actions:
Track down which line includes the frozen pipe
Find the exact spot of the freeze
Determine the severity of the damage (is the pipe frosty, covered in ice, or bulging?), and contact professionals as needed
Carefully thaw the pipe with a hairdryer or heat lamp (never use a heat source with an open flame)
If necessary, remove drywall for easier access (this is more cost effective than allowing the pipe to rupture)
Turn on the faucet so that water runs slowly through the pipe during the process (a slow trickle is fine)
Recovering from Burst Pipes
Frozen and burst pipes are always possible during the winter due to the brutal conditions in the northeast. If this occurs on your property, it is important to seek professional water damage restoration services right away, as literally hundreds-to-thousands of gallons of water can spill into your property in a short period of time through a burst pipe or broken hose. The first thing you should do following a burst pipe is shut off your water at the Main Shutoff and contact our experts for repair.
We offer comprehensive frozen pipe damage restoration services to return your property to its original condition. We utilize professional-grade equipment to remove standing water, and eliminate excess moisture absorbed by porous materials (e.g. wood, drywall, furnishings, etc.).
From here, our technicians will provide any needed demolition services to remove unsalvageable building materials like drywall or insulation, restore affected areas, and while providing mold removal services if necessary.
Emergency Contact
To take advantage of our burst pipes flood cleanup services, contact ServiceMaster by Mason at (401) 622-4156.
We are available 24 hours a day to respond in your time of need and we are proud to assist property owners in Westerly, RI, and throughout Southern and Central Rhode Island.
---
Related Burst Pipes Water Damage Restoration Services:
Water Damage Restoration from Frozen Pipes Hampton, CT
Water Damage Cleanup from Frozen Pipes Providence, RI
Flood Cleanup from Frozen Pipes Manchester, CT
Flood Extraction from Frozen Pipes Waterford, CT
Frozen Pipes Water Damage Cleanup Warwick , RI
Burst Pipes Flood Cleanup Norwich, CT
March 12, 2021
David Lucchesi
Charlestown, RI
December 10, 2020
Corrine Brzys-Mihlek and John Brzys
Somers, CT
We were so relieved to have actual professionals taking care of our mold find, especially after we inquired about a couple "treatment plans" from other companies. Ryan came in with his gear and showed us the real deal the others missed (like, 98% of the mold). He took air samples to send out. He had a logical plan forward that we felt absolutely positive about. This team made the others look like clowns and charlatans. We were thoroughly informed of what was being done and why, and I actually felt safe in my own home. There were many layers of inspection and testing, yet it was all done quickly. I'd recommend anyone with a mold problem to seek this team immediately. You'll be wasting your time and money with anyone else!