Nobody can predict when a fire will occur, but when it does, time is of the essence when assessing and preventing further damage to your building and belongings.  Remaining soot and smoke from corrosive byproducts can also continue to cause damage to various materials. This will then become indefinitely affected without quick and proper restoration.
However, ServiceMaster by Mason provides fire damage restoration services in Westerly, RI effectively minimizing and refurbishing the damage with advanced cleaning products and equipment. Therefore, when a fire strikes, we must be called as soon as possible to ensure the damage is fixed quickly and efficiently in order to save your home and belongings.
Fire Restoration Westerly, RI
For professional fire restoration services in the Westerly, RI area, call ServiceMaster by Mason at (401) 622-4156.
Fire Damage Restoration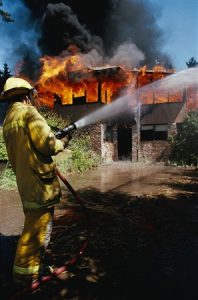 Because a fire can strike at any time, we are available 24/7 to ensure the damage is assessed as soon as possible. When calling ServiceMaster by Mason in Westerly, RI, the cleanup process is started faster to not only restore your belongings, but help you during this stressful situation.
We take fire restoration seriously and consider it an emergency service as damage and repairs can worsen if not treated as soon as possible. Our professionals are fully trained and continue to be trained on-site for all environments and situations, to guarantee that you will receive the most effective and qualified repairs and restoration. We can also provide water damage restoration for building materials and contents affected by the fire hoses.
Fire Restoration – What to Do
Call ServiceMaster by Mason right away for immediate fire damage cleanup services.
Keep all movement within the affected property to a minimum as it could cause the soot to settle into the affected materials.
Tape two layers of cheesecloth over the air vents.
Replace any air filters.
Cover all furnishings and upholstery with sheets as long as they are not wet.
Remove any soot on drapes, curtains, and blinds.
Open any windows and doors to air out the property.
Use a light coating of light oil or petroleum jelly to clean any chrome faucets in the bathroom and kitchen.
Empty the refrigerator of any exposed food as it may be contaminated from the smoke.
Wash plants on both sides of the leaves to remove any soot that may have settled.
Remove pets and transport them to a safer environment.
Fire Damage Repair – What NOT to Do
Use the TV or any electrical devices until deemed safe by the technician.
Do not use any home cleaners to remove the soot particles from the damaged materials.
Do not eat any food that may have been exposed to the soot and smoke during the fire.
Our smoke and fire damage restoration services include:
Structural damage assessment
Emergency board up and tarping
Structural bracing and shoring
Cleaning of all surfaces (masonry, concrete, brick, block, drywall, wood, paint, metal, carpet, tile, glass)
Water and chemicals removal
Demolition and debris removal
Media blasting
Fire Restoration Steps
You can expect these basic steps from our fire damage restoration services:
Emergency pre-cleaning
Content cleaning
Content pack-out and storage
Wall and ceiling cleaning
While fire can be devastating, ensuring that everyone has evacuated safely is of the utmost importance. But after the flames have been extinguished, your next step is the restoration process.
For 24/7 professional smoke and fire damage restoration services in Westerly, RI and the surrounding areas, call ServiceMaster by Mason at (401) 622-4156.
---
Related Fire Damage Cleanup Services:
Smoke and Fire Damage Cleanup Providence, RI
Fire Damage Cleanup Services Warwick, RI
Fire Damage Mitigation Hampton, CT
Smoke Damage Restoration Waterford, CT
Fire and Smoke Damage Restoration Manchester, CT
Fire Damage Restoration Norwich, CT
June 1, 2022
P.A.C.S.
Vernon Rockville, CT
More Reviews