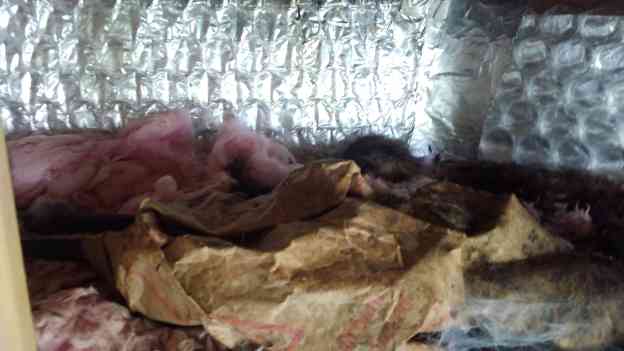 The fall season certainly has many benefits, but it's also the time of year that critters scurry to find shelter. Unfortunately, for many property owners in the Westerly, RI area, they find their way into homes and buildings, either by chewing through wood or squeezing through small holes.
While it is essential to call a critter removal service as soon as you find them or any evidence of them on your property, their filth must also be cleaned after they are gone. This can include animal biohazards, odors, dirt, and other debris they have brought in with them.
Wildlife Cleanup Westerly, RI
ServiceMaster by Mason is available in Westerly, RI to provide professional animal and wildlife cleanup services. We will remove all contaminated building materials and contents while sanitizing, deodorizing, and disinfecting all surfaces to restore a healthy environment for you and your family or staff again.
Our animal nuisance cleanup services cover all of the following:
Floor, upholstery, and carpet cleaning and restoration
Deodorization and odor removal of all affected areas
Cleaning floors, ceilings, and walls
Removal of contaminated items and building materials
Animal biohazard removal and cleanup
Unfortunately, nuisance animals can include a variety of critters, such as birds, rodents, squirrels, bats, and raccoons. But regardless of the amount of damage to your property from these pets, ServiceMaster by Mason will take care of the dirty work. We will also conduct a full inspection to identify all areas invaded by the animals to ensure your entire property is rid of the mess.
All of the areas listed below are common for wildlife to invade and cause damage:
Attics
Chimney
Roofs
Crawlspaces
Porches and patios
Basements
Under floors
Behind walls
Storage areas
Animal Cleanup Westerly, RI
In addition to making a mess and leaving biohazards, nuisance animals can also be responsible for water damage by chewing hoses and pipes to cause a water leak. But ServiceMaster by Mason is also licensed to restore the damage after the leak has been fixed. Anything from flood extraction to restoring the building structure, you can depend on our experienced technicians.
Regardless of the size of the mess caused by the nuisance animals, ServiceMaster by Mason can handle the cleanup job. From removing odors and biohazards to restoring water damage from chewed hoses, it is highly recommended that you call us right away as these problems will become worse if they are not treated right away. Don't hesitate to call us as soon as you notice the mess caused by nuisance animals on your property.
Contact Us
We are available at (401) 622-4156 to provide professional wildlife and nuisance animal cleanup services for homes and buildings in Westerly, RI and the surrounding communities.
---
Related Wildlife Cleanup Services:
Animal Nuisance Cleanup Warwick, RI
Wildlife Nuisance Cleanup Providence, RI
Animal and Wildlife Nuisance Cleanup Hampton, CT
Animal and Wildlife Nuisance Cleaning Contractors Waterford, CT
Animal and Wildlife Nuisance Cleaning Company Manchester, CT
Animal Cleanup Norwich, CT
June 1, 2022
P.A.C.S.
Vernon Rockville, CT
More Reviews