ServiceMaster by Mason is a leading provider of hoarding cleanup services in Westerly, RI. In this case, when we say hoarding, we are talking about more than simple everyday clutter. Hoarding is when an individual is affected by a legitimate mental disorder that causes severe anxiety when faced with disposing of items.
This leads to highly unsanitary and dangerous conditions for both the hoarder and their loved ones. Through our proven 3 phase approach, we will work with affected individuals to improve their living conditions.
Complications of Hoarding Tendencies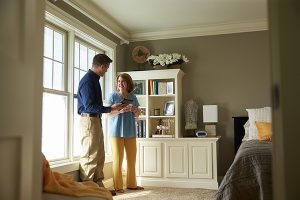 Hoarding is a particularly challenging disorder to manage because of the complex psychological factors at play. This is why many hoarders are too embarrassed to seek assistance. We recommend that family members and trusted friends of hoarders intervene in a respectful manner to show them the dangers that their habits are creating.
In the case of hoarding tendencies, extreme clutter is the root cause of the various risks at play. These dangers include the following:
Fire Hazards: Fires are a major concern because of the extra fuel available in hoarding scenarios.
Bacteria and Allergens: Mold, dust, various bacteria, and debris are all known to hide beneath excess clutter. This is because of the infrequency with which these areas are cleaned, among other factors.
Tipping Hazards: When items become stacked on top of one another, instability is probable, which can lead to an individual being trapped by fallen items.
Blocked Escape Routes: When an emergency does take place, potential avenues of escape are often blocked.
Our 3-Phase Approach
Here at ServiceMaster by Mason, we utilize a proven 3 phase approach to hoarding cleaning. It goes as follows:
Phase 1 – Understanding and Connecting to the Individual: The primary goal of phase 1 is to build trust with affected individual before removing or cleaning items. We will also assess the level of hoarding activity, and enlist the help of therapists or social services if necessary.
Phase 2 – Creating and Implementing a Cleaning Plan: Once we have established a working relationship, we will create a cleaning plan to remove all excess clutter, and reorganize the home. We assist with determining items to donate, recycle, or simply throw away.
Phase 3 – Follow Up with the Family: Since hoarding is a disorder that needs to be worked on over time, we will develop a unique cleaning plan for the affected individual to follow. In the short-term, we will follow up periodically with phone calls.
At the end of the day, our ServiceMaster by Mason technicians allow affected individuals to lead cleaning efforts. We want to maintain trust, but also help the hoarder break their dangerous habits.
Get a Free Estimate
If you or a loved one is affected by hoarding tendencies, we encourage you to contact our ServiceMaster by Mason representatives about our hoarding and estate cleaning services at (401) 622-4156. We are available by phone 24 hours a day, and proudly service homeowners in Westerly, RI.
---
Related Hoarding Cleanup Services:
Hoarding and Estate Cleaning Warwick, RI
Hoarding and Estate Cleaning Company Providence, RI
Estate Cleaning Waterford, CT
Hoarding Cleaning Manchester, CT
Hoarding Cleaning Contractors Hampton, CT
More Reviews