Hoarding affects tens of millions of Americans and is a recognized mental disorder. Those who are affected have an extremely difficult time throwing things away and allow clutter, trash and belongings to build to dangerous levels within their home.  Extensive clutter creates unsanitary conditions and increases the risk of injuries, infestations and fires.
If you know som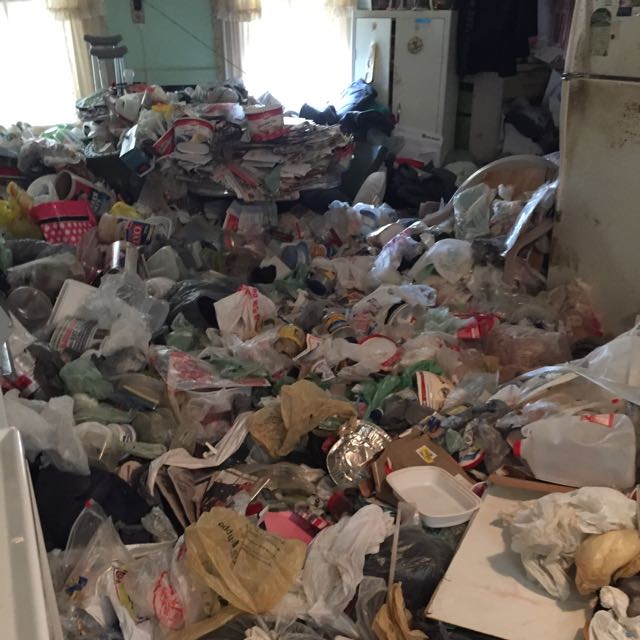 eone affected by the hoarding disorder, and in need of cleaning and sanitizing their home, or address underlying issues like animal infestations, mold, and biohazard spills, call a professional company like ServiceMaster By Mason, with over 30 years experience working with hoarding clients and social services agencies.
ServiceMaster by Mason provides hoarding and estate cleaning services in Norwich, CT.  Our technicians can remove large amounts of clutter as well as provide a thorough top-to-bottom cleaning and disinfecting of the home to restore safe and healthy living conditions.  We understand the sensitive nature of hoarding and treat all clients with compassion and respect.
Problems Caused by Hoarding
It is difficult to help those affected by hoarding because there can be underlying emotional or mental concerns that are causing the behaviors.  Many who hoard also hide their hoarding behaviors out of embarrassment or fear and can be apprehensive about receiving the help they need.  ServiceMaster By Mason knows the challenges that our hoarding clients and their families face, and that in some cases, our clients may take months before being ready to allow the needed clean-up and removal of content.
This is why we offer details on many resources available in Connecticut and Rhode Island, that can provide additional assistance and treatment needed.
The accumulated clutter can make the home dangerous in the following ways:
Increased risk of fire: There is a higher risk of fire with extensive clutter and a fire can spread quickly by burning through the clutter.
Increased risk of injury: Those within the home may trip and fall over the clutter and that heavy piles of clutter can fall onto someone and cause a serious injury.
Blocked exits: Hoarded items may block doorways and walkways which can make it difficult to escape if an emergency occurs or allow emergency personnel to enter the home safely.
Unsanitary conditions: There is a high risk of mold or bacteria growth, and an infestation of bugs or animals, within the clutter that create unsanitary conditions. Hoarding Cleaning Approach
Hoarding cleaning and disinfecting must be done delicately and with the approval of the affected individual.  Our technicians at ServiceMaster by Mason will earn the trust and respect of the affected individual and work hard to create a clean and healthy living space.
Our hoarding cleaning services consist of the following phases:
Connecting to the individual: Our technicians will build a personal connection with the affected individual before doing any cleaning to earn their trust and respect. We will also enlist the help of their family or social services if needed and assess the severity of the hoarding.
Cleaning the home: We will create and implement a plan to thoroughly remove unwanted clutter and clean the home. In many instances, we work with our client to determine which items will be discarded and donated.
Follow up: We can assist with any follow-up cleaning services as needed.
Call ServiceMaster by Mason for Hoarding Cleaning
If you know someone affected by the hoarding disorder who is in need to clean out their home, contact our professionals at ServiceMaster by Mason.  Our technicians take a respectful approach to clean out the home and restore safe living conditions.
You can reach us at (860) 455-4969 for professional hoarding cleaning in Norwich, CT.
---
Related Services:
Hoarding Cleaning Hampton, CT
Hoarding Cleaning Services Providence, RI
Hoarding Cleaning Professionals Westerly, RI
Estate Cleaning Services Waterford, CT
Estate Cleaning Company Manchester, CT
Estate Cleaning Professionals Warwick, RI
June 1, 2022
P.A.C.S.
Vernon Rockville, CT
More Reviews