Unpleasant lingering odors can be left by many different sources such as smoke, water, mold, pets, nicotine and biological waste. These odors may linger for a while until they are professionally removed because of the odor particles become absorbed by porous building materials and furnishings.
ServiceMaster by Mason provides effective deodorization services to homes and businesses in Norwich, CT and the surrounding areas. Our technicians are highly trained and equipped to handle the removal of any odor using our advanced technology and commercial-grade products.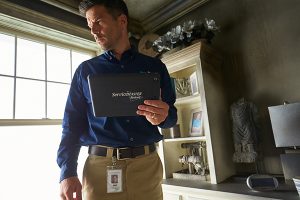 During the odor removal process, we use the following methods:
Hydroxyl
Nanocarbon technology
Ozone
Thermal fogging
CL02 Treatment
Commercial-grade odor-removal cleaning products
Our deodorization services remove the following odors from your home, vehicle or business:
Pet odor, including cat urine
Fire and smoke odor
Sewage odor
Animal odors such as skunks, rodents & bats
Undetected death odor
Oil, gasoline & other petroleum odors
New paint, carpet & car smells
Strong cooking and protein odors
Cigarette, cigar, marijuana & incense odors
To provide thorough odor removal services, we control and remove the odor at its source to prevent it from returning in the future. Our process includes the following steps:
Deodorizing structural elements and furnishings
Thoroughly cleaning all affected areas and items
Deodorizing the air space, materials and belongings
Applying multiple treatments as needed
Checking on equipment daily
The most common types of odors we remove that are the result of natural disasters are:
Water Damage Odor: In the case of water damage, excess water can cause an order as well as possible mold growth, which produces its own musty odor.
Fire and Smoke Damage Odor: Residual odors from fire or smoke will linger and become hazardous to breathe in.
Biohazardous Odor: Odors from biological sources such as dead animals or bodily fluid, sewage or oil spills should be professionally removed.
We use the most effective tools and technology to remove lingering and strong odors from your property. And our state-of-the art CL02 Treatment easily penetrates into areas where harsh microorganisms are concealed. ServiceMaster By Mason is the only business in Norwich CT and Eastern CT offering this proprietary and revolutionary odor-removal system that can remove all types of malodors within 24-48 hours.
Without professional deodorization, odors can linger and become absorbed into furnishings and other porous building materials, resulting in more damage. Our professional technicians at ServiceMaster by Mason provide services to remove odors from your home or business in Norwich, CT and the surrounding areas.
Free Estimate
Call us at (860) 455-4969 for more information or to schedule a free estimate for professional deodorization services in Norwich, CT and the surrounding areas.
---
Related Services:
Odor Removal Hampton, CT
Odor Removal Services Westerly, RI
Odor Removal Professionals Warwick, RI
Odor Removal Contractors Providence, RI
Deodorization Services Manchester, CT
Deodorization Professionals Waterford, CT
---
June 1, 2022
P.A.C.S.
Vernon Rockville, CT
More Reviews