Soot and smoke are very damaging elements that can corrode and tarnish all types of surfaces, furnishings, and items throughout a home.  Exposure to these substances is also dangerous for your health.  If your home is heated by an oil furnace, gas fireplace, electric baseboards, or boiler system, you can end up dealing with smoke and soot in your home when a furnace or fireplace puffback occurs.  The oily soot that is blown out of the furnace and in-and-out of your HVAC system can cause serious damage to the surrounding walls and furnishings that can become permanent without proper cleaning.
ServiceMaster by Mason provides soot puffback cleaning services in Norwich, CT to cleanup and restore the effects of a furnace puffback.  Our technicians use advanced cleaning equipment and products to restore soot damaged materials and personal belongings, and remove smoke odors.
Damage Caused by Furnace Puffbacks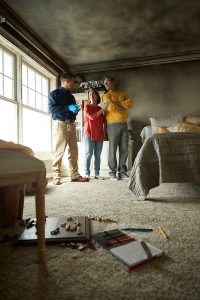 Oil furnace systems are prone to soot puffbacks if there is a problem with the ignition that can cause an explosion or back-up within the system.  The explosion causes smoke, finite or thick soot, and debris to move through the system and in-and-out of the vents into your home, carrying the soot that began in your basement to all rooms and floors in your home. Puffbacks can also occur when gas logs shift in fireplaces or built-up dust in your baseboard heaters climb up walls with a "ghosting" effect.  The soot will settle on various surfaces and furnishings including drywall, wood, carpeting, drapes, ceiling tiles, and furniture.  All of these materials are vulnerable to tarnishing and corrosive damage and if they are not properly restored right away, they can become permanently damaged.
The finite or thick soot that is released cannot be cleaned with typical cleaners or over-the-counter products.  These simple products will only smear the soot and oil, or cause them to further permeate walls and porous items, worsening the damage. It takes professional cleaning with advanced products and methods to remove soot from affected surfaces and materials.  Our professionals will effectively remove soot damage, oily residue and strong odors, and restore the affected materials to their original condition.
Soot Puffback Cleaning in Norwich, CT
We use the best cleaning equipment, methods and products available to clean up the effects of a soot puffback and restore the affected surfaces and materials.  You can expect the ServiceMaster By Mason team us to provide comprehensive cleaning and restoration that also includes deodorization. Our technicians will arrive promptly after your call to limit the damage and start the restoration process. Fast action will help prevent permanent damage to the affected materials.
Our technicians are IICRC-certified, trained, and equipped to provide effective soot cleanup for any scenario including soot puffbacks.  Our professional grade cleaning products can successfully remove soot and residue from various surfaces and objects.  Once the soot is removed, we will repair and restore the damaged materials and provide deodorization to remove smoke odors.  You can expect our technicians to pay attention to detail to ensure that your home is fully restored. We work with all major insurance carriers and will provide the needed communication and details if you are pursuing an insurance claim.
Our furnace and fireplace puffback cleaning services include the following steps:
Floor and carpet cleaning
Wall and ceiling cleaning
Furniture and upholstery cleaning
Debris removal
Air scrubbing services
Restoration dry cleaning
Area rug cleaning
Demolition services
Call ServiceMaster by Mason for Furnace Puffback Cleaning
Our technicians at ServiceMaster by Mason have the expertise and equipment to fully restore a range of household surfaces and furnishings affected by soot from a fireplace or furnace puffback.  We are ready to respond immediately to your call to help prevent the damage from becoming permanent.
You can reach us at (860) 455-4969 for soot puffback cleaning in Norwich, CT.
---
Related Services:
Soot Puffback Cleaning Waterford, CT
Puffback Cleanup Westerly, RI
Puffback Cleaning Warwick, RI
Soot Puffback Cleaning Service Manchester, CT
Soot Puffback Cleaning Company Providence, RI
Puffback Cleanup Professionals Hampton, CT
June 1, 2022
P.A.C.S.
Vernon Rockville, CT
More Reviews