(401) 622-4156
The byproducts of a fire, including soot, smoke, and oily residue, are very dangerous elements to have in your home.  Their corrosive nature makes them damaging to household surfaces, furniture, and personal belongings and they are also toxic which means they can have detrimental effects on your health.
What Happens During a Puffback
There doesn't have to be a fire for smoke and soot to end up in your home.  In the northeastern U.S., you can get smoke and soot in your home from a furnace puffback.  When a furnace puffback occurs, finite soot and debris are blown throughout the property and onto the surrounding walls, ceiling, and objects.  The soot and smoke from a puffback need to be cleaned up right away to salvage the affected materials and prevent them from spreading further, such as through the air ducts by the forced hot air/cooling system.
ServiceMaster by Mason provides puffback cleanup services in Providence, RI.  Our technicians will arrive as soon as possible to stop the spread of the damage and we will work diligently to get the damaged areas restored to their original condition.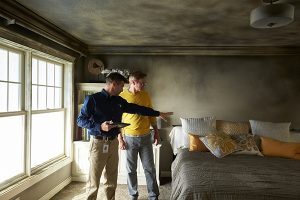 Damage from Furnace Puffbacks
Oil furnace systems are at risk for a puffback when there is a problem with the ignition or fuel balance within the system.  These issues will cause a backfire within the system, pushing smoke and soot throughout the room, and settle on the surrounding walls and furnishings.
A wide range of items and surfaces in your home, including woodwork, drywall, furniture, curtains, carpeting and personal items can experience serious damage from smoke and soot.  If these objects and surfaces are not quickly cleaned and restored, the smoke and soot can cause permanent damage.
You should not try to clean up finite soot or smoke residue with over the counter cleaning products.  You will only spread the stains and make the damage worse.  The damage from soot and smoke needs to be cleaned up by trained professionals who have the right cleaning products and equipment to do it effectively.
How ServiceMaster by Mason Helps
Our technicians can clean and restore any household surface or item affected by soot or smoke residue and remove hazardous materials from your property.  Our comprehensive approach will ensure that the job is done right and that the affected areas are completely cleaned and restored.  We arrive as soon as possible to prevent the damage from getting worse and create a restoration plan based on our thorough assessment of the damage.  We will then work quickly to get your property restored and provide you with some peace of mind.
Our technicians are IICRC-certified and they are properly equipped to clean up the damage caused by soot.  Our advanced cleaning products safely remove soot damage and smoke residue from any household surfaces and furnishings as well as personal items that have been affected.
Once we remove the soot and residue, we will restore or replace the damaged materials, depending on the extent of the damage.  We also use advanced deodorization techniques to remove smoke odors.
The restoration of soot and smoke damage is only successful if those doing the restoration pay attention to the minor details.  Our technicians will always mind the details of any restoration project because we know these small details matter.
Our soot puffback cleaning and restoration services can cover the following:

Floor and carpet cleaning
Wall and ceiling cleaning
Content cleaning and restoration
Debris removal
Deodorization
Air scrubbing services
Furniture and upholstery cleaning
Are rug cleaning
HVAC/ air duct cleaning
Restoration dry cleaning
Demolition services
Immediate Response
As soon as a furnace puffback occurs in your home, contact our professionals at ServiceMaster by Mason.  We will respond quickly to address the damage before it has a chance to spread or permanently affect the damaged items and surfaces.  We have the right equipment to effectively clean up the soot damage and restore your peace of mind after the incident.
Available 24/7
You can reach us 24 hours a day at (401) 622-4156 for professional puffback cleaning in Providence, RI.
---
Related Puffback Cleanup Services:
Soot Puffback Cleaning Manchester, CT
Puffback Cleanup Professionals Westerly, RI
Soot Puffback Cleaning Services Warwick, RI
Puffback Cleanup Waterford, CT
Soot Puffback Cleanup Company Hampton, CT