(401) 622-4156
When extensive property damage occurs to your home or office space, such as from a fire, water damage, mold growth, severe accident, or other concerns, the contents of your building are at risk as well.
In homes, this could include a variety of sentimental items and furnishings, while businesses can lose important operational equipment, documents and electronics. This is why ServiceMaster by Mason offers content cleaning and pack-out services in Providence, RI to limit the extent of the damage. We'll restore your belongings to the fullest extent possible either on-site, or at our secure facility.
Contents Restoration Providence, RI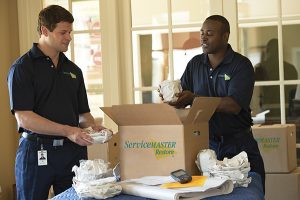 If your property is in a stable enough condition, we can get to work right away cataloguing, carefully packing, and bringing your belongings to one of our secure facilities to begin cleaning and restoring your items. In these situations, time is of the essence in order to prevent permanent damage from taking hold.
Our ServiceMaster by Mason technicians are experienced with restoring a variety of belongings, from  general knick-knacks and antiques to valuable jewelry, documents, artwork, furniture, and electronics. No matter what items are damaged, we work with the latest products and processes to get them fully restored. For unique or function-specific items, we regularly work with industry experts to ensure a quality result. Our restoration process involves the cleaning, sanitization, repair, and deodorization of your belongings.
Pack-Out and Storage Services
If your building is not in a stable state, we will bring your belongings to one of our climate-controlled facilities for cleaning and repair. To guarantee that no items are left unaccounted for, we provide you with a detailed inventory of all belongings. Once they arrive at our secure facility, we will provide the proper cleaning, repair, and deodorization services that make up our general content cleaning services.
After your belongings are restored, we will provide storage services until your building is secure enough to receive them (you can check on them at our secure facility by scheduling an appointment. We understand that building reconstruction and restoration can take a while, and do not want you to worry about your items until you are ready for them. Once you are, we will deliver everything to your door.
Available 24/7
To take advantage of our content cleaning and pack out services, give us a call at (401) 622-4156. At ServiceMaster by Mason, we are available 24 hours a day to respond to emergencies in Providence, RI.
---
Related Content Cleaning and Pack Out Services:
Content Restoration and Pack Outs Warwick, RI
Content Cleaning and Pack Out Services Westerly, RI
Content Cleaning and Pack Out Company Hampton, CT
Content Cleaning and Pack Out Contractors Waterford, CT
Contents Restoration and Pack Out Services Manchester, CT