3 Qualities to Look for in a Commercial Cleaning Company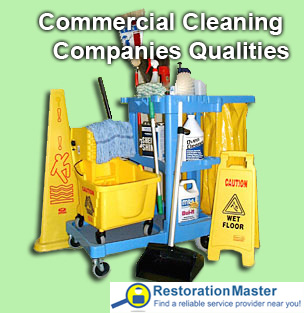 Business managers researching prospective commercial cleaning services have plenty of options. Choose the right commercial cleaner by evaluating the following three criteria: competency, price and trust. After all, cleaning crews have access to the company workspace long after the last employee has clocked out.
1. Competency
A professional cleaning company should understand the nuances of keeping a commercial building clean. Companies with established commercial cleaning processes will also likely have earned a reputation in the industry. One quality to look for is a proven track record of competence.
Professional cleaners who rely on cleaning checklists ensure that every area of the workplace receives ample attention. Crews should understand how to handle trouble spots, like mold infestations and mildew growth. A standard task list also outlines the types of cleaners used on the job.
An environmentally conscious business owner may prefer to hire a commercial cleaning company that utilizes green cleaning products or other natural cleaning solutions. The cleaner may possess certifications that will help the business earn green certifications or achieve its environmental goals.
Another area of competence that requires examination is the quality of the cleaning staff. Prior to hiring, a business should be aware of the cleaning company's hiring and vetting process. Cleaning crews should wear uniforms, ID badges and behave professionally while on the business premises.
Also look for flexibility in scheduling. Businesses might prefer that cleaning crews arrive after hours. Or, a business might schedule evening work meetings, making it important that the hired cleaner perform cleaning tasks around the business' variable schedule. Convenience saves time and money.
Some commercial cleaners offer specialized services. Cleaners may perform only window cleaning, while others offer janitorial services. A business may need high-pressure cleaning, carpet cleaning or hard floor surface maintenance—or a combination of services. Hire a company that provides multiple services.
Streamline the cleaning process even further by hiring a company that offers customizable programs. A facility should not be subject to overcleaning or undercleaning. Ask the commercial cleaning company if they provide add-on services, which can potentially lead to improvements to the business' bottom line.
A professional cleaning company should have industry experience. For instance, a medical facility will hire commercial cleaners who abide by rigorous guidelines. A data-driven technology business will require a cleaner who takes care to not disrupt wires and other infrastructures.
2. Price
Average commercial cleaning prices are highly variable and based on the type of property cleaned. Cleaning an office may have a different price than cleaning a medical facility or restaurant. Plus, prices fluctuate when businesses hire for either a one-time project or ongoing cleaning.
Be aware that cleaning a 10,000 square foot building will require extra time, manpower and supplies in comparison to cleaning a small office that is under 1,000 square feet. Cleaning the larger space can cost $463 for a one-time project, while the smaller property may be priced at $118.
Commercial cleaners may charge a flat rate or an hourly rate. Cleaners who charge a flat rate conduct a walk-through of the building to assess how many crew members will be required to clean the space and how long it will take. Hourly rates may fluctuate from cleaning to cleaning.
Facility owners should look for cleaning companies that are competitively priced, while keeping in mind that low costs might suggest poor service. Furthermore, cleaning costs will be higher when the property has multiple bathrooms, breakrooms and windows—since these areas typically take longer to clean.
3. Trust
Before hiring a commercial cleaning service, examine the company's reputation. Review customer satisfaction ratings and how the company stands in the local business community. Find out if other businesses are satisfied with the cleaner's performance and are willing to recommend the commercial cleaner.
A prospective commercial cleaner should be able to provide proof of liability insurance. If accidents occur on the job, insurance protects both the business and the cleaner. Also ask to see the company's worker's compensation certificates. Be sure to verify the company's business license.
A reputable cleaning company will have Material Safety Data Sheets. The MSDS is necessary for companies that handle chemicals. The MSDS should be kept to determine the reactivity of cleaning chemicals with other compounds (such as flammability and health safety hazards upon exposure).
Facility owners should consider certifications held by prospective cleaning companies. Certifications that relate to the business will help protect it and save money. Examples of certifications include Cleaning Industry Management Standard and CIMS Green Building. Reputable cleaners are also OSHA compliant.
Business owners should heavily weigh their options when it comes to hiring a commercial cleaning company. Professional cleaning crews are knowledgeable about various hygiene practices and concepts and play a pivotal role in continually keeping employees healthy in the workplace.
Importance of Hiring a Commercial Cleaning Service
Disinfecting areas where staff gather is critical to preventing the spread of germs. One sick employee has the potential to infect the whole staff. However, cleaning crews arrive each evening to clean and disinfect the space, thereby preventing illness from spreading in the workplace.
When possible, businesses should hire locally so that the cleaner can reach the facility quickly, if needed. Local commercial cleaners offer specialized cleaning services for all types of commercial buildings.
These professionals can provide thorough COVID-19 cleaning to help reduce the spread of SARS-CoV-2 (the virus that causes COVID-19) in commercial properties. Additional services include carpet and floor cleaning, upholstery cleaning, tile and grout cleaning, air duct cleaning and electrostatic spraying.