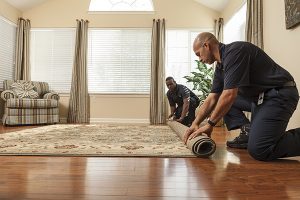 One of the most important aspects of running a business is keeping the property clean and well-maintained.  Regularly maintaining your office or building has several benefits for your employees as it provides them with a healthier and more comfortable working environment which will improve their productivity and morale.
Your business will also benefit from effective cleaning because good working conditions reduce employee turnover and help make a good impression among your customers, clients, and visitors.  However, some companies may have difficulty effectively maintaining their property themselves for several reasons.
At ServiceMaster Restoration Professionals, we provide complete janitorial services to clean all types of commercial spaces for businesses in Fergus Falls, MN.  We offer a full range of cleaning services including general cleaning, carpet and floor cleaning, and upholstery cleaning, and even contracted janitorial services to set up regularly scheduled cleanings.
Commercial Cleaning Services Fergus Falls, MN
When you call ServiceMaster Restoration Professionals for janitorial services, you can expect our cleaning professionals to handle everything from dusting to floor cleaning with advanced equipment and cleaning products.  We will form a cleaning plan for your office or building that accommodates your unique cleaning needs, and set a cleaning schedule that makes sense for your business.
We have the training and experience to provide janitorial services for offices, warehouses, retail stores, and healthcare facilities to name a few.  Our green cleaning products are not only effective, but they are also much safer for your employees and the natural environment than traditional cleaners that contain harsh chemicals.
Our janitorial services consist of the following general cleaning services:
Carpet Cleaning: Commercial carpeting can quickly become discolored or worn out because consistent foot traffic contributes to a buildup of dirt and debris in the fibers. We can remove dirt and debris from the carpet effectively using the hot water extraction method.
Hard Floor Cleaning: Many offices and commercial buildings feature hard surface floors that are also vulnerable to stains and dirt buildup that can fade the color and wear out the finish. We can effectively clean a variety of hard surface floors and restore their original appearance.
Upholstery Cleaning: Office furniture is used on a daily basis which contributes to dirt buildup and wear and tear of the upholstery fabric. We can remove dirt and stains from all types of upholstery to help your furniture look better and last longer.
Green Cleaning: Our green cleaning products are free of harsh chemicals that can damage the environment and affect the health of your employees.
Healthcare Cleaning
Healthcare facilities such as hospitals and urgent care clinics must follow strict guidelines when it comes to cleaning and maintenance.  Our cleaning professionals at ServiceMaster Restoration Professionals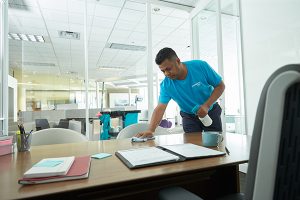 understand these guidelines and can provide healthcare cleaning services for a variety of healthcare facilities and offices.  You can trust us to effectively clean and sanitize your facility according to the proper protocols to ensure that you are compliant.
You can expect the following from our healthcare cleaning services:
Compliance with JCAHO and HIPAA regulations
Different cleaning methods in patient and non-patient areas
Use of HEPA-filter vacuums to improve air quality
Cross contamination control for infectious materials like bloodborne pathogens and waste
Custom cleaning plans to cover your specific needs
If you need the help of a professional to clean and maintain your office or building in Fergus Falls, MN, contact ServiceMaster Restoration Professionals for our janitorial cleaning services.  We can effectively clean and maintain all types of commercial buildings and we offer contract janitorial services to provide regular cleaning services.
Free Estimate
You can call us at (218) 550-5352 to learn more or set up an appointment.
---
Related Cleaning Services:
---
Recent Reviews
June 27, 2020
Steve Carlson
Detroit Lakes, MN