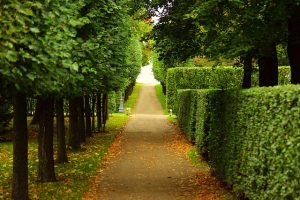 The branches and twigs on a tree are vulnerable to damage, decay, diseases, and pest infestations.  Branches may become damaged or broken due to many factors and if they are affected by disease or pests, then they are a threat to the tree.  When this occurs, the affected branches must be removed from the tree with effective tree trimming.  Tree trimming is necessary to remove rotting, diseased, or infested branches to help protect the greater health of the tree.  You can also prune your trees to remove branches that have grown too close to surrounding buildings or powerlines or to improve the appearance of the tree by shaping the canopy.
Tree pruning can be a dangerous job, especially for taller trees.  You can hurt yourself climbing into your tree to trim the branches and it is also possible to cause damage to your property if a large branch falls on your home or garage.  You can also cause more damage to the tree if you do not remove compromised branches or make a bad cut.  It is usually best to have a tree care professional take care of the pruning for your trees.  These professionals have the training and equipment to provide effective tree trimming and remove troublesome branches from the tree.  They will protect the health of your trees by removing decayed, diseased, or infested branches and safely trim branches near buildings and powerlines.
Professional Tree Trimming Services
Professional arborists have the proper equipment to prune any type of tree, no matter how tall.  They will assess the condition of the tree and determine which branches need to be removed with pruning.  Effective tree trimming can benefit your trees in the following ways:
Branches that are broken, decayed, infested, or diseased will be removed
The tree will get more sunlight
Trees will be healthier and more structurally stable
They can better resist wind and storms
You should consider having your trees trimmed if you notice the following:
Loose, broken, decayed, diseased, infested, or dead branches
Branches too close to buildings like your home or garage
Branches spreading into the powerlines
The canopy has become misshapen
If you notice any of these conditions or if your trees have not been trimmed in three years or more, you need to call a professional arborist for tree pruning services.  You can trust these professionals to identify and remove troublesome branches from your trees to improve their appearance and protect their health.