Reliable Roofing
The roof of a commercial building is built to last for decades, but it is still vulnerable to damage or wear and tear that can lead to serious issues and shorten its life.  It is important to have a professional roofing contractor perform regular roof maintenance services to preserve the condition of your roof.
Professional roof maintenance will help catch problems before they become major issues like leaks or damage, which will prevent deterioration and extend the life of the roof.  Regular maintenance will also save you money by preventing expensive repairs and premature roof replacement.
Reliable Roofing is a trusted commercial roofing contractor that provides complete roofing maintenance services.  We offer a Roof Maintenance Program that helps prevent leaks and address any damage which will help avoid deterioration and preserve the integrity of your roof.  You can trust our technicians to provide high quality maintenance services with extreme attention to detail.
Roof Maintenance Program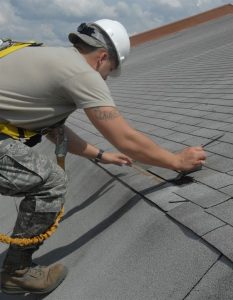 With our Roof Maintenance Program, our professionals will create a maintenance plan that will help prevent leaks and minor damage that can lead to bigger issues or deterioration.  Our roof maintenance plans generally contain the following:
Full Inspection: Our technicians will perform regular inspections of your roof to look for damage or leaks that must be addressed. We will inform you of any issues that we find and provide you with a list of recommended repairs to help prevent these issues for your type of roof.  It is important for your roof to be inspected often so that any problems are addressed before they cause major damage.
Repair and Replacement Cost Analysis: After our inspection, we will create a detailed report of the damage we have identified and the costs for the repairs. We will then work with you to determine what repairs can be done within your budget.  Our report will include details for any damage, repairs, and costs and we will review and update this document each time we provide roof maintenance.
Roof Repair and Replacement Schedule: When we inspect your roof, we create a roof repair schedule to find and repair leaks and other damage to keep your roof well maintained. Each time that maintenance is performed, we will provide you with an estimate of how much time your roof has left.  This will help you be prepared for the possibility of replacing your roof when it is time.
Manufacturer's Warranty: A roof can usually be replaced under warranty if it experiences major damage within the first few years. However, manufacturers require that you have the roof inspected semi-annually and regular maintenance done on the materials to have your roof replaced under warranty.  The reports that we make of our inspections and repairs will help you meet these requirements in case you need to take advantage of the warranty.
Maintenance of Documents: All of the details of our reports when we perform roof maintenance are recorded into our database so that we have a history of the maintenance and repairs done for your roof. This information will help us determine what types of problems we should look out for as well as when your roof needs maintenance again.
Return on Investment: Our regular roof maintenance services will give you the best return on investment for your roof. We will save you money on repairs by finding problems before they cause major damage, and we will also help you follow the terms of the manufacturer's warranty.  You will save $3 for every $1 you spend on roof maintenance.
If you need a professional roofer to provide maintenance services for your roof, contact Reliable Roofing at (815) 981-9801 to learn more about our Roof Maintenance Program.  Our roof maintenance services will help prevent serious damage and deterioration, greatly extending the life of your roof.
Related Services
Professional Roof Maintenance in Lake Zurich, IL