Having a clean home is beneficial for you and your family's quality of life. However, a common problem in many households is not being able to find the time to properly clean your home on a regular basis. If you have noticed that your home is constantly messy and that you are running out of time to keep it clean, be sure to contact a home cleaning professional as quickly as possible. You will be able to better focus on your tasks at hand, increase your productivity, and impress guests that come over. A home cleaning professional will vacuum, dust, and wash every room in your home. They can clean your home exactly to your specifications and even focus on certain areas if requested. High quality home cleaning professional services include the following:
Living Room/ Bedrooms Cleaning
Removal of all dust everywhere including light fixtures, furniture, and other items in your home.
Vacuuming of the carpet and hardwood floor washing.
Furniture is cleaned and vacuumed and trash cans are emptied.
Kitchen Cleaning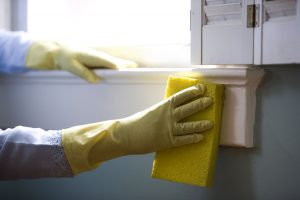 The kitchen must be kept clean because it is used for food preparation. Home cleaning professionals offer the following kitchen cleaning services:
Wiping down of all appliances, tables, chairs, and cabinets.
Cleaning and sanitization of sinks, countertops, and tile.
Will wipe down and thoroughly clean all stovetops and the exterior of the refrigerator.
Inside out cleaning for the fridge, microwave, and oven.
Mop/wash the floor.
Bathroom Cleaning
Sanitization of your sink, bathroom, toilet, and shower.
Wipe down all vanities and backsplashes.
Will wipe down all mirrors and chrome fixtures, making sure that they are spotless.
Wash down tile flooring as well as walls.
Will sanitize and deodorize the entire bathroom.
Additional House Cleaning Services
Home cleaning professionals offer the following house cleaning services so that you can live day to day life without the stress of tedious cleaning tasks.
Thorough cleaning of the oven and fridge.
Window washing
Cabinet cleaning
Wall washing
Packing and unpacking
Furniture cleaning
Basement cleaning
Post-construction cleaning
Professional home cleaning services will immediately improve the livelihood of your home. These professionals will accommodate your specific needs to ensure a cleaner, healthier environment. You can schedule one-time appointments as well as weekly and monthly cleanings to maintain a clean home. To locate a home cleaning expert in the area, contact us at 1-(888) 915-7197.