ServiceMaster Restoration Professionals
ServiceMaster Restoration Professionals has been serving the homes and businesses in Fergus Falls, MN and the surrounding areas with disaster restoration and cleaning services since 1995.  Our original owners, Tom and Gladys Moline, opened our business with the help of Tom's brother Jim in 1980 in Wahpeton, ND.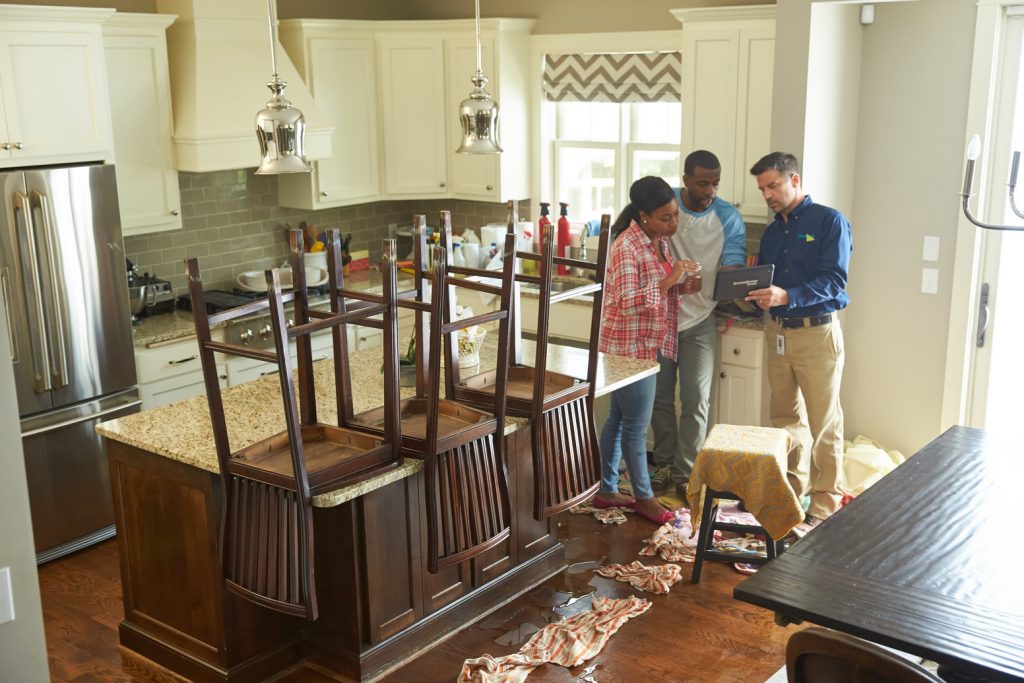 Our Fergus Falls, MN franchise was added in 1995, and we expanded again in 2009 in the Fargo-Moorhead area of North Dakota as well as the Detroit Lakes area of Minnesota.  Tom and Gladys retired in 2017 and passed ServiceMaster Restoration Professionals down to their sons Justin, Derek, and Steve who have spent years working in the franchise.
The Moline brothers are committed to building upon what their parents started and continuing to provide excellent customer service for those who need disaster restoration and cleaning services in Fergus Falls, MN.
The disaster restoration and cleaning services we provide in the Fergus Falls, MN area include:
Water Damage Restoration
Fire and Smoke Damage Restoration
Mold Removal
Commercial Restoration
Janitorial Services
And more!
Licensed and Experienced
We are IICRC-certified in many areas of disaster restoration and we use advanced equipment and cleaning products to provide quality results.  We have been awarded five President's Achievement Awards from ServiceMaster corporate since 2009 for our commitment to providing excellent customer service.  Our technicians are also committed to helping our local community and we have helped several local businesses with large losses including Cooper Technology, York Manor apartment complex, Kindo Lutheran Church, and Region Treatment Center.
ServiceMaster Restoration Professionals is available 24 hours a day at (218)550-5352 to respond to emergencies in Fergus Falls, MN and the surrounding area.
Water damage is one of the toughest problems to prevent in a home or building because there are so many ways it can happen.  Flood water and excess rain can seep into your home through leaks or cracks in the foundation, and leaks from busted pipes or appliances can also lead to considerable water damage.  You cannot ignore excess water because it will spread through porous building materials and eventually cause deep structural damage throughout the home or building.  ServiceMaster Restoration Professionals provides water damage restoration services in Fergus Falls, MN to restore homes and business that have sustained damage from flooding or excess water.  Our technicians will thoroughly remove water and moisture with our advanced water extraction equipment as well as cleanup and restore damaged areas.
It is hard to imagine a natural disaster that is more dangerous and destructive than a fire.  A fire can start at virtually any time and instantly cause extensive damage in a home or building.  While the fire itself is often responsible for serious damage, the secondary damage can be worse as smoke, soot, and other corrosive byproducts will spread beyond the original damage and cause etching and tarnishing to the affected materials.  ServiceMaster Restoration Professionals provides fire damage restoration services in Fergus Falls, MN to restore damage caused by fire, smoke, and corrosive byproducts.  It is crucial to call us immediately after the fire is put out to stop the spread of the secondary damage.
Mold plays an important role in the natural environment, but when it is in a home or building, it can be dangerous.  Mold growth can result in very serious property damage including structural damage, and it causes a variety of allergic reactions and infections in those who are exposed.  It usually starts in moist areas or those affected by water damage because the mold spores require a moisture source to survive.  You must react to any mold growth on your property immediately to prevent it from spreading to new areas and increasing the damage.  ServiceMaster Restoration Professionals provides professional mold remediation services for homes and businesses in Fergus Falls, MN that are affected by mold growth.  We will thoroughly evaluate and test your property to find all mold growth and remove it with our advanced methods and equipment.
Keeping a clean environment in your office or building benefits your business in several ways.  A healthier and cleaner workspace will boost the morale and productivity of your employees, and the look of your clean office or facility will reflect well on your company.  It may be difficult for some companies to routinely clean and maintain their property without the help of professional janitorial services.  At ServiceMaster Restoration Professionals, we provide janitorial services in Fergus Falls, MN to help maintain office buildings and other commercial spaces.  We can provide complete, one-time cleaning services for your business, or contracted janitorial services to clean your building regularly.
Any type of natural disaster can be devastating to your business; it can put your daily operations on hold and cost your business a pretty penny to pay for the restoration.  If your office or building is affected by a fire, flood, storm, or mold growth, you must call a trusted restoration professional immediately to prevent further damage and limit the amount of time that your business is out of commission.  ServiceMaster Restoration Professionals provides complete commercial restoration services to help businesses in Fergus Falls, MN recover after a disaster.  We will respond quickly to your emergency to limit the damage and restore your office or building to safe working conditions as quickly as possible.
Contact Us
For any property damage emergency in the Fergus Falls, MN area, don't hesitate to call ServiceMaster Restoration Professionals at (218) 550-5352. We work with insurance.
---
Related Damage Cleanup and Cleaning Services:
Fire and Water Damage Restoration, Cleaning Company in West Fargo, ND
---
Recent Reviews
January 17, 2020
Imagine walking into your out of town lake home late at night the day after Christmas in frigid Minnesota weather. Imagine no heat and a burst water pipe running like a bathtub faucet at full blast from the top floor, through the main floor and accumulating in the walkout basement. Battle Lake Refrigerator and Heating Repair arrived in 10 minutes and had the furnace running 20 minutes later. Brogard Plumping arrived Soon thereafter completing all plumbing assessments and repairs within less than 48 hours. The third and every bit as important call was to Jordan Grussing of Service Masters, West Fargo. Jordan has impeccable interpersonal, customer service and common sense Managerial skills with an innate ability to feel empathic to the needs of the customer. I trusted him immediately. I felt he ran interference for me with my best interests in mind. Jordan played the role of coordinating the adjusters and agents making certain everyone was on the same page. Jordan had a dumpster delivered, crew assembled and commercial heaters delivered within a few hours following the insurance carriers'-approval of Service Master as a vendor. Jordan has strong organizational skills with a genuine sense of urgency. I've spent my entire career in the field of Human Resources in multi billion dollar companies. I've learned over the years to "appreciate" talent when I see it! I truly "appreciate" Jordan! William P. Dease Chief Human Resource Officer, Senior Vice President, Member of several Boards of Directors Retired!