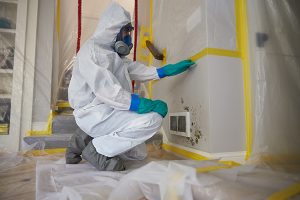 Mold is a common intruder in homes and buildings and it can lead to several serious problems including severe property damage and negative health effects.  It often appears indoors in areas that are exposed to moisture, and once it takes hold, it can cause deep damage to the affected surfaces and spread to new areas of the building.  The quicker you react to a mold problem on your property, the smaller your chances are of experiencing related health effects or serious structural damage.
ServiceMaster Restoration Professionals provides mold remediation services in Fergus Falls, MN to remove mold growth from homes and businesses buildings.  We use advanced equipment and methods to uncover all mold on your property and ensure that it is completely removed.
Property Destruction from Mold
Water or excess moisture is usually what triggers mold growth, but mold also needs an organic food source such as cellulose to survive.  Common building materials like wood and drywall provide mold with the nutrients, which is why it can be so destructive to these surfaces if given enough time.  If the damage to these surfaces becomes deep enough, there is a high risk of structural damage.
Those who are exposed to mold are at risk for allergic reactions such as nasal congestion, coughing, itchy eyes and throat, and skin irritation, while prolonged exposure can cause more serious symptoms that include asthma and infections.  By reacting quickly to mold growth on your property, you can limit the damage to your property while reducing your risk of serious health effects.
Mold Restoration – Check Out This Video
For professional mold remediation services in the Fergus Falls, MN area, contact ServiceMaster Restoration Professionals at (218) 550-5352.
Licensed Mold Removal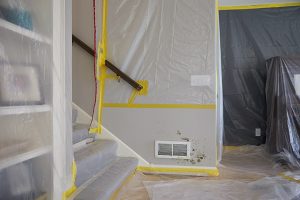 The technicians of ServiceMaster Restoration Professionals are mold removal experts who can effectively contain and remove mold with advanced equipment and methods.  We will first contain the mold growth to prevent it from spreading, and then do a thorough evaluation to discover the full extent of the damage.  We will then form a mold removal plan to address the damage.
Our mold removal services generally include the following steps:
Complete evaluation and testing to discover all mold growth
We notify your insurance provider of our findings
Containment of the mold growth to the affected areas
Formation of a mold remediation plan according to our evaluation
Complete mold removal and either restoration or replacement of damaged surfaces
Mold is a dangerous presence that must be dealt with right away if you find it in your home or building.  Our professionals at ServiceMaster Restoration Professionals are ready to deal with any mold situation for homes and businesses in Fergus Falls, MN and the surrounding areas.
Free Estimate
Give us a call at (218) 550-5352 if you are in need of professional mold remediation services.
Related Mold Removal Services
---
Recent Reviews
November 11, 2019
I had Service Master services at my home due to a grease fire which caused a lot of smoke damage. I had no idea what to expect from a company like this. The whole experience was amazing - from the initial visit by the coordinator to each cleaning person. I was informed from the get-go of what to expect and each and every step met or exceed my expectations. They cleaned and cleaned and cared about the work they did - I asked to put things back as it was a great way to purge some things. They were always on time and each person had their area of expertise. The house sparkles in every room. They kept reassuring me that it was going to be ok - I needed that. They took such good care of my special dishes and other "things" I give them a 15 out of 10 stars. Thank you for making a "not fun" experience with my fire into something positive. I would highly recommend Service Master. They were absolutely amazing!! Thank you!!!!