Mold is a dangerous and unpleasant presence in your home or building because it can threaten the health of those within and cause very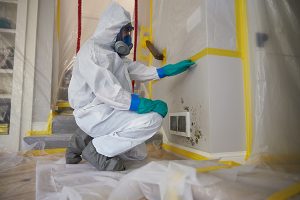 serious damage.  Mold growth typically starts in areas with excess moisture and once the mold colonies form, they can disperse their spores which will spread the growth to new areas and increase the risk of exposure.  You must react to mold growth on your property quickly to limit its spread and have it removed before it leads to significant structural damage or negative health effects.
ServiceMaster Restoration Professionals provides mold remediation services to remove mold growth from homes and commercial buildings in West Fargo, ND and the surrounding areas.  We can effectively test for and remove all mold growth, and restore the affected areas.
Mold Damage Cleanup – Why You Should Call a Professional
Damages Caused by Mold
In most cases of mold, excess moisture or water damage is the main cause.  Mold spores are attracted to areas with moisture, and building materials like wood and drywall provide it with organic food sources.  Once it has developed, it will eat away at the affected surfaces and spread to other areas by dispersing its spores.
This damage will start out as discoloration and eventually lead to more serious damage that can threaten the structural integrity of your home or building.  You cannot ignore the potential health effects either as mold exposure can result in a variety of allergic reactions or serious infections in those exposed for long periods of time.
Professional Mold Remediation
If you find mold growth on your property, avoid the area and contact ServiceMaster Restoration Professionals immediately.  Our technicians will quickly contain the mold growth and we will provide a full evaluation of the damage including mold testing to form a complete remediation plan.  Once the remediation process is complete, we will remove the damaged materials from your property and take actions to prevent the mold from returning.
Our mold remediation services consist of these steps:
Thorough assessment of the mold growth including testing
Your insurance company is notified of our assessment
Isolation of the mold growth to prevent it from spreading
Creation of a mold remediation plan based on our assessment
Removal of all mold growth and restoration of the affected surfaces
If you notice mold anywhere in your home or building, you must immediately take action to lower the risk of serious structural damage or related health effects.  ServiceMaster Restoration Professionals can effectively contain the mold growth in your home or building and form an effective remediation plan to remove it from your property.
We are available 24 hours a day at (701) 660-3880 for mold remediation services in West Fargo, ND and the surrounding areas.
Related Mold Remediation Services
---
Recent Reviews
November 11, 2019
I had Service Master services at my home due to a grease fire which caused a lot of smoke damage. I had no idea what to expect from a company like this. The whole experience was amazing - from the initial visit by the coordinator to each cleaning person. I was informed from the get-go of what to expect and each and every step met or exceed my expectations. They cleaned and cleaned and cared about the work they did - I asked to put things back as it was a great way to purge some things. They were always on time and each person had their area of expertise. The house sparkles in every room. They kept reassuring me that it was going to be ok - I needed that. They took such good care of my special dishes and other "things" I give them a 15 out of 10 stars. Thank you for making a "not fun" experience with my fire into something positive. I would highly recommend Service Master. They were absolutely amazing!! Thank you!!!!