Fires are a unique type of disaster that can instantly cause widespread damage in a home or building, and they leave behind many layers of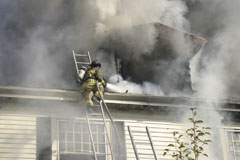 damage that require special attention.  The damage from the flames is obvious, but the soot, smoke, and corrosive byproducts lingering after a fire will continue to damage until the restoration can take place.  When a fire occurs, you must evacuate the home or building immediately and call the fire department, and begin the restoration as soon as the fire department allows.
ServiceMaster Restoration Professionals provides fire and smoke damage restoration services to help homes and businesses in West Fargo, ND recover after a fire.  Our technicians are trained to handle fire damage of any scale and we use advanced equipment and techniques to restore materials and objects affected by soot and corrosive byproducts.
What to Do if There is a Fire – Check Out this Video
Damages Caused by the Flames, Smoke, and Soot
The fire itself causes immense damage in such a short period of time and it instantly puts everyone inside at risk of injury or worse.  It is natural to feel relieved when the fire is put out, but this doesn't stop the damage on your property from getting worse.  Corrosive byproducts such as smoke residue and soot continue to spread throughout the home or building and once they settle, they can cause permanent tarnishing and etching to affected surfaces and objects.  These materials need to be treated quickly to prevent the damage from becoming permanent.  Smoke odor is also a common problem after a fire as it spreads and is absorbed in various building materials, making it difficult to escape.
As soon as the fire department leaves your property, you must contact ServiceMaster Restoration Professionals for fire and smoke damage restoration.  Our technicians will immediately begin cleaning objects affected by soot and corrosive byproducts and evaluate the damage thoroughly to begin the full-scale restoration.
You can expect the following basic steps with our fire damage restoration services:
Emergency pre-cleaning
Wall and ceiling cleaning
Odor removal
Content cleaning and pack-out
Smoke Mitigation – What to Do:
Contact ServiceMaster Restoration Professionals as soon as possible after the fire department leaves your property. Our emergency pre-cleaning will help prevent permanent damage.
If the outside temperature is over 60 degrees, open your doors and windows to help air out the smell.
Wipe soot from chrome, porcelain, aluminum, and Formica surfaces.
Change the air filter for forced hot air furnaces.
Cover return and supply registers with a damp cheesecloth to filter soot from the air.
Dispose of any food that was exposed.
Clean your refrigerator inside and out if you have lost power.
Submit smoke damaged clothing and fabrics to us for restoration dry cleaning.
Fire Damage Cleanup – What NOT to Do:
Do not touch wood, drywall, upholstery, or other porous building materials with soot damage because the oils in your hand will penetrate these materials and make the damage worse.
Do not attempt to wash soot damage from the walls because improper cleaning will worsen the damage.
Do not clean carpeting or upholstery.
Do not use electrical appliances or devices until they are put through a safety inspection.
Do not use ceiling fixtures if the ceiling is wet.
Once a fire is put out on your property, you must immediately begin the restoration process to prevent permanent damage and get your home or building back to its pre-fire condition.  The technicians of ServiceMaster Restoration Professionals are trained and equipped to provide complete fire and smoke damage restoration for homes and businesses in West Fargo, ND and the surrounding areas.
We are available 24 hours a day at (701) 660-3880 for fire damage emergencies.
Related Fire Damage Repair Services
---
Recent Reviews
November 11, 2019
I had Service Master services at my home due to a grease fire which caused a lot of smoke damage. I had no idea what to expect from a company like this. The whole experience was amazing - from the initial visit by the coordinator to each cleaning person. I was informed from the get-go of what to expect and each and every step met or exceed my expectations. They cleaned and cleaned and cared about the work they did - I asked to put things back as it was a great way to purge some things. They were always on time and each person had their area of expertise. The house sparkles in every room. They kept reassuring me that it was going to be ok - I needed that. They took such good care of my special dishes and other "things" I give them a 15 out of 10 stars. Thank you for making a "not fun" experience with my fire into something positive. I would highly recommend Service Master. They were absolutely amazing!! Thank you!!!!