Natural disasters are a major hassle for businesses.  Significant damage from a flood, storm, fire, or mold can stop business operations and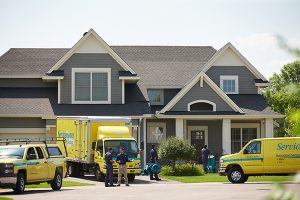 force a company to pay for extensive restoration services, costing both time and money.  If your office or commercial building experiences serious damage from a disaster, it is very important to contact a professional for restoration right away.  A quick reaction can help limit the damage which can save some money on the repairs, and limit the time spent out of commission.
ServiceMaster Restoration Professionals provides commercial restoration services in West Fargo, ND to help clean up and restore offices and commercial buildings that have experienced significant damage.  We will restore your facility to its original condition and help create a safe and healthy working environment.
Commercial Disaster Restoration West Fargo, ND
For emergency commercial restoration services in West Fargo, ND, contact ServiceMaster Restoration Professionals at (701) 660-3880.
Our technicians at ServiceMaster Restoration Professionals are trained and prepared to handle large scale damage from fires, floods, and mold growth in any commercial setting.  We understand that the damage from a disaster can spread quickly and we make sure to limit the damage right away to help reduce the cost and time of the restoration.
We use only the best equipment, cleaning products, and methods of the industry to remove flood water, restore fire damage, and test for and remove mold growth.  If a storm or fire has led to major structural damage of the building, we can stabilize the structure to help prevent further damage.  No matter what type of disaster you experience, you must call us immediately for timely and cost-effective disaster restoration services.
Recovery from Natural Disasters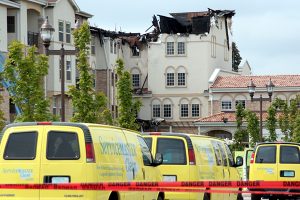 Many natural disasters not only result in physical property damage, but they also create dangerous or unsanitary conditions that can affect the health of your employees or tenants.  Floods can bring in dangerous microorganisms and result in mold growth which can lead to countless allergy symptoms and even serious infections.  It is important to evacuate the building when a natural disaster occurs to help ensure the safety of your employees.
Restoration and Cleaning
Our technicians will help restore sanitary conditions to your building by removing potentially harmful substances such as mold, and thoroughly cleaning and disinfecting the affected areas.  We also use green cleaning products, which are safer for the natural environment and the health of your employees.
If your office or facility in West Fargo, ND or the surrounding areas is damaged by a disaster, contact ServiceMaster Restoration Professionals as soon as possible to begin the restoration.  Our technicians will work quickly to limit and restore the damage so you can get your business back on track.
Emergency Response
You can reach us 24 hours a day at (701) 660-3880 to respond to your commercial building emergencies in the West Fargo, ND area.
---
Related Commercial Restoration Services:
---
Recent Reviews
January 17, 2020
Imagine walking into your out of town lake home late at night the day after Christmas in frigid Minnesota weather. Imagine no heat and a burst water pipe running like a bathtub faucet at full blast from the top floor, through the main floor and accumulating in the walkout basement. Battle Lake Refrigerator and Heating Repair arrived in 10 minutes and had the furnace running 20 minutes later. Brogard Plumping arrived Soon thereafter completing all plumbing assessments and repairs within less than 48 hours. The third and every bit as important call was to Jordan Grussing of Service Masters, West Fargo. Jordan has impeccable interpersonal, customer service and common sense Managerial skills with an innate ability to feel empathic to the needs of the customer. I trusted him immediately. I felt he ran interference for me with my best interests in mind. Jordan played the role of coordinating the adjusters and agents making certain everyone was on the same page. Jordan had a dumpster delivered, crew assembled and commercial heaters delivered within a few hours following the insurance carriers'-approval of Service Master as a vendor. Jordan has strong organizational skills with a genuine sense of urgency. I've spent my entire career in the field of Human Resources in multi billion dollar companies. I've learned over the years to "appreciate" talent when I see it! I truly "appreciate" Jordan! William P. Dease Chief Human Resource Officer, Senior Vice President, Member of several Boards of Directors Retired!