No matter what type of business you run, keeping your office, store, or facility in great shape is essential.  Providing a clean working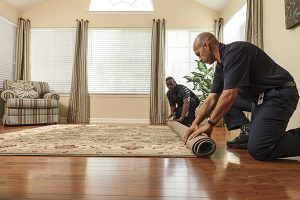 environment for your employees will help improve their health, morale, and productivity while the look of a pristine office building or facility creates a great impression for your business.  The problem is that some businesses cannot devote the resources necessary to keep their buildings consistently clean and well maintained themselves.
ServiceMaster Restoration Professionals provides janitorial services for businesses in West Fargo, ND to effectively clean and maintain all types of office buildings and commercial facilities.  Our trained and equipped staff can handle a variety of different cleaning services, and we offer contracted cleaning to provide regularly scheduled cleaning services.
Complete Commercial Cleaning
Our janitorial services cover every type of cleaning, from dusting and bathroom cleaning, to carpet and floor cleaning.  We will create a unique cleaning plan for each client to ensure that we are covering the specific cleaning needs of your office or facility.  Our janitorial staff is well trained to provide effective cleaning services in office buildings, retail stores, warehouses, healthcare facilities, and other types of commercial buildings.  The equipment and cleaning products that we use are among the best in the industry, and we also have a full line of green cleaning products that are healthier for your employees and the environment.
Businesses in the West Fargo, ND area can schedule one-time cleaning services with us, or contracted cleaning which includes regularly scheduled cleaning services.
When you sign up for janitorial cleaning services from ServiceMaster Restoration Professionals, all of the following procedures are included:
Carpet Cleaning: The carpet in a commercial building experiences heavy foot traffic which causes dirt accumulation, staining, and general wear and tear. We can effectively clean and restore commercial carpeting by removing embedded dirt and stains with our advanced cleaning equipment and methods.
Hard Floor Cleaning: Hard surface floors such as wood, tile, vinyl, laminate, VCT, ceramic, and quarry are found in a wide variety of commercial settings. We can remove dirt and stains from hard surface floors and restore the finish for a renewed shine.
Upholstery Cleaning: Furniture in an office or waiting room can quickly become dirty and worn out from daily use. Our upholstery cleaning services will clean and revitalize the upholstery of your furniture to help improve its appearance and extend its life.
Green Cleaning: Traditional cleaning products contain harmful chemicals that can harm the environment and cause a range of health issues for your employees. We use a complete line of green cleaning products that are effective and eco-friendly.
Healthcare Cleaning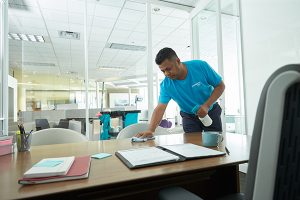 Healthcare cleaning is a very specialized cleaning service because of the strict requirements of the healthcare industry.  At ServiceMaster Restoration Professionals, we can provide healthcare cleaning services for a range of healthcare facilities including hospitals, urgent care clinics, surgery centers, practitioner offices, dentist offices, and more.
Our cleaning professionals are specially trained and use highly effective cleaning products and methods that can deep clean and sanitize healthcare facilities.  We also understand the requirements of the industry and guarantee that we will adhere to these standards to keep your facility compliant.
Our healthcare cleaning services all include the following:
HIPAA and JCAHO compliance
Cross contamination control for bloodborne pathogens and infectious waste
Different cleaning procedures for patient and non-patient areas
Air quality enhancement with HEPA-filter vacuums
Custom cleaning plans for each facility
There are so many benefits to keeping your office or building well maintained from employee health and morale to an improved appearance of your office or facility.  If your business in the West Fargo, ND area cannot take care of the cleaning in-house, contact ServiceMaster Restoration Professionals for our janitorial services.  We can provide janitorial services for many types of business, and we offer several options with our scheduling and cleaning plans.
Get a Free Estimate
You can reach us at (701) 660-3880 for more information or to schedule a cleaning appointment.
Related Cleaning Services:
---
Recent Reviews
January 17, 2020
Imagine walking into your out of town lake home late at night the day after Christmas in frigid Minnesota weather. Imagine no heat and a burst water pipe running like a bathtub faucet at full blast from the top floor, through the main floor and accumulating in the walkout basement. Battle Lake Refrigerator and Heating Repair arrived in 10 minutes and had the furnace running 20 minutes later. Brogard Plumping arrived Soon thereafter completing all plumbing assessments and repairs within less than 48 hours. The third and every bit as important call was to Jordan Grussing of Service Masters, West Fargo. Jordan has impeccable interpersonal, customer service and common sense Managerial skills with an innate ability to feel empathic to the needs of the customer. I trusted him immediately. I felt he ran interference for me with my best interests in mind. Jordan played the role of coordinating the adjusters and agents making certain everyone was on the same page. Jordan had a dumpster delivered, crew assembled and commercial heaters delivered within a few hours following the insurance carriers'-approval of Service Master as a vendor. Jordan has strong organizational skills with a genuine sense of urgency. I've spent my entire career in the field of Human Resources in multi billion dollar companies. I've learned over the years to "appreciate" talent when I see it! I truly "appreciate" Jordan! William P. Dease Chief Human Resource Officer, Senior Vice President, Member of several Boards of Directors Retired!