Experiencing a fire on your property is terrifying because of the potential danger, and the damage it causes can leave you feeling helpless and overwhelmed.  Evacuating the home or building and calling the fire department are the first things y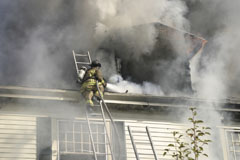 ou should do when a fire occurs to ensure everyone's safety.
After the fire is out, call for restoration services right away because the smoke, soot, and corrosive byproducts are still active and will continue to spread the damage.  Objects and materials affected by smoke and soot after the fire can experience permanent damage if they are not immediately cleaned and restored.
At ServiceMaster Restoration Professionals, we clean up and repair homes and business that have experienced a fire in Fergus Falls, MN with fire and smoke damage restoration services.  Our technicians will immediately work to limit the effects of the fire by stabilizing the structural damage and pre-cleaning materials affected by smoke and soot.
What to Do After a Fire – Check Out Our Video
For immediate fire and smoke damage cleanup services in the Fergus Falls, MN area, contact ServiceMaster Restoration Professionals at (218) 550-5352.
Licensed Fire and Smoke Damage Cleanup
The reason fires are among the most feared natural disasters is because they severely damage your home or building and threaten the safety of everyone inside.  But after everyone has been safely evacuated and the fire is out, you must turn your attention to the restoration to prevent more widespread and permanent damage.
Fires leave behind smoke and corrosive byproducts such as soot that can etch and discolor affected materials; these materials are at risk for permanent damage the longer they are affected.  Any hesitation towards starting the restoration process will allow the odors from the fire and smoke to spread and become absorbed in various materials.
ServiceMaster Restoration Professionals is ready to respond with fire and smoke damage restoration services once the fire department leaves your property.  We are equipped to deal with extensive structural damage and use powerful cleaning products to effectively remove soot and smoke damage from the affected materials.
Our fire and smoke damage restoration services consist of these basic steps:
Emergency board up and tarping
Emergency pre-cleaning
Wall and ceiling cleaning
Deodorization
Content cleaning and pack-out
Structural repairs
Final inspection
Assistance with insurance claim
Fire Damage Cleanup Tips
Fire and Smoke Damage Mitigation – What to Do
Call ServiceMaster Restoration Professionals immediately after the fire has been put out to start the pre-cleaning and restoration process.
Open the doors and windows to air out the home if the temperature is above 60 degrees.
Wipe off chrome, aluminum, Formica, and porcelain surfaces affected by soot.
If you have a forced hot air furnace, change the air filter.
Filter soot from the air by covering each return and supply vent with a damp cheesecloth.
Throw away all exposed food products.
If the power goes out, thoroughly clean the inside of your refrigerator.
Give your smoke damaged clothing and fabrics to us for restoration dry cleaning.
Fire Damage Cleanup – What NOT to Do:
Do not touch porous materials affected by soot such as wood, upholstery, or drywall because the oils in your hand will cause additional damage.
Do not wash walls affected by soot because the damage will become worse with improper cleaning methods.
Do not try to clean your carpet or upholstery.
Do not use any electronics until they have been inspected.
Do not use ceiling fixtures on a wet ceiling.
Experiencing a fire on your property is overwhelming, but it is very important to start the fire damage restoration process as soon as the fire is out.  ServiceMaster Restoration Professionals is standing by 24/7 to help homes and businesses in Fergus Falls, MN recover with our fire and smoke damage restoration services.
Available 24/7
 You can reach us 24 hours a day at (218) 550-5352 to respond to your emergencies.
Related Fire Damage Restoration Services
---
Recent Reviews
November 11, 2019
I had Service Master services at my home due to a grease fire which caused a lot of smoke damage. I had no idea what to expect from a company like this. The whole experience was amazing - from the initial visit by the coordinator to each cleaning person. I was informed from the get-go of what to expect and each and every step met or exceed my expectations. They cleaned and cleaned and cared about the work they did - I asked to put things back as it was a great way to purge some things. They were always on time and each person had their area of expertise. The house sparkles in every room. They kept reassuring me that it was going to be ok - I needed that. They took such good care of my special dishes and other "things" I give them a 15 out of 10 stars. Thank you for making a "not fun" experience with my fire into something positive. I would highly recommend Service Master. They were absolutely amazing!! Thank you!!!!