ServiceMaster by Mason
Keeping your workplace clean, whether it is an office, healthcare facility, school or daycare, government building, manufacturing facility, house of worship or hotel is extremely important for several reasons.  A clean office or building will not only look much nicer, but it will also provide a comfortable and healthy environment for employees, customers, patients, guests and students.
It takes a major effort to keep every area of an office or commercial building clean and while many businesses do have an in-house staff to handle the everyday cleaning duties, they may need additional assistance with their specialized cleaning needs.  If this is the case for your business, then ServiceMaster By Mason is ready to clean and  disinfect facilities big and small, working around your schedule and guaranteeing your satisfaction.
At ServiceMaster by Mason, we provide complete commercial cleaning services to help businesses of all types in Westerly, RI keep their offices and building clean.  Our technicians use advanced cleaning products and methods to deep clean carpeting and hard surface flooring of all types, upholstery, tile and grouts surfaces, and air ducts.  We can also thoroughly disinfect surfaces with electrostatic spraying to help create a safe, healthy environment, and provide specialized cleaning services such as post-construction cleaning, wildlife & nuisance animal cleanup and tenant turnover cleaning.
Our professionals will make sure your offices, entryways, hallways, restrooms, and meeting areas are cleaned effectively to look their best.
COVID-19 Disinfection
To help mitigate the spread of COVID-19, ServiceMaster by Mason is available in Westerly, RI and the surrounding areas to provide disinfection and sanitation services. Our products are approved by the CDC and EPA to remove a number of bacteria, viruses, and germs, including SARS-CoV-2, the cause of the coronavirus. In fact, our products and equipment, such as the Electrostatic Sprayer, have been known to eliminate a number of disease-causing illnesses, such as Influenza H1N1, Norovirus, Salmonella, E. Coli, MRSA, Tuberculosis, Hepatitis, C. Diff, HIV, and more. Please don't hesitate to give us a call to set up an appointment for a complete deep cleaning of your facility.
Interior Vehicle Cleaning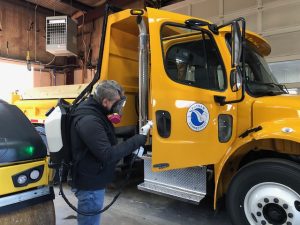 Need a good vehicle interior cleaning? ServiceMaster by Mason can definitely help with disinfection and sanitation services! These services are perfect for any of the following:
Ride-share cars driving for Uber and/or Lyft
Public transportation buses
First responder vehicles
Fleet vehicles
We're ready to provide Electrostatic Spraying in vehicles of all types: cars, RVs, boats, buses, and trucks of all shapes and sizes. Our hospital-grade products are EPA-registered and 99% effective when eliminating dangerous bacteria and germs like MRSA, H1N1, C. Diff, Norovirus and many more bloodborne pathogens. With just a few minutes of dwell-time, we can have your car, truck, RV, vehicle, boat or other vehicle of choice all sanitized and disinfected in a matter of minutes after application! Give us a call at 401-622-4156 today!
Carpet and Floor Cleaning
At ServiceMaster by Mason, our professionals understand the impact that flooring has on the cleanliness and appearance of your building.  People often notice the flooring first when they enter a room or office and the condition of the floor can guide their impression of the space, and your company.  Both carpeting and hard surface flooring of all types gather pollen and mold spores, and dirt and debris from heavy foot traffic which causes the flooring to look dirty and can even damage carpet fibers, finishes, and adhesives.
Our professionals use advanced methods and equipment to remove tough stains and dirt buildup from carpeting and hard surface flooring.  Using the hot water extraction method, we will remove deeply embedded dirt and restore the original appearance, while sanitizing carpets and floors. And we offer slip-resistant floorcare methods!
Upholstery Cleaning
The furniture in an office or commercial building also has a major impact on the look and comfort of the space.  However, consistent use of furniture like chairs, sofas and office partitions, results in dirt and debris buildup that will diminish the look of the upholstery and even possibly damage the fabric.  Our professionals use the appropriate cleaning methods to clean and restore all types of furniture upholstery.  We will sanitize and clean the fabric with the hot water extraction method and treat and remove challenging stains from coffee, dirt, ink, and other fluids.
Tile and Grout Cleaning
Tile and grout surfaces are resilient surfaces often found in kitchen and bathrooms, but they can also become dirty and stained over time.  Wearing of the finish can cause dirt to stick to the tile surfaces and the grout lines are porous and can trap dirt and moisture.  Our cleaning methods can effectively clean ceramic and porcelain tiles and restore them to their original appearance.  We can also thoroughly clean the grout lines and apply a new finish and seal to keep these surfaces protected.
Air Duct Cleaning
The air ducts are responsible for the heating and cooling in your building and as dust and debris, and pollen and mold spores gather within the HVAC system, it gets pushed out with the heating and cooling into the breathing air, over and over again.  This can result in aggravating allergies and asthma, and causing other respiratory illnesses for those breathing in the air.  We can effectively clean the air ducts and internal components of the HVAC system which will improve the efficiency of the heating and cooling and contribute to cleaner breathing air, and reduced heating and cooling costs.
Electrostatic Spraying
All commercial spaces have surfaces that are touched regularly throughout the work-day, and this results in the buildup of bacteria and viruses that can be dangerous.  Our technicians use an advanced cleaning technology to thoroughly disinfect all types of surfaces and commonly used items with electrostatic spraying.  With this sanitizing method, the equipment positively charges the disinfectant which causes the particles to repel each other and spread out evenly over the surface when sprayed.  The particles will then adhere to the negatively charged surface it is applied to and kill harmful germs and bacteria as it quickly dries.
Electrostatic spraying can be used on a number of surfaces including walls and floors, counters, restrooms, doors, handles, light switches, gym equipment and mats, walls and floors. It's highly effective and efficient for bacteria, fungi, and viruses such as Influenza H1N1, MRSA, Norovirus, Ringworm, Salmonella, E.coli and C.diff, and can be done in a fraction of the time as more conventional methods.  There is also a decreased risk of diseases from bacteria in spaces that have been treated with this method, creating a healthier work space and healthier staff.
Commercial Cleaning from ServiceMaster by Mason
Contact our professionals if you are interested in effective commercial cleaning services for your business in Westerly, RI or the surrounding areas.  Our technicians are ready to clean all types of commercial buildings including offices, healthcare facilities, hotels, houses of worship, schools, and government buildings using state-of-the-art equipment and cleaning products.
Contact Us
You can reach us at (401) 622-4156 to learn more about or request a free estimate for our commercial cleaning services.
---
Related Services:
Commercial Cleaning Services Warwick, RI
Commercial Cleaning Services Waterford, CT
Commercial Cleaning Services Providence, RI
Commercial Cleaning Services Manchester, CT
Commercial Cleaning Services Hampton, CT
Commercial Cleaning Services Norwich, CT
March 12, 2021
David Lucchesi
Charlestown, RI
December 10, 2020
Corrine Brzys-Mihlek and John Brzys
Somers, CT
We were so relieved to have actual professionals taking care of our mold find, especially after we inquired about a couple "treatment plans" from other companies. Ryan came in with his gear and showed us the real deal the others missed (like, 98% of the mold). He took air samples to send out. He had a logical plan forward that we felt absolutely positive about. This team made the others look like clowns and charlatans. We were thoroughly informed of what was being done and why, and I actually felt safe in my own home. There were many layers of inspection and testing, yet it was all done quickly. I'd recommend anyone with a mold problem to seek this team immediately. You'll be wasting your time and money with anyone else!