(401) 622-4156
Mold damage can occur at anytime, anywhere. Therefore, a natural disaster is not always required to cause mold damage to your home or business. Unknown leaks or broken pipes can also allow for mold spores to develop. They may then spread through the air, now posing a health hazard for you and your family.
Because of the rapid nature of mold growth in Westerly, RI, ServiceMaster by Mason must be called for mold remediation services as soon as possible. This way you can ensure the safe removal of mold while preventing it from causing further damage in the future.
Mold Testing in Westerly, RI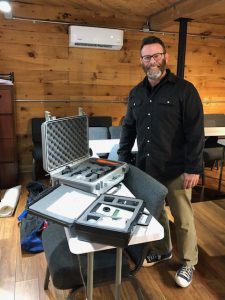 While removing mold is essential, it may not be effective without Air Quality Testing. Our owner, Ryan Mason, holds multiple certifications from the Professional Mold Inspection Institute to conduct air quality testing for microbial growth, also known as mold, within homes and businesses.
Our professionals work with a number of property owners, assisted living facilities, healthcare offices, and real estate agencies in the Westerly, RI area to conduct air quality testing. These tests are used to identify the presence of both mold spores and growth, total air count/spores count to determine if levels are normal, abnormal and more.
When conducting the test, ServiceMaster by Mason will collect air, tape, swab, or bulk item samples and send them to a Certified Laboratory via overnight express, allowing you to receive accurate results quickly. Please give us a call for a detailed inspection and air quality testing as well as mold removal if you are concerned about mold growing in your property.
Mold Remediation Services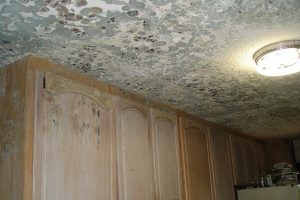 Water damage and excessive moisture is one of the main causes of mold growth as it requires little to develop and spreads rapidly.  Mold can spread easily through a building, and if not removed, it can cause severe damage to the affected surfaces.
Mold exposure can also cause a large variety of health issues, especially for those with allergies and respiratory infection.  However, our technicians are trained to contain and remove the mold growth using advanced cleaning equipment and products. In addition, we use personal protective equipment (PPE) to keep you and our technicians safe.
Mold Removal Westerly, RI
For professional mold remediation in Westerly, RI, call ServiceMaster by Mason at (401) 622-4156.
Mold Cleanup – What to Do:
Call ServiceMaster by Mason right away to prevent the mold from spreading further.
If it is raining outside, close all windows.
Eliminate all sources of moisture by airing out the property. Turn on the fans and dehumidifier.
Dry off the walls that are unaffected by mold to prevent the damage from spreading. Avoid cleaning the affected walls yourself.
Always wear protective equipment, such as a mask, gloves, and eye wear when dealing with mold.
Look around and see if you can find additional areas into which the mold has spread; it has the ability to disperse its spores and travel through the air.
Mold Remediation – What NOT to Do:
Never try to clean the mold yourself. This could only irritate it and cause it to spread further. In addition, if not handled properly, the spores can become inhaled, causing severe illness.
Do not touch the mold. Many kinds of molds can be toxic to humans.
Do not put a fan into direct contact with mold.
Do not cover any surfaces affected by mold.
Our mold remediation services include the following:
Mold contamination assessment
Environmental engineering controls
Water damage restoration (if needed)
Mold remediation
Pack-out and storage
Mold Inspection and Evaluation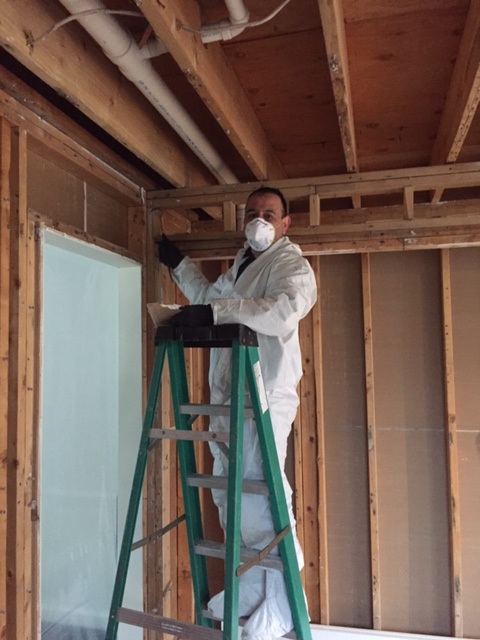 Effective mold remediation services require accurate testing to locate hidden mold while testing the air for the level of contamination. This is used to determine which rooms need treatment, those that require special attention, and those posing a high risk of mold growth. This then ensures quality services in which all cases of mold growth are effectively removed and prevented in the future.
If you find visible mold growing in your home or building in Westerly, RI, or notice signs of hidden growth, contact ServiceMaster by Mason immediately for mold remediation services. Our technicians use advanced cleaning equipment and products to remove all mold growth. We offer a thorough visual inspection of mold including surfaces and content, floors, and even behind walls and ceilings. If air quality readings are necessary, we can recommend an experienced third party provider.
Contact Us
We are available 24 hours a day at  (401) 622-4156 for mold removal services in Westerly, RI and the surrounding communities.
---
Related Mold Remediation Services:
Mold Removal Services Warwick, RI
Mold Remediation Company Providence, RI
Mold Damage Cleanup Services Hampton, CT
Mold Removal Company Waterford, CT
Mold Damage Restoration Manchester, CT
Mold Remediation Norwich, CT
March 12, 2021
David Lucchesi
Charlestown, RI
December 10, 2020
Corrine Brzys-Mihlek and John Brzys
Somers, CT
We were so relieved to have actual professionals taking care of our mold find, especially after we inquired about a couple "treatment plans" from other companies. Ryan came in with his gear and showed us the real deal the others missed (like, 98% of the mold). He took air samples to send out. He had a logical plan forward that we felt absolutely positive about. This team made the others look like clowns and charlatans. We were thoroughly informed of what was being done and why, and I actually felt safe in my own home. There were many layers of inspection and testing, yet it was all done quickly. I'd recommend anyone with a mold problem to seek this team immediately. You'll be wasting your time and money with anyone else!