(401) 622-4156
No one can predict when mold will grow, but once it affects an area it can spread quickly, turning your home or business into a hazardous environment for those with allergies and health conditions. Due to floods and leaks from heavy rains, your property is the perfect breeding ground for mold. Often, it may grow in hidden areas that include behind walls, attics, and basements.
However, ServiceMaster by Mason is trained to provide mold remediation services in Warwick, RI. It is then disinfected at the source to prevent it from returning in the future.
Mold Testing in Warwick, RI
If you're worried about mold growing on your property, ServiceMaster by Mason can provide Air Quality Testing as well as mold removal services. Our owner, Ryan Mason, has been certified by the Professional Mold Inspection Institute, allowing us to conduct air quality testing for microbial growth (mold) within all types of properties.
Our team is proud to work with assisted living facilities, healthcare offices, real estate agencies, and property owners in and around the Warwick, RI area to provide air quality testing. During the testing process, our equipment will identify the presence of mold, its type and conduct a total spores/air count to see if they are normal, abnormal and more. They will also collect air, swab, tape or bulk item samples, sending them overnight express to a Certified Laboratory so you can receive accurate mold test results quickly.
If you are concerned with mold growing in your property, please give us a call to schedule your mold inspection and remediation service today.
Mold Remediation Warwick, RI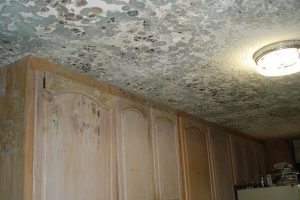 While flooding and water damage are the most common causes of mold, a small, unknown leak can be enough to cause detrimental damage to your property and furnishings. While mold releases spores into the air that spread to other areas of a home, this can cause a variety of health issues for you and your family. This can be especially dangerous to those with allergies and respiratory issues.
However, our technicians are especially trained to use advanced cleaning equipment and products. In addition, personal protective equipment (PPE) is used to keep both you and our technicians safe throughout the remediation process.
Mold Removal Warwick, RI
For professional mold removal services in Warwick, RI and the surrounding areas, contact ServiceMaster by Mason at (401) 622-4156.
Our mold remediation services provide the following:
Mold contamination assessment
Environmental engineering controls
Mold remediation
Pack-out and storage
Mold Mold Removal – What to Do

Call ServiceMaster by Mason right away for mold remediation.
Close all windows and doors if outside humidity/moisture levels are high.
Dry out the walls containing condensation or moisture in order to reduce the risk of spreading the mold.
Always wear protective equipment, such as eye wear, gloves, and glasses when dealing with the mold.
Inspect other areas for mold, including: crawlspaces, the attic, the ceiling, the shower stall, and other dark, moist areas.
Mold Remediation – What NOT to Do
Never use home cleaning products, such as vinegar, chlorine, or bleach to clean the mold. Using these chemicals will only irritate it and cause it to retreat further within the affected surface.
Avoid any direct contact with the mold.
Do not place a blowing fan in front of the mold to air it out.
Do not cover the mold with sheets, paint, or caulk.
Contact Us
If you suspect mold growth in your home or building in Warwick, RI, do not hesitate to contact ServiceMaster by Mason.
We are available 24 hours a day at  (401) 622-4156 for mold removal services in Warwick, RI and the surrounding communities for all mold remediation services.
---
Related Mold Damage Cleanup Services
Mold Remediation Services Providence, RI
Mold Removal Company Westerly, RI
Mold Damage Repair Hampton, CT
Mold Damage Cleanup Services Waterford, CT
Mold Damage Restoration Manchester, CT