(401) 622-4156
A fire will never provide a fair warning, not to mention the fact that it will cause devastating damages. That is why professional fire damage restoration services in Warwick, RI should be called right away.
Make sure you contact ServiceMaster by Mason as soon as possible, with our services available 24/7, we ensure that the fire damage restoration will be started right away. This is to prevent your belongings from incurring additional or permanent damage. In addition, our fire restoration services don't stop at restoration; we also assist in the cleanup process by treating the affected surfaces of debris, water, and other chemicals.
We understand that keeping your property intact is important, which is why we also assist with emergency tarping and board up services. This is to ensure its stability while preventing additional damages and repairs.
Fire Restoration Warwick, RI
For professional fire damage restoration services in Warwick, RI, call ServiceMaster by Mason at (401) 622-4156.
Fire Damage Restoration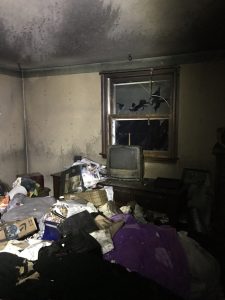 Due to the unpredictability of fires, we are available 24/7 to ensure the damage is assessed and restored as soon as possible. As soon as ServiceMaster by Mason in Warwick, RI is contacted, we are able to begin the restoration process immediately, allowing you to get your life on track again. We consider this a top priority because the damage will worsen rapidly without proper restoration, care, and efficient damage assessment.
Corrosive byproducts from burning synthetic materials will also leave permanent stains. This in turn creates a dangerous environment to encounter, forcing the recovery process to be both difficult and hazardous. However, in addition to their IICRC certifications, our technicians have received classroom and on-the-job training to restore fire damage in any environment, regardless of the extent of the damage.
Fire Restoration – What to Do
Call ServiceMaster by Mason right away to start the fire damage cleanup process.
Cover any damaged furnishings with sheets to prevent the soot from settling into the materials and cause further damage.
Tape two layers of cheesecloth over all air registers.
Replace all furnace filters.
Remove any soot particles from upholstery, drapes, and the carpet.
Open any windows and doors during warm weather to air out the smoke.
Use a light coating of light oil or petroleum jelly to protect chrome trim on the bathroom and kitchen faucets.
Empty the refrigerator of any food containers as the soot may have contaminated any exposed food.
Thoroughly rinse plants on both sides of the leaves to remove the smoke and soot particles.
Deliver any pets to a safer environment to a safe, clean environment.
Fire Damage – What to Avoid
Do not use any electrical appliances until they are deemed safe to use by the technicians.
Do not use any home remedy cleaners to remove the soot and smoke etching and tarnishing.
Do not try to clean anything yourself without first consulting ServiceMaster by Mason. Incorrect cleaning procedures could worsen the damage.
Do not eat any food that has been exposed to the fire as it may be contaminated by the smoke and soot.
Our fire restoration services include:
Assessment of structural damage
Emergency board-up and tarping
Structural bracing and shoring
Elimination of soot deposits and smoke
Surface cleaning (masonry, concrete, brick, block, drywall, wood, paint, metal, carpet, tile, glass)
Chemical and Water removal
Demolition and debris removal
Media blasting
When a fire occurs, ensuring the safety of all affected individuals and that the fire is extinguished should be considered the first priorities. But once the fire is out, immediate action should be taken to call fire damage restoration services. This is to prevent further damage in the future, saving you from extra costs associated with additional repairs.
Contact Us
For 24/7 professional smoke and fire damage restoration services in Warwick, RI and the surrounding communities, call ServiceMaster by Mason at (401) 622-4156.
---
Related Fire Damage Cleanup Services
Fire Damage Cleanup Providence, RI
Fire Damage Mitigation Westerly, RI
Fire Damage Restoration Services Waterford, CT
Hampton, CT Fire Damage Repair Services
Smoke Damage Restoration Manchester, CT