ServiceMaster by Mason
[call] (401) 622-4156[/call]
ServiceMaster by Mason thanks you for choosing our restoration services for handling your fire and smoke damage cleanup needs. We understand the severity of the situation, which is why we are dedicated in working with efficiency and effectiveness when restoring your property. Our technicians not only have years of experience in restoring property but undergo frequent training to remain updated on all of the latest equipment, methods, and techniques.
While this may be your first time experiencing a natural disaster, our technicians have helped numerous families get back on track from fire damage for over 25 years. Our extensive history has allowed us to advance our procedures in order to continue providing quality restoration and cleaning services you need.
While there are a number of steps to begin the restoration process yourself, we highly recommend that you consult one of our fire damage repair technicians before proceeding with any methods; any improper cleaning procedures can actually make matters worse and prolong the restoration process. In addition, avoid touching any damaged materials that have been damaged by the soot as direct contact can allow it to settle in permanently. There are also complex chemical reactions that may occur when combining specific products with different equipment and methods. This is why contacting a professional restoration service is most important when dealing with a major loss. Finally, ServiceMaster by Mason is not only dedicated to returning your property to its original condition; we are committed to getting you and your family back on track as soon as possible.
Understanding Fire and Smoke Damage Restoration Services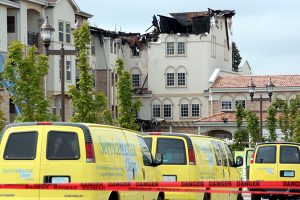 Although each fire damage case is unique, this document will cover the general information of what happens during a fire, how it damages the materials, and the basic procedures of our services. As you may know, smoke is derived by the flames during a fire. It can penetrate through any building material, depending on the source of the fire. It can also form residues that are corrosive when combined with humid conditions, causing additional damage. Unfortunately, simply putting out the fire will not stop the spread of the damage; the smoke and soot particles lingering in the air will settle into the affected surfaces and contents, causing permanent damage if not treated right away.
In addition to a burning fire, smoke may burn as well. This is commonly known as chemical burning, etching, or pitting. When this happens, it is most important to call professional fire damage cleanup services. Therefore, the sooner the restoration process can begin, the less damage becomes permanent in the long run.
It is the goal of ServiceMaster by Mason to restore your home or building efficiently and effectively. Our past clients have claimed us to be a highly-recommended, insured, and experienced provider for fire and smoke restoration services. Apart from our years of experience, our technicians have undergone advanced training in fire mitigation and corrosion control. They also continue their education in this field in order to remain updated on the latest techniques and procedures.
Please keep in mind that while each case is unique, there may be several steps in the restoration and cleaning process in order to effectively restore your home or building to its original condition.
We do hope that the information and checklist of services provided will allow further understanding in regards to the fire cleaning process. Should you have any additional questions, you may also refer to our fire restoration FAQ in which answer the majority of our clients' questions. Finally, ServiceMaster by Mason understands that you deserve clear communication and understanding in regards to our restoration services; therefore, we are committed to working with you and your insurance provider throughout the entire process.
Restoration vs. Replacement Process
While we work to restore all property to its original condition, please keep in mind that it may be more cost-efficient to have it replaced than restored. In other cases, the damage has spread beyond the point of being able to be restored. However, we will provide you and your insurance provider with our best recommendations as a professional restoration company.
Fire Restoration Checklist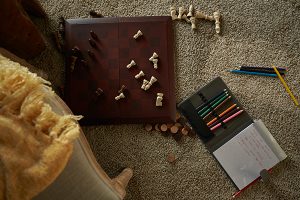 The information provided below is a list of services and description that may or may not be applicable to your property, depending on the severity of the damage and specific areas.
One of our technicians will review this list with you upon arrival. Of course, not everything provided in this list will be applicable to you, we will explain to you the checked services to help you get a better understanding of the procedures involved.
Please keep in mind that this inspection will include a photo documentation that will be provided to both you and your insurance provider. It will also help us to develop the most effective plan for you in order to return your property to its original condition as soon as possible. But in order to ensure the proper claims investigation, the source of the fire must be secured and preserved until cleared by your claims representative for cleaning.
The damage to your home may have been caused by one or more of the following items:
✔Protein Fire. Food that was contained within the stove or oven has been burned, releasing a strong odor. Smoke residue is also present on the surfaces and contents.
✔Complex Fire. A number of natural and synthetic items within the building structure have been burned; smoke residue is also present on the surfaces and items; odor from the smoke is lingering in the air; in order to protect at-risk contents and surfaces, emergency corrosion removal is necessary.
✔Natural Fire. Vegetation, including: trees, bushes, plants, and shrubs have been burned. Smoke from the burning vegetation has penetrated into the building structure. Smoke residue and odor linger within the affected materials.
✔Furnace Malfunction. This includes any appliances that produce heat, such as malfunctioning oil-fired furnaces causing smoke to penetrate throughout the property.
✔Other.
Emergency Services
✔Cover any affected areas with tarp or boards in order to secure the property, preventing additional damage.
✔Examine both the furnace and air conditioning unit. Replace the furnace filter, placing two layers of cheesecloth over the supply and return vents. This is to prevent any loose soot from affecting additional surfaces. Remove all contaminants within the ductwork.
✔Turn on the power in order to use restoration and cleaning equipment.
✔Remove debris to create a safe path for worker safety as well as allow for complete restoration.
Emergency Water Damage Extraction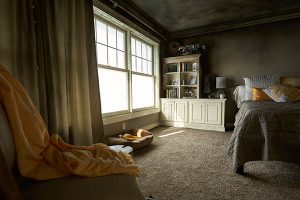 If water is present after the flames have been extinguished; inspect the flooring and building materials for remaining moisture and/or mildew; install high-velocity air movers and dehumidifiers. You can also refer to our water damage restoration services or our procedures regarding the drying process for more information.
Conduct Emergency Corrosion Removal
✔As smoke and soot can cause etching and tarnishing, permanent damage can occur very shortly; removing the smoke residue and treating surfaces at risk with a corrosion inhibitor will prevent these items from sustaining damage. The following are examples of surfaces easily affected by corrosion: stone, aluminum, glass, appliances, fixtures, marble, grout, etc.
✔Remove all food from refrigerators and freezers to prevent additional odor; dispose of any food that was exposed to the fire, smoke, or soot. However, it is recommended that you keep a list of the discarded items.
✔Initiate the odor control procedures such as ventilation to allow for proper air circulation throughout the property; apply deodorizers and air filtration units.
✔Organize for emergency dry cleaning of clothing needed within the next few days. The rest of the clothing will either be restored on site or transported to our facility for restoration.
✔Other.
Smoke and Odor Removal Services
Even after the flames have been extinguished, the particles left over from the smoke and soot continue to linger in the air. Therefore, it is necessary to have them remove them as soon as possible. The use of a variety of effective products, equipment, and systems is necessary in order to properly restore the damaged property.
✔Air Scrubbers. As air scrubbers use High-Efficiency Particulate Air (HEPA) filtration in order to eliminate the particles with in the air, it also purifies the air for safe breathing once again. We do ask that this equipment not be turned off or moved while it is operating.
✔Thermal Fogging. In this process, a strong deodorizer is used to neutralize the air. It will eliminate all odors within the building materials where the smoke has penetrated. This process does require that your pets, plants, and family be temporarily moved elsewhere.
✔Ozone. This product is produced by a portable ozone generator. It is also required that family, pets, and plants be relocated for a short time.
✔OdorKlenz Technology. This is one of our newest green air cartridges in which effectively removes air particulates and odors. It is safe for humans, plants, and pets.
Restoration Services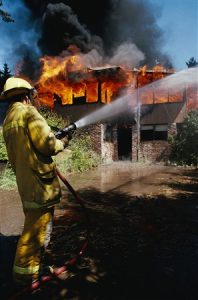 ✔Emergency Clothing Restoration/Dry Cleaning. As a special form of dry cleaning is required for fire damage, it is best that this process be performed by a professional restoration dry cleaning service. This includes documentation of clothing and textiles as well as inventory control, such as bedding, window coverings, pillows, etc.
✔Furniture and Carpet Cleaning/Restoration. This process includes examination, pre-testing, cleaning, deodorization, speed drying, and covering to prevent the building structure from additional damage. This may also include the reapplications of stain protection.
✔Restoration of Building Materials. This process includes the professional restoration and cleaning of the walls, ceiling, and floors. Polishing and deodorization may also be necessary.
✔Opening cabinets, closets, and drawers. These areas are particularly known for trapping smoke odor, which will require thorough deodorization and cleaning.
✔Organization of Items. As it will be more cost-efficient to replace specific items than having them restored, ServiceMaster by Mason will work with you and your insurance provider on the decision process.
Restoration of Hard and Soft Contents
Our advanced products are specifically designed for restoring smoke-damaged contents of all types, including: antiques, furniture, upholstery, and other belongings.
✔Hand Washing and Drying. Fragile items will be handled with care, washing them by hand and proceeding with caution to water-sensitive materials.
Ultrasonic Cleaning. Some items may require Ultrasonic cleaning, including smaller contents, blinds, and collectibles.
✔Upholstery and Furniture Cleaning. This process requires advanced equipment, products, and experienced and certified technicians for furniture restoration.
Content Restoration will be conducted:
✔At our facility
✔On-site
Pack-out Services will be conducted by:
✔ServiceMaster by Mason
✔A qualified contractor
Moving services will be performed by:
✔ServiceMaster by Mason
✔A certified contractor
Some items may require a specific, qualified restoration service, such as: HVAC systems, furniture, textiles, antiques, appliances, electronics, etc. ServiceMaster by Mason will work with you and your insurance claims representative in order to determine the best solution for you.
March 12, 2021
David Lucchesi
Charlestown, RI
December 10, 2020
Corrine Brzys-Mihlek and John Brzys
Somers, CT
We were so relieved to have actual professionals taking care of our mold find, especially after we inquired about a couple "treatment plans" from other companies. Ryan came in with his gear and showed us the real deal the others missed (like, 98% of the mold). He took air samples to send out. He had a logical plan forward that we felt absolutely positive about. This team made the others look like clowns and charlatans. We were thoroughly informed of what was being done and why, and I actually felt safe in my own home. There were many layers of inspection and testing, yet it was all done quickly. I'd recommend anyone with a mold problem to seek this team immediately. You'll be wasting your time and money with anyone else!