ServiceMaster by Mason
How long is the restoration process?
It is difficult to give an exact answer to this question as there are many variables that must be considered when taking into account the damage to your property. We highly advise asking your technician this question as they will be informed of the details of your individual case. He/she will also be able to inform you of the projected dates and phases of the process.
Why don't I perform the restoration work myself?
We highly advise that any home remedy cleaning products or procedures are not performed without consulting your technician. It is possible that any improper cleaning procedures will only worsen the damage, resulting in higher costs down the road. Our team is highly qualified in using a particular cleaning product, mixing certain chemicals with others at the proper dilution rates in order to achieve maximum results.  We will also use effective cleaning equipment and methods to allow for effective restoration.
What are the safety concerns involved in the process?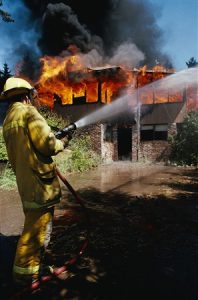 ServiceMaster by Mason puts the safety of its clients as first priority when restoring their property. All safety hazards will be addressed during the first examination. This includes: air quality, debris removal, slip and trip hazards, electrical hazards, etc. All burnt electrical cords will be disposed of properly. In addition, questionable appliances and cords will be unplugged and tagged for further evaluation. The power may also be turned off until inspected thoroughly by the technician. You can also view a checklist of fire restoration services in which we explain our services in further detail.
Would it help to turn on my heating or air conditioner?
We highly recommend that these units remain off until your technician has arrived or it has been cleared by a certified HVAC contractor.
What items do I keep in my possession?
Checkbooks
Cash
Gasoline cans
Flammables
Pets
Personal documents
Stamp/Coin Collections
Medication
Valuable Jewelry
Weapons
Ammunition
Valuable Paintings
How can I keep track of items that can be restored?
ServiceMaster by Mason recommends that you make a list of items that must be discarded. You can create a table, including columns for quantity, the item, year it was purchased, and the cost. You can also use a template provided by your insurance company. Be sure to make a copy for them as well as keeping one for your records.
Do I need to move out of my home during the restoration process?
Ultimately, this is up to you and your insurance provider. However, you will want to consider a few factors such as: safety concerns, electricity, noise from equipment, and odors. If you do decide to relocate temporarily, you will also want to make sure that the following are covered: forwarding mail to the new address, suspending newspaper and other deliveries, suspending utility services, such as electricity, water, etc., and contacting other services.
Do I need to hire sub-contractors?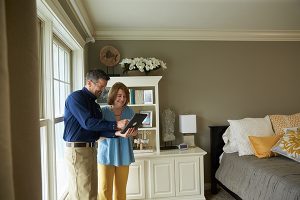 The answer to this question will depend on the particular items that were damaged on your property. It may be necessary to hire a professional for: drywall/painting, roofing, framing/carpentry finishing, flooring/carpet, door installation, roofing, electrical, plumbing, windows, post-construction cleanup, and cabinets.
Do my items need to be removed for restoration?
The answer to this question will depend on the source, nature, and extent of the fire damage. Sometimes the condition of the home will not allow for the safe, effective restoration of the contents. In this situation, the possessions will be transported back to our facility for thorough restoration. They will then be delivered back to your home or building when the process is complete.
Am I allowed access to my belongings while they are in storage?
Absolutely. We do require advanced notice in order to schedule an appointment with a technician, and you will be able to access your items. Please keep in mind that a service charge may apply.
If I have fragile items, artwork, antiques, and heirlooms, what will happen to them?
Certain items with high value will be thoroughly inspected and restored by a specialist. We will work with you and your insurance provider to find a qualified expert.
Who is responsible for the payment of the service?
You as the property owner are ultimately responsible for the payment of all fire damage restoration services. There will be a form provided to you by your technician upon arrival. With your signature, it will authorize the technician to begin the work as well as your responsibility for payment. If an insurance claim was filed, ServiceMaster by Mason will only collect the deductible at the time of the service, billing the rest of the invoice to the insurance provider. When dealing with a large loss, it may also be required to list your mortgage company and their signature on the payment form from your insurance company. If the claim is not covered by insurance, payment will be expected to be made in full at the time of service.
Is there anything I can do to prevent fire damage in the future?
Yes! You can refer to our guide on how to prevent water and fire damage. You will find that the steps are not just easy to follow, they can save you from a major loss down the road.
March 12, 2021
David Lucchesi
Charlestown, RI
December 10, 2020
Corrine Brzys-Mihlek and John Brzys
Somers, CT
We were so relieved to have actual professionals taking care of our mold find, especially after we inquired about a couple "treatment plans" from other companies. Ryan came in with his gear and showed us the real deal the others missed (like, 98% of the mold). He took air samples to send out. He had a logical plan forward that we felt absolutely positive about. This team made the others look like clowns and charlatans. We were thoroughly informed of what was being done and why, and I actually felt safe in my own home. There were many layers of inspection and testing, yet it was all done quickly. I'd recommend anyone with a mold problem to seek this team immediately. You'll be wasting your time and money with anyone else!