(401) 622-4156
Soot and smoke can cause extensive damage to the surfaces, furnishings, and personal belongings in your home.  These elements are very corrosive and toxic which makes them a threat to your health as well as your property.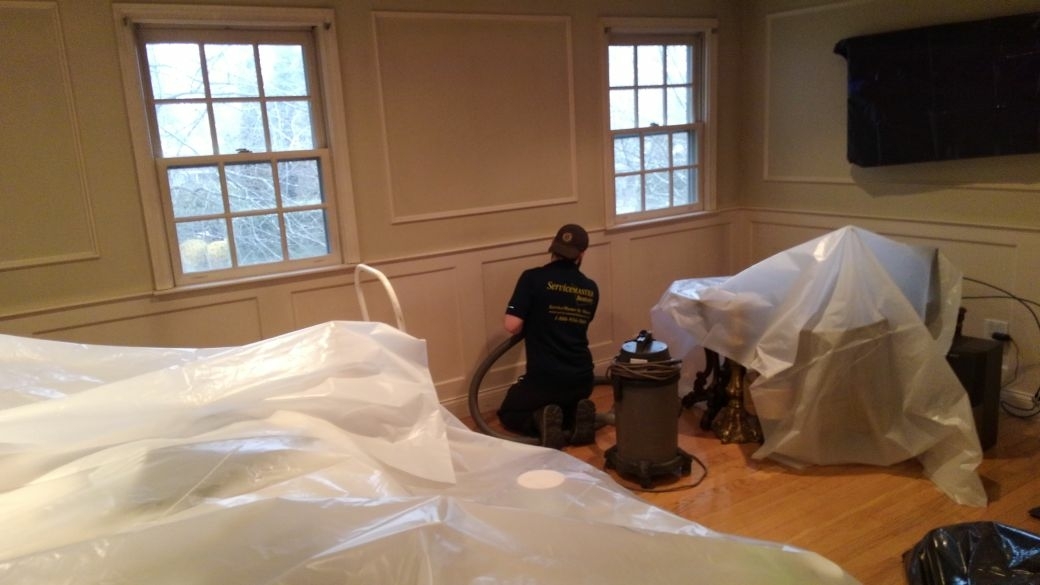 One of the more common ways that soot and smoke damage can occur in your home in the Westerly, RI area is from a furnace puffback.  The finite soot and debris that is blown into your home from a puffback can cause serious damage to the surrounding walls and surfaces.  If you do not have the soot cleaned up quickly enough, it can spread to other areas of your home through the HVAC system.
ServiceMaster by Mason provides puffback cleanup services in Westerly, RI to clean and restore the surfaces and materials affected by smoke and soot.  Our technicians arrive quickly and work diligently to limit the spread of the smoke and soot and restore damaged materials using advanced methods and equipment.
Damage from Furnace Puffbacks
Furnace puffbacks occur in oil furnace systems when there is an issue with the ignition that results in an explosion within the system.  This explosion releases smoke, soot, and other debris into the air ducts and exhaust system, causing it to spread throughout the HVAC system and into your home.  The soot that is expelled from the vents will settle on the surrounding walls, furnishings, and objects.  Most objects and materials in your home, such as furniture, drapes, drywall, ceilings, carpeting, and wood surfaces, will experience corrosive damage from the smoke and soot.  This damage can become permanent if given enough time, which is why you need to have the mess cleaned up immediately.
Finite soot cannot be cleaned up using over-the-counter products because these cleaning products will only smear the residue and make the damage worse.  You need to call trained professionals who have the equipment and cleaning products to effectively clean up soot and smoke damage.  Our professionals will not only ensure that the soot damage is removed, but we will also remove lingering odors from the soot and smoke.
Puffback Cleanup Westerly, RI
Our technicians provide complete soot puffback cleaning services to remove hazardous materials and fully restore objects and surfaces damaged by the soot.  We take a truly comprehensive approach to ensure that the job is done right from start to finish.  We begin by responding rapidly to your call and developing a customized restoration plan based on the extent of the damage.  Our technicians will then work diligently to restore your property and your peace of mind.
Our IICRC certified technicians have the expertise and equipment to clean up soot in any situation.  We use professional grade cleaning products and methods to remove soot and oily residue from a wide range of household surfaces and objects.  After the soot has been successful removed, we will restore the damaged items and surfaces to their original condition and remove any lingering odors from your property.
For a restoration project such as this to be successful, the technicians must address the minor details.  Our technicians at ServiceMaster by Mason always pay attention to detail because we know how the little things matter!
You can expect our technicians to complete the following when you call us for furnace puffback cleaning services:
Wall and ceiling cleaning
Debris removal
Floor and carpet cleaning
Furniture and upholstery cleaning
Air scrubbing services
HVAC/ air duct cleaning
Area rug cleaning
Demolition services
Restoration dry cleaning
Immediate Response
At ServiceMaster by Mason, we have the expertise and the right equipment to fully restore damage from furnace puffbacks, regardless of the scale of the damage.  We are ready to respond 24 hours a day to help limit the damage from a furnace puffback and immediately restore your property and your peace of mind.
Give us a call at (401) 622-4156 for puffback cleanup services in Westerly, RI.
---
Related Puffback Cleanup Services:
Soot Puffback Cleaning Warwick, RI
Puffback Cleanup Hampton, CT
Puffback Cleaning Company Manchester, CT
Soot Puffback Cleaning Providence, RI
Soot Puffback Cleaning Company Waterford, CT
Puffback Cleaning Norwich, CT
March 12, 2021
David Lucchesi
Charlestown, RI
December 10, 2020
Corrine Brzys-Mihlek and John Brzys
Somers, CT
We were so relieved to have actual professionals taking care of our mold find, especially after we inquired about a couple "treatment plans" from other companies. Ryan came in with his gear and showed us the real deal the others missed (like, 98% of the mold). He took air samples to send out. He had a logical plan forward that we felt absolutely positive about. This team made the others look like clowns and charlatans. We were thoroughly informed of what was being done and why, and I actually felt safe in my own home. There were many layers of inspection and testing, yet it was all done quickly. I'd recommend anyone with a mold problem to seek this team immediately. You'll be wasting your time and money with anyone else!