Smoke, soot, and other debris can be harmful to the buildings, belongings, and health of property owners. This is particularly true in the case of furnace puffbacks. When a puffback occurs, the corrosive soot can permanently damage walls, other surfaces, and your belongings. And the finite soot and debris can travel from the initial site like your basement to other rooms and floors, by your forced hot air system and HVAC/air ducts.
At ServiceMaster by Mason, we offer soot puffback cleaning services to address these challenging situations. We proudly service property owners in Hampton, CT, and the surrounding areas, and work diligently to restore affected areas to their original condition.
More on Furnace Puffbacks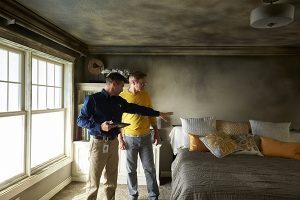 Furnace puffbacks are a result of complications within your oil furnace or burner. They can occur seemingly without notice, when an oil furnace backfires, and sends soot and other debris through the burner or oil furnace's exhaust system and into your home. The soot and other debris that are ejected are corrosive and can quickly lead to permanent damage. Walls, carpeting, flooring, furniture, upholstery, and personal belongings are all at risk of becoming unsalvageable, and a strong odor of oil can occur.
Since cleaning the finite soot with over-the-counter products will simply smear and spread the oil residue, you need professional technicians using the latest equipment and products to successfully clean your home. To prevent further damage and quickly remove the strong odors, we encourage you to contact our experts right away.
Puffback Cleanup Hampton, CT
Through our comprehensive soot puffback cleaning service, we will remove hazardous materials from your property, and return the damaged areas and belongings to their original condition. When we say comprehensive, we truly mean it. From start to finish, our experts will work diligently to restore your property and peace of mind. This begins with a rapid response, and the development of a customized action plan.
Our technicians are IICRC-certified and understand which cleaning methodologies are ideal given your unique situation. We have a variety of professional-grade tools to get the job done right. Once all hazardous substances have been eliminated, ServiceMaster by Mason will restore affected areas and items, and completely deodorize your property.
There are a lot of minor details that go into any successful restoration project. This is particularly true in the case of recovering from a furnace puffback. And our technicians know how the little things matter!
When you choose to work with our talented technicians during puffback cleaning, you can expect the following:
Wall and ceiling cleaning
Deodorization services
Floor and carpet cleaning
Debris removal
Air scrubbing services
Area rug cleaning
Furniture and upholstery cleaning
HVAC/Air duct cleaning
Restoration dry cleaning
Demolition services
No matter the scale of the damage, we have the resources and expertise to ensure an ideal outcome. Our technicians have experience with responding to fire damage, water damage, sewage backups, severe storms, and other property-damaging situations. We will get the job done quickly and effectively.
Emergency Response
To assist you with soot puffback cleaning services, contact our ServiceMaster by Mason representatives at (860) 455-4969. We currently assist property owners in and around Hampton, CT.
---
Related Puffback Cleaning Services:
Puffback Cleaning Providence, RI
Puffback Cleanup Company Waterford, CT
Professional Puffback Cleaning Services Westerly, RI
Puffback Cleaning Services Manchester, CT
Puffback Cleaning Company Warwick, RI
More Reviews