(860) 455-4969
ServiceMaster by Mason has been a proud provider of hoarding and estate cleaning services to those in the Hampton, CT, area for over 29 years. With this experience, we have learned the best ways to treat hoarding scenarios – with compassion, consultation with hoarders, and follow up services.
We will be with you every step of the way to ensure that your home that is currently affected by hoarding habits is thoroughly reorganized and sanitized so that it does not lead to any serious injuries.
Problems with Excessive Hoarding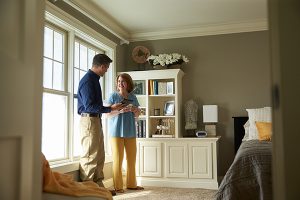 Hoarding disorder, or compulsive hoarding, is a very real, and very dangerous, condition that leads to fear and anxiety within affected individuals when they are faced with throwing away belongings. These items can range from unnecessary knickknacks to newspapers and food containers. For friends and family members who are trying to intervene, it is important to understand that this disorder does not stem from laziness. It is a complex psychological ailment that invokes distress in its victims. This is why approaching the situation with respect is so critical to success.
A great way to bring to light the necessity to correct hoarding habits is to pinpoint the dangers that hoarders and their loved ones are regularly put in. Hoarded items can block avenues of escape in the case of emergencies, vastly increase the risk of fires, lead to excessive mold growth, present tipping hazards, and greatly reduce the quality of your home's air. Additionally, valuable personal items (such as jewelry, important documents, etc.) can become lost in the clutter.
Hoarding Cleaning Hampton, CT
Here at ServiceMaster by Mason, we address the various problems listed above and more. We have developed a state-of-the-art approach to hoarding and estate cleaning that we refer to as our 3-phase approach:
Phase 1: We will develop an understanding and sense of trust with hoarders and their families. We do this before any items are removed. Once a connection has been made, we will assess the levels of damage on your property. We also have access to social services and therapists if required.
Phase 2: We will create and implement a cleaning plan. After a working relationship has been established with the affected individuals, we will proceed to clean your property and remove excess clutter with your direct consultation. We will help determine which items should be kept, thrown away, recycled, or donated, as well.
Phase 3: We will leave behind a comprehensive cleaning plan to help individuals affected by hoarding tendencies break their bad habits. This process will take time, which is why we will follow up periodically.
Get a Free Estimate
If you would like to take advantage of our hoarding and estate cleaning services, please feel free to contact our ServiceMaster by Mason representatives at (860) 455-4969. We are available 24 hours a day, and proudly service property owners in Hampton, CT.
---
Related Hoarding and Estate Cleaning Services:
Hoarding Cleanup Waterford, CT
Hoarding and Estate Cleaning Westerly, RI
Hoarding and Estate Cleaning Services Warwick, RI
Hoarding and Estate Cleanup Providence, RI
Hoarding and Estate Cleaning Company Manchester, CT
March 12, 2021
David Lucchesi
Charlestown, RI
December 10, 2020
Corrine Brzys-Mihlek and John Brzys
Somers, CT
We were so relieved to have actual professionals taking care of our mold find, especially after we inquired about a couple "treatment plans" from other companies. Ryan came in with his gear and showed us the real deal the others missed (like, 98% of the mold). He took air samples to send out. He had a logical plan forward that we felt absolutely positive about. This team made the others look like clowns and charlatans. We were thoroughly informed of what was being done and why, and I actually felt safe in my own home. There were many layers of inspection and testing, yet it was all done quickly. I'd recommend anyone with a mold problem to seek this team immediately. You'll be wasting your time and money with anyone else!