While there are a number of biohazard contaminants that may be found on a property, extreme caution must be taken in every situation. These can contain one or more of the following: bodily fluids, chemicals, sewage, oil, and other dangerous substances. Simply cleaning them with home remedies and over-the-counter cleaners aren't effective as many contaminants can cause serious diseases and illness when handled without proper equipment and products. Our licensed professionals are able to have these materials effectively removed and decontaminate the property.
ServiceMaster by Mason is available in Hampton, CT and the surrounding areas to fully clean, sanitize and restore all biohazardous and trauma scenes to their original state.
Biohazard Cleanup Hampton, CT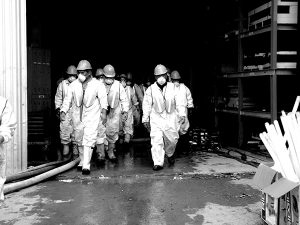 There are several different situations in which biohazards can be found within a home or building, including sewage backups, blood and other bodily fluids, oil spills, and other chemicals.
Our biohazard cleanup services cover all of the following:
Sewage Contamination: The water is filled with dangerous bacteria and pathogens that will quickly spread to infect all building materials and content.
Oil and Chemical Spills: Although they may not contain bacteria, these substances can be hazardous to your health if the fumes become inhaled or if direct contact is made.
Trauma Scenes: Blood, tissue, and other bodily fluids are scattered throughout the scene, containing bloodborne pathogens and bacteria, which must be removed immediately.
As these substances are extremely dangerous to handle, ServiceMaster by Mason should be called right away to handle the scene properly. We will also work with law enforcement, if necessary, as to not disturb any uninvestigated evidence. The scene will then be thoroughly disinfected and deodorized to remove all remnants of the dangerous substances.
Our biohazard cleaning services are able to handle all of the following:
Oil spills
Natural deaths
Vehicle trauma cleanups
Industrial accidents
Crime scenes
Trauma incidents
Bacterial/viral cleanups
Trauma and Crime Scene Cleanup

While the death of a loved one can be extremely traumatic and devastating to handle, ServiceMaster by Mason ensures to work with compassion. We respect the loss of grieving families and know that this is a sensitive time for everyone involved and can refer support groups to assist you in your time of sorrow.
When handling the cleanup, we will work efficiently with law enforcement to have all blood, bodily fluids, forensic dust, and tear gas removed after their investigation of the scene. Finally, it will then be decontaminated and restored to its original condition. We will also work with your insurance provider through the claims process to allow you to focus on family matters during this stressful time.
Available 24/7
While sewage & oil spills and traumas can be challenging, it is important to hire experienced professionals that are trained to handle the cleanup of all biohazardous materials. You should never have to clean up after the death of a loved one, not to mention the dangerous health risks caused by the bacteria and pathogens.
But ServiceMaster by Mason is available 24/7 at (860) 455-4969 in the Hampton, CT area, ensuring that all contaminants are removed while the scene is decontaminated and deodorized, to restore its original condition.
---
Related Biohazard Cleanup Services:
Biohazard and Trauma Cleanup Manchester, CT
Biohazard Cleaning Waterford, CT
Biohazard, Trauma, and Crime Scene Cleaning Westerly, RI
Biohazard and Trauma Cleaning Services Providence, RI
Trauma Cleanup Warwick, RI
More Reviews