Biohazard materials can create more than just a mess at your home or business, but also pose a risk to your health. At ServiceMaster by Mason, we offer biohazard and trauma cleanup services to property owners in Manchester, CT and the surrounding areas.
For over 30 years, we specialize in safely and effectively cleaning up harmful elements like sewage, oil, bodily fluids, chemicals, and more. We abide by specific rules and regulations put in place to ensure that these materials are disposed of safely and properly.
Biohazard Materials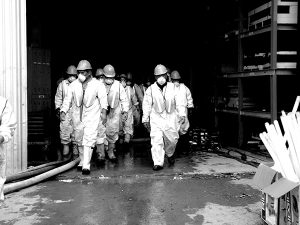 Biohazard materials are dangerous to the health of those exposed because they contain harmful pathogens that can lead to infections and diseases. Special equipment and procedures are required to remove these elements safely, which is why we highly encourage you to contact us when you find these materials on your property.
In homes, sewage backups can lead to the need for biohazard cleaning. In commercial areas, oil or chemical spills can create extraordinarily dangerous situations. Additionally, severe accidents, accidental and untimely deaths, and crimes can lead to various bodily fluids being exposed, where proper cleaning and disposal protocols must be adhered to.
Relatively common situations that require professional biohazard cleaning services include:
Natural deaths
Crime scenes
Oil spills
Sewage backups and spills
Trauma accidents
Suicides and homicides
Vehicle accidents
Industrial accidents
Bacterial/viral cleaning
Nuisance Animal Cleanup
Biohazard Cleanup Manchester, CT
Our ServiceMaster by Mason technicians are uniquely qualified to address all types of biohazard cleanup needs. We utilize the proper protective equipment, sanitization solutions, equipment, and procedures necessary to ensure a safe and effective result. This is all done to guarantee that the affected area is fully disinfected and deodorized.
Trauma and Crime Scene Cleaning

Trauma scenes and crime scenes are unique in that law enforcement personnel and EMTs are generally involved. It is important to clarify point out that these professionals will not clean up dangerous biohazard materials for you, which is why it's important to contact professionals specializing in these needs, like ServiceMaster by Mason.
At ServiceMaster by Mason, we coordinate with first responders to provide our biohazard cleaning services, 24 hours a day, 7 days a week. This can include the removal of blood, bodily tissues and fluid, as well as forensic dust, tear gas, and other materials.
Providing Peace of Mind with Cleanup Services
At the end of the day, it is our goal to provide you with compassionate and professional service, returning your home or business to its natural state, and minimizing interruption. do this by restoring your property in a safe and effective manner and working discreetly to protect your privacy.
To leverage our expertise in biohazard cleaning, simply contact our ServiceMaster by Mason representatives at (860) 499-3395. We are available 24 hours a day, 7 days a week, to respond to emergencies in Manchester, CT.
---
Related Biohazard Cleanup Services:
Biohazard Cleanup Waterford, CT
Biohazard and Trauma Cleanup Warwick, RI
Biohazard, Trauma, and Crime Scene Cleanup Hampton, CT
Trauma Cleanup Company Providence, RI
Trauma and Crime Scene Cleaning Westerly, RI
Biohazard Cleanup Services Norwich, CT
January 14, 2023
Mellissa Carroll
Norwich, CT
June 1, 2022
P.A.C.S.
Vernon Rockville, CT
More Reviews