(860) 455-4969
In Manchester, CT, residential and commercial property owners need to be aware of potential property risks during cold winter months. One of the most concerning issues for home and business owners is the possibility of frozen pipes. When pipes freeze, water within them expands, and can lead to burst pipes.
At ServiceMaster by Mason, we offer burst pipe water damage restoration services to combat this and rapidly to restore the water damage to your building. We are available 24-hours a day, 365 days a year  to answer your call.
How to Prevent Your Pipes from Freezing
The pipes on your property that will be most at-risk during the winter months are those exposed to outdoor conditions. This means pipes in exterior walls, attics, and other places with insufficient insulation or where heat isn't regularly circulating.
In order to be proactive and reduce the risk of your pipes freezing, we encourage you to do the following:
Run your faucets at a slow drip during cold nights to keep water in your pipes moving
Heat up the pipes under your sinks by opening cabinet doors
Utilize pipe insulation or electrical tape to better insulate vulnerable pipes
Make use of a space heater to warm up at-risk pipes
Cut off your outdoor water supply
Store your outdoor hoses inside
How to Warm Up Frozen Pipes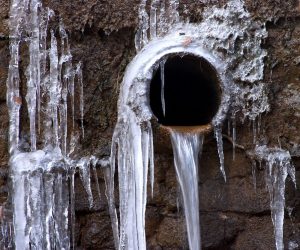 Even when you prepare for the winter by following the steps above, it is possible for your pipes to freeze. One telltale sign of a frozen pipe is low water pressure. Another sign is visible frost or ice on your pipes. In either case, you must act quickly to ensure that affected pipes do not burst.
Burst pipes can lead to hundreds-or-thousands of gallons of water spilling into your home or building. If you think your pipes may be freezing, we encourage you to do the following:
Trace back which line is freezing to locate the problem area
Determine if any significant damage has occurred (for example, if you notice that ice is causing your pipes to bulge, you should contact professionals)
In cases of minor ice buildup, simply apply heat with a hairdryer or heat lamp (do not use a heat source with an open flame)
If required, remove drywall to get better access to freezing pipes (this is more cost-effective than risking a burst pipe)
Turn on the water source that the pipe is supplying water to the frozen pipe
How to Recover from a Burst Pipe
If you experience a burst pipe on your property, the first thing you should do is shut off the water in your home and contact our ServiceMaster by Mason representatives. We are available 24/7 to respond to emergency water damage issues. The amount of water that can flow out of a burst pipe can cause tremendous property damage in little to no time at all and also put you at risk for harmful mold.
Walls, furniture, carpeting, personal belongings, building materials and more are all at risk. Our technicians utilize state-of-the-art water damage equipment and procedures to fully dry your property and restore affected areas. We will even provide mold removal services if needed.
Available 24/7/365
To take advantage of our 24-hour frozen pipes damage restoration services, give us a call at (860) 455-4969. We currently assist property owners in Manchester, CT, and throughout Central and Eastern Connecticut.
---
Related Burst Pipe Flood Cleanup Services:
Burst Pipes Water Damage Cleanup Providence, RI
Burst Pipes Water Damage Restoration Warwick, RI
Burst Pipes Flood Cleanup Westerly, RI
Water Damage Restoration from Burst Pipes Hampton, CT
Water Damage Cleanup from Burst Pipes Waterford, CT