(860) 455-4969
Maintaining a safe and sanitary environment is important for the success of faculty, staff and students. This is because of the improved health and focus that a clean building can result in. Conversely, a poorly maintained building can lead to illnesses and allergies that are detrimental to student success.
At ServiceMaster by Mason, we provide school cleaning services to schools and universities in Manchester, CT and the surrounding areas, to help schools ensure clean classrooms, offices, gyms, and more. We utilize advanced sanitization solutions, equipment, and procedures to guarantee an optimal result.
The Significance of Maintaining a Clean Environment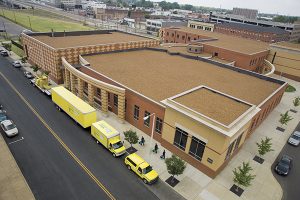 From Pre-K through college, learning institutions experience high levels of foot traffic, and exposure to a variety of germs. This can quickly lead to a run-down look as dirt and debris is dragged in, as well as illnesses that spread throughout the school.
Hard surface floors and carpeting that are exposed to large amounts of foot traffic can quickly become worn out, stained, and dirty. Failing to properly clean them on a regular basis will only accelerate these issues. Additionally, the lifetime of these assets will decrease, which results in greater replacement frequency and costs for the school.
With the volume of people coming and going on a daily basis, germs are going to be present. By cleaning and sanitizing classrooms, desktops, and other equipment regularly, fewer individuals will be affected by illness.
Disinfection with Electrostatic Spraying
Illnesses spread very quickly in schools, daycares and universities as many students and faculty are in the building each day and touch many of the same surfaces.  This makes desks, countertops, computers, doorknobs and fixtures, phones, and other surfaces vulnerable to contamination from germs and bacteria which increases the risk of illnesses.  Surfaces, items and spaces like common rooms, restrooms and classrooms that are commonly used need to be disinfected to help prevent illness and reduce absences.
Our technicians can disinfect these common touchpoints with electrostatic spraying.  We use advanced equipment that puts a positive charge into the disinfectant before it is sprayed from the nozzle.  The disinfectant is applied quickly and evenly over the surface as the positively charged particles repel each other but adhere to the negatively charged surfaces.  Germs and bacteria are killed in just a few minutes as the disinfectant is left to dry on the surface.  This process can be done very quickly and effectively to limit the spread of illnesses and bacteria like Influenza H1N1, Norovirus, MRSA, E.Coli, Salmonella, Klebsiella Pneumonia, and other viruses and fungi.
University Cleaners Manchester, CT
At ServiceMaster by Mason, we leverage our experience as a disaster restoration and cleaning services provider to offer your learning institution high quality sanitization services. We implement "green" cleaning solutions, professional-grade equipment, and expert methodologies. This leads to the following benefits:
Fewer absences due to illness (for students, teachers, and staff)
Better indoor air quality
Fewer symptoms of allergies and asthma
A more professional-looking learning environment
As far as who we can service, there is really no limit. If you have students, teachers, and other staff, then we are more than happy to help your facility look its best. This includes:
Daycare centers and preschools
Kindergartens
Elementary schools
Middle schools
Junior highs
High schools
Prep schools
Charter schools
Community colleges
Universities
Technical schools
Call for a Free Estimate
To learn more about how we can help your learning academy through our proven school and university cleaning services, we encourage you to contact our ServiceMaster by Mason representatives. We are happy to address your questions and concerns, and look forward to improving the condition of your school in Manchester, CT. We can be reached at (860) 455-4969.
---
Related University Cleaners Services:
School and University Cleaning Westerly, RI
University Cleaning Services Warwick, RI
School Cleaning Company Providence, RI
School Cleaning Services Hampton, CT
University Cleaning Services Waterford, CT