(860) 455-4969
There are a number of events that can cause odors to linger on your property. When they take hold, they can be extraordinarily difficult to remove. At ServiceMaster by Mason, we offer odor removal services to property owners in Manchester, CT, in order to address these unpleasant aromas and leave your home or business smelling fresh and clean.
Whether the odor was caused from smoke, water damage, nuisance animals or pets, or sewer backups, we can eliminate them using our state-of-the-art equipment and deodorization methodologies.
Lingering Odors
Understanding how odors originate and linger is paramount to both preventing and addressing them. ServiceMaster By Mason has been removing all types of odors from proteins to biological concerns for over 28 years, which includes:
Pet odors
Odors from fire and all types of smoke
Odors from dead animals (as well as other undetected deaths)
Sewage odors
Odors originating from "nuisance" animals (skunks, rodents, and bats)
Odor Removal Manchester, CT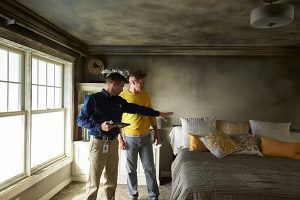 Many odors can linger because porous building materials absorb them. At ServiceMaster by Mason, we implement state-of-the-art odor removal techniques and equipment to eliminate them at the source. Among our deodorization techniques include hydroxyl, ozone, and Nano-carbon technology, as well as thermal fogging.
Eliminating odors at their source is easier said than done. However, with over 29 years of experience in the disaster restoration and cleaning services industry, we have developed a highly effective approach to doing this.
When you choose to work with us, you can expect:
The removal of odors at the source
The deodorization of building components, furnishings, and other belongings
The deodorization and cleaning of air spaces
Cleaning and sanitizing affected areas and materials
Complete documentation of our work
If you experience damage from fire and smoke, water, mold or biological entities, we can assist you with the entire recovery process. This includes restoration of affected areas and belongings, as well as complete odor removal services.
We offer the following related services and more:
Deodorization Services
Lingering odors can be a real nuisance, especially after undergoing a restoration or reconstruction project. We work hard to locate the source of the odor and eliminate it from your property. This is to give you greater peace of mind, and the quality of service that you deserve.
Contact Us
To learn more about our odor removal services, or to schedule an appointment, contact our ServiceMaster by Mason representatives at (860) 455-4969 . We are happy to address any of your questions or concerns and are proud to assist property owners in the Manchester, CT, area.
---
Related Odor Removal Services:
Smoke Odor Removal Waterford, CT
Odor Removal Hampton, CT
Deodorization Providence, RI
Odor Removal Services in Westerly, RI
Odor Removal Company Warwick, RI